When I was a kid, I always wanted a pair of wooden shoes.
I thought that they would be sooo cool and unique.
I'm sure the fact that my best friend was Dutch didn't hurt.
I can remember going over to her
house and clomping around their house in her sister's wooden shoes.
Now that I'm an adult, I can choose my own shoes.
And sometimes, I choose to wear wooden shoes, grown-up style.
These boots from Sandgrens, formerly Ugglebo, are a perfect example of one of those choices.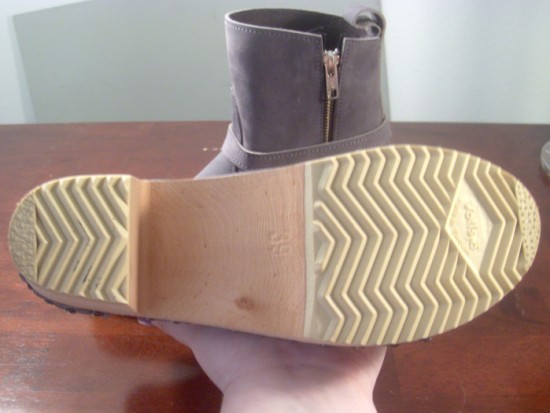 Sandgrens shoes are handmade in Sweden, using centuries old methods with a modern twist.
They're traditional clog-style shoes, which means they have a wooden sole. However, they also have a rubber sole on the bottom, so that you don't slip and slide.
Sandgrens Shoes have a leather or suede upper, as well.
I think this style, called Philly, is adorable, but a great classic.
The Philly has a removable strap for two fairly different looks.
With the strap, they look somewhat like a short motorcycle boot.
When you remove the strap, the boots have a totally classic look to them.
The Philly boots, as with all Sandgrens Boots, have a side zipper.
This makes them easy to put on and to take off.
While they have a moderately high heel at nearly 3 inches, they're not hard to walk in.
I also love the nailhead detailing where the leather uppers and the sole meet.
I was concerned that the boots would be heavy, but they weren't.
I've had some clogs that felt like I was trudging around with cinderblocks, but not so with the Sandgrens shoes.
They're sturdy, though, so don't worry about that.
Sandgrens' styles are all very classic but have a modern update.
These include fun colors like Berry and Teal and updated styles.
You can buy these in fine shoestores worldwide, or order directly from the Sandgrens website. You can connect with them on
facebook
,
twitter
, and
pinterest
, too.