We've just moved offices, and let me tell you – it's amazing the amount of stuff you need to get. Even when you think you're already set on stuff like office supplies.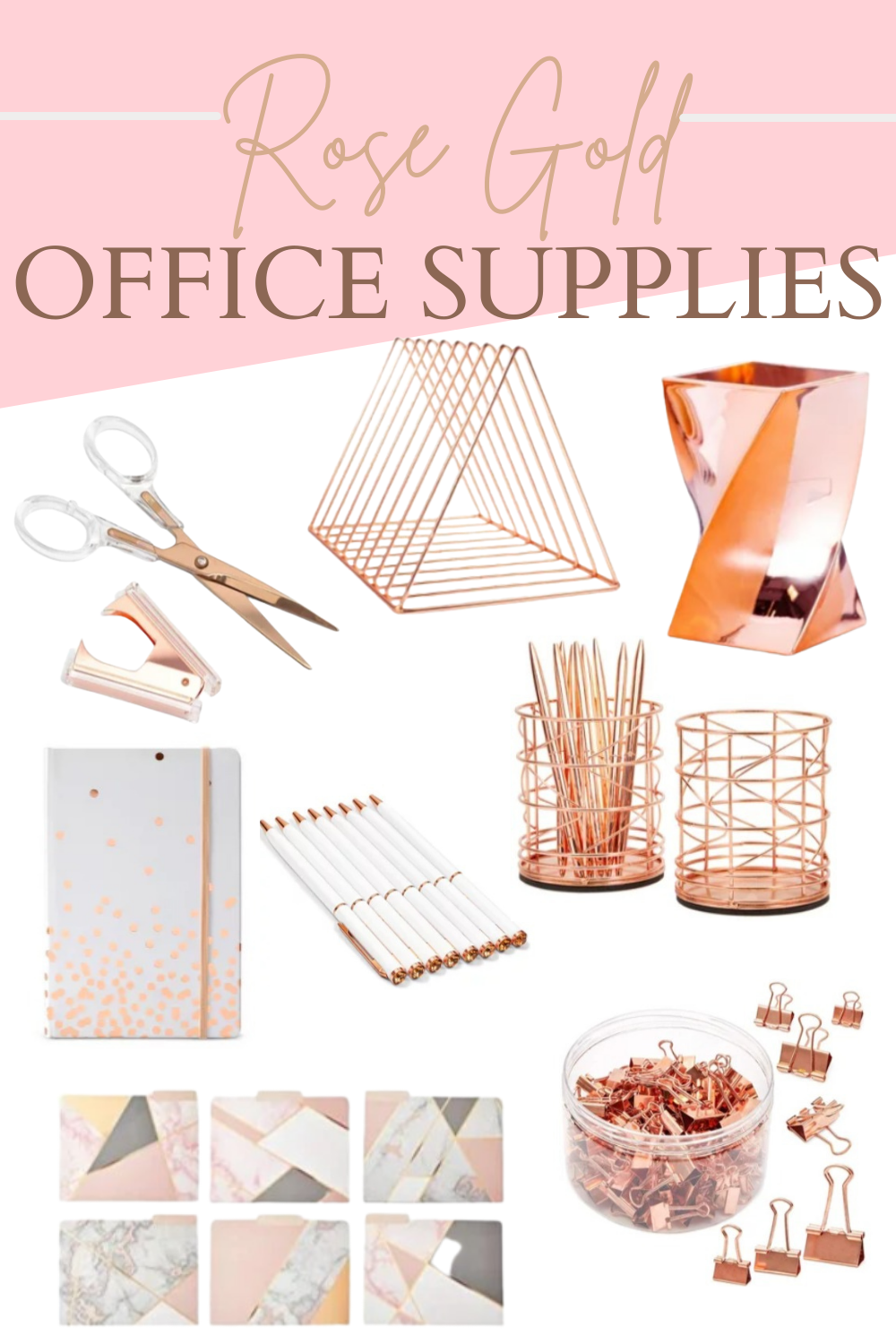 It's time to take your office decor to the next level with this awesome list of Rose Gold Office Supplies you never knew you needed. Thanks to Apple and their rose gold iPhone that was introduced in the 2010's, rose gold has seen a meteoric rise in popularity. I've already got the rose gold office chair and the pencil holder/desk organizer in my Target shopping cart…
These rose gold office supplies are definitely worthy of a place on or near your desk. They're perfect for back to school, getting your college kid set up, or just dressing up your own desk, whether it's at home or in the office. Even better, most of them are available at Target, so they're easy to get, and oh so affordable. Plus you know Target has their finger on style that's budget friendly.
Links may be commissioned.
Paper Junkie Set of 2 Rose Gold Stationery: Scissor with Clear Acrylic Handle & Staple Remover – You always need a good pair of scissors, why not have a pair that's gorgeous, too?
63ct Office Accessories Kit with Sticky Notepad – This is a great set for those home offices, college kids, or even your high schoolers and middle schoolers. It has a little bit of everything, and it's so budget friendly at less than $10!
4pc Modular Desktop Organizer Set – These organizing containers are great for your desk or office, but also work oh so well for anywhere in your home. They'd be great for organizing makeup and cosmetics, your junk drawer, or even smaller things on your shelves.
Rose Gold Wave Pen Holder – A pencil cup is pretty much a must have. This fab mirrored rose gold one showcases your pens in style.
Zodaca Rose Gold Magazine Holder, 9 Slots File Sorter – This file sorter is not only useful, it kind of looks like art all on its own. This file sorter also makes a great organizer for larger eyeshadow and makeup palettes.
Lined Journal 8.5″ x 5.5″ Rose Gold Dot – Dabney Lee – You always need a little notebook. Whether it's to jot your thoughts down, take notes during a meeting or phone call, or even just make a list, this one is gorgeous and a good size. Plus, the price is very nice.
JAM Paper 1″ 100pk Colorful Standard Paper Clips – Everyone needs paperclips. Why not make them pretty?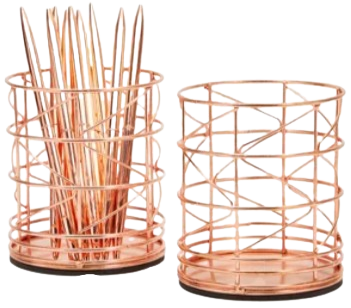 2 Pack Rose Gold Pen Holder Cups – These pen cups are less of a statement piece, and have a more minimalist appearance to them. That's not to say they're shrinking violets, they're just not as bold. They'd also make great makeup brush holders.
Calter Marble Decorative Magnetic Memo Board Rose Gold/Marble – Why have a regular memo board when you could have a rose gold and marble looking one for around the same price? Umm…yeah…so pretty.
12 Pack Decorative File Folders, Monday to Sunday, Pink and Rose Gold Foil Polka Dots – These file folders are great if you have daily tasks to do, like reports. They're sure to get you organized in no time.
150 Pack 3 Sizes Rose Gold Binder Clips Paper Clips – Binder clips are one of the must haves in our office.
3ct Soft Touch Felt Tip Pens – Rose Gold Accents – I prefer felt tip pens for myself. These pastel pens with rose gold accents look like ballpoint pens, but surprise!
Rose Gold Pencil Holder and Desk Organizer with Pullout Drawer – Everyone needs a desk organizer, and this one in Rose Gold faux leather is so pretty. It would also be gorgeous in a bedroom or on a vanity.
Paper Junkie 12 Pack Geometric Marble Decorative File Folders – You need to organize your paperwork, why not make it pretty with these file folders?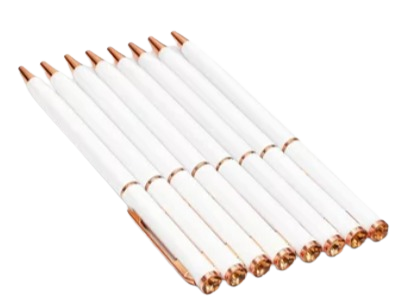 8-Pack Elegance White & Rose Gold Pens – These pens are so sleek and elegant. They'd be great for a fancy event like an anniversary party or a shower where people are signing guestbooks, too. Just have extra pens on hand, as they're likely to grow legs and walk away.
Mid Back Leather Executive Swivel Office Chair White/Rose Gold – How gorgeous is this chair?? It's perfect for areas where you have to share office space and living space.
12 Pack Retractable Rose Gold Ballpoint Pens – These pens are absolutely stunning. They'd also be great for an event where people are signing guestbooks.
PRO Planner Weekly/Monthly 8.5″x11″ Rose Gold – I swear by my planner! Sometimes at it, too, but that's a story for a different time. If you're like me, and love a good planner, this one is great, and since it's undated, you can start it at any time.