I love road trips. L-O-V-E them. You get to see more, travel at your own pace, zig when everyone else zags. You get to see so many things that you would have missed otherwise. And when we pass a billboard for a tourist trap, you bet I'm planning to stop!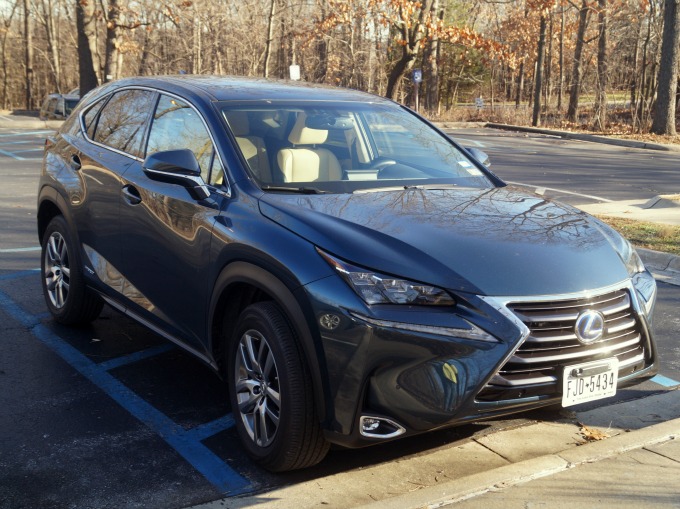 Recently, we took a trip to Northwest Arkansas to see the Holiday lights and do a little shopping. Lexus generously offered me the use of one of their vehicles, a Lexus NX300 Hybrid! I was beyond thrilled when it showed up at my doorstep, as we would be traveling in luxury and comfort.
Our Lexus was a great ride; if you are considering a crossover vehicle in that class, by all means, this is one nice car. I was immediately impressed by how quiet it was. The Lexus NX300 has a push button ignition, and, at first, it was hard to tell if the car had started! We'd start the car, stop the car, start the car, stop the car. And then decide if it was running or not. Pretty much like an Abbot and Costello routine. Honestly, the quietness of the Lexus NX300 was something that really made it stand out. The car engine was quiet; when the doors were closed, you didn't hear much outside noise; and the doors had soft-closing hinges, so they closed softly instead of slamming shut. It was very nice.
Inside the car, the seats were very comfortable, and you could make infinite adjustments to get them to a "just perfect" fit. The interior was perforated leather and even though it was a light colored interior, it was very pretty and stayed clean. The highly customize-able dual climate zones were pretty great, too.  I like it cold in the car, while others don't. I can have my A/C on full blast, and they can have their heat on.
There was plenty of storage room in the back, and also plenty of passenger room. We had a person that rode in the back seat and they thought it was very roomy. Also, the back seats fold down flat for more cargo room; but they have a power mechanism for folding down, that also locks them into place. You know how sometimes it's a bit difficult to close the back hatch of an SUV? Not this one! The Lexus NX300 has an automatic close and lock feature, which keeps it from slamming down or you straining your arms to pull it down.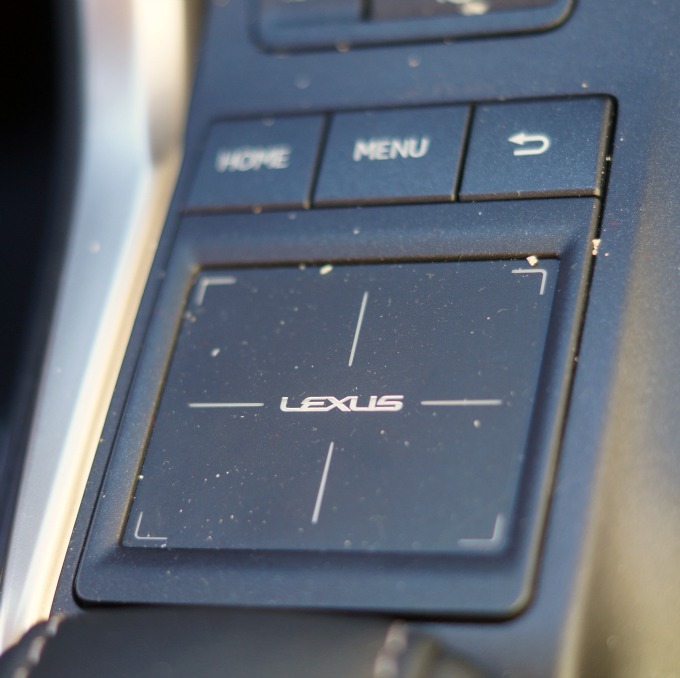 The driver's cockpit had some really neat features, although some things I was just figuring out how to use when our week was up. I loved the touchpad for the many controls like the radio, built in GPS, and stuff like that. Although, I will say, the big screen was a little distracting.  There is a little cubby to charge devices, which was awesome! The backup screen and blind spot monitors are amazing – this is something I never thought I would need, but would absolutely love to have it on my next vehicle. Heated and cooled seats – I didn't use this more than to test it, and it was…interesting, to say the least. Also, a heated steering wheel – that would be so nice in the middle of winter!  There's even a first aid kit in the cargo area.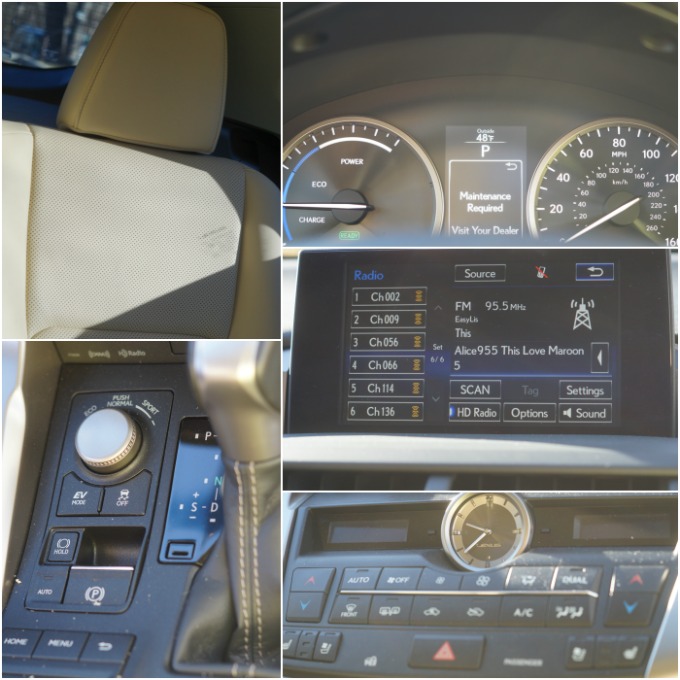 Let's talk about the ride – smooth and comfortable! Plenty of power, turned nicely, and great gas mileage! Since the Lexus NX300 was a hybrid, I expected to get good mileage, but I didn't realize how good it would be. We averaged about 400 miles per tank, but the tank was only like 9 gallons. Yep. It cost like $13 to fill this bad boy up. Ridiculous, right?!?! One of the more interesting features, which caught me a little off-guard at first, was the auto-adjust on the Cruise-Control. If you are approaching a car too quickly while using the Cruise Control, the Lexus NX300 will automatically adjust your speed to avoid getting too close.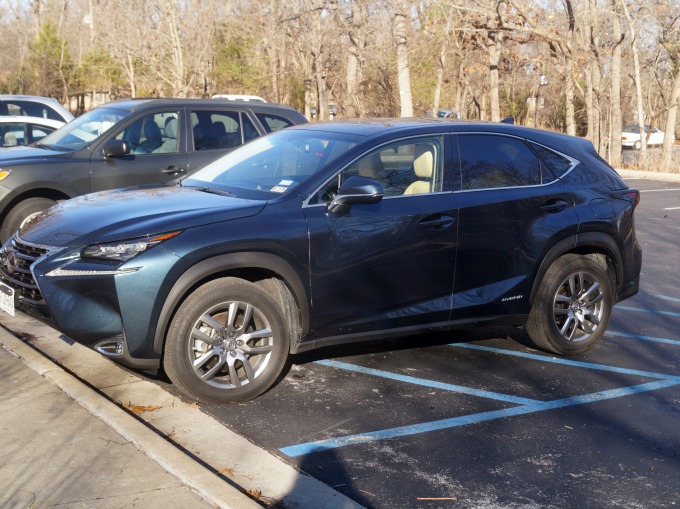 I really liked this vehicle. The things I didn't care for were minimal at best – like the fact that you have to shut the car off to open the back hatch. That was annoying when running an errand or going shopping. I thought it was funny that the Lexus NX300 Hybrid was very High-Tech, yet had an Analog Clock on board. The owner's manual was several hundred pages; there were several times we referred to it in order to do some basic thing, like put gas in the car. Here is a hint to all car companies (and rental car companies, as well): make a one or two page cheat sheet with the basics, so I don't have to look up how to open the gas tank, or how to use the Cruise Control.
All in all, I was sad to send my Lexus NX300 Hybrid back. It was beautiful while it lasted. Stay tuned for more about my visit to Fayetteville, and their Holiday festivities!