Are you a DIYer? If so, you know that there are always those times that you're missing an item to complete your project. It doesn't matter whether you're making changes on your boat or RV, or repairing or remodeling your home. You'll often have moments where you discover that you need a certain type of bolt or latch to complete your work. When shopping for that type of equipment, if your local Lowe's or Home Depot carries it, mission accomplished and you can go back to completing your project.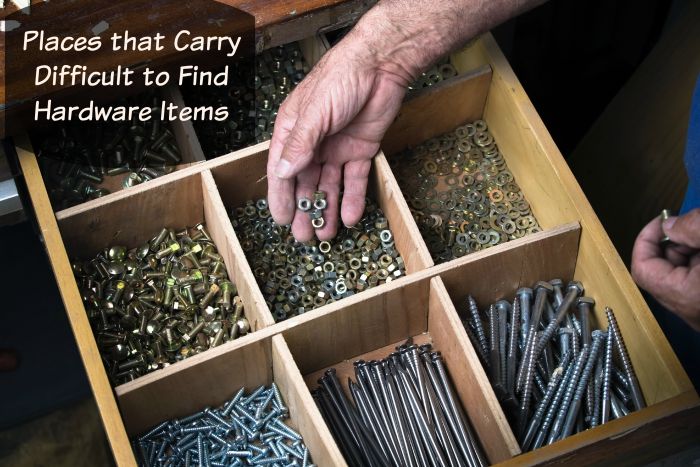 If they don't, you might need to look at other options for difficult to find hardware.
Some of the Best Places to Find Difficult to Find Hardware
Marine salvage: If you're upgrading your boat, you can try and source parts through the equipment manufacturer or you can take a look at a local marine salvage shop or yard. Oftentimes, when people get rid of their boats, the yards will buy them and pull the hardware off them so customers have options when they come in. These places usually have quite a few styles and types of hardware that may match what you are looking for.
Restoration Hardware: For vintage work around the home, Restoration Hardware is one of the largest stores. Their main focus is on hardware designed for homes that have historical value or want period design. Restoration Hardware carries quite a few pieces that were salvaged from old homes and an even greater inventory of hardware options from manufacturers that create specialty pieces to match the era that you're looking for. They also carry a variety of lights and fixtures.
HTF Hardware: If your project calls for hardware for RVs, boats, home improvement, or even industrial work, consider HTF. HTF is one of the top places to turn to when looking for hardware that matches what you already have. Their complete line has been developed over the years in response to what customers want. When you visit their site, there's a good chance you'll find what you are looking for.
Having trouble with difficult to find hardware can be annoying because when you visit a store, there can be hundreds of pieces to look through before you find what you need. Using one of the options above should provide you with choices that save you both time and money.
What are your favorite places that carry difficult to find hardware?