Special thanks to Luvs and Vocalpoint for sponsoring this project.  All opinions are my own.
There's been a lot of debate recently about whether or not you should have a baby shower if it's not your first child. Honestly, I had no idea this was even a point of contention. Many people are opting for a Baby Sprinkle instead.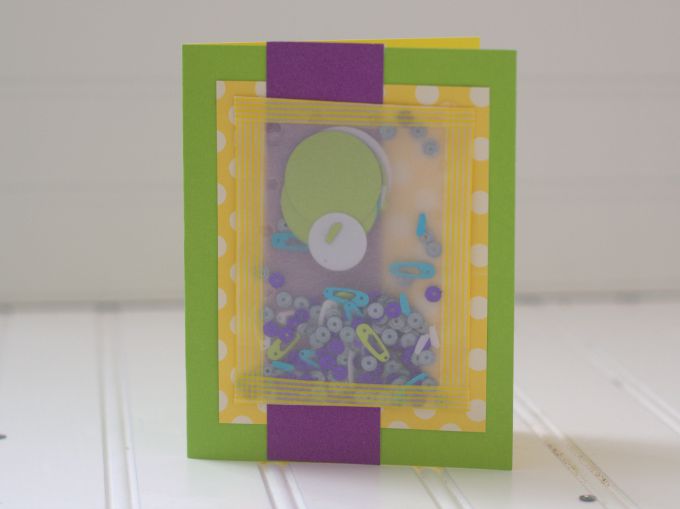 Are you familiar with a Baby Sprinkle? Basically, it's a smaller version of a baby shower, and is generally geared towards couples that are having their second – or more – child. The theory is that since they already have a kid, or kids, that they don't need as much stuff. Luvs thinks every child should be celebrated, and they're fully endorsing the Baby Sprinkle trend.
We're making a fun and unique Baby Sprinkle invitation. Some may say that invitations are passe, and that they use Facebook or something similar. That's fine, as long as you don't want me to bring anything. I consider Facebook invitations something really casual, like "Heyyyy…wanna come over and grill some burgers? Pick up some buns on your way over!" It doesn't replace something like a Baby Sprinkle invitation, where I need to buy a gift in a specific theme.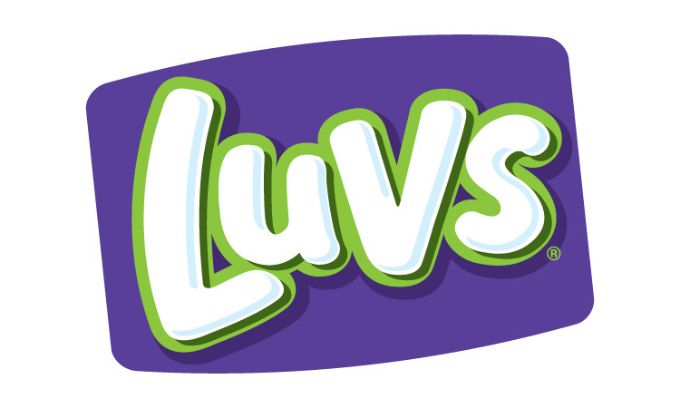 Our Baby Sprinkle is gender neutral, so we're going with a Team Green colorway that just so happens to correspond to the Luvs branding colors.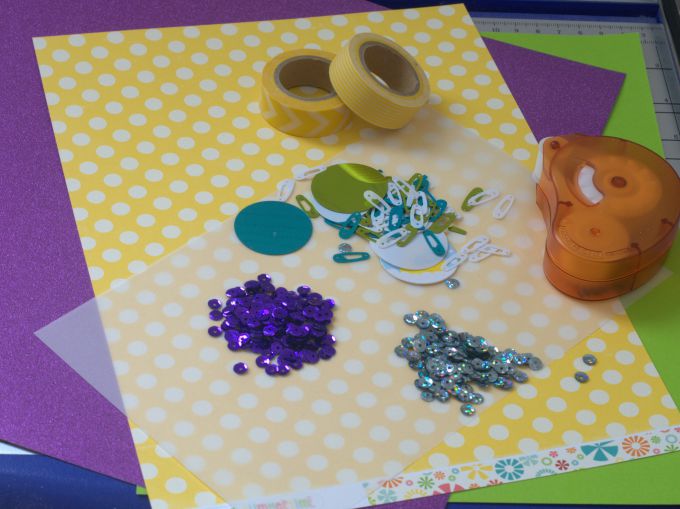 Baby Sprinkle Invitation
Materials Needed
Lime Green Cardstock. I found this really cool one that had lime green on one side and yellow on the reverse.
Yellow polka dot cardstock
Purple Glitter Cardstock
Sheer Vellum
Yellow Striped Washi Tape
Purple Sequins
Silver Holographic Sequins
Safety Pin confetti
Large Round Spangles or confetti
Dry adhesive tape runner
Scissors
Paper Cutter
Baby Sprinkle Invitation Directions
Cut your papers as follows –
Lime green Cardstock – 5 ½ x 8 ½ inches
Yellow Polka Dot Paper – 3 ½ x 4 ½ inches
Purple Glitter Cardstock – 1 ½ wide strip. Then cut that in half, for 1 ½ x 6 inches
Sheer Vellum – 3 x 8 inches.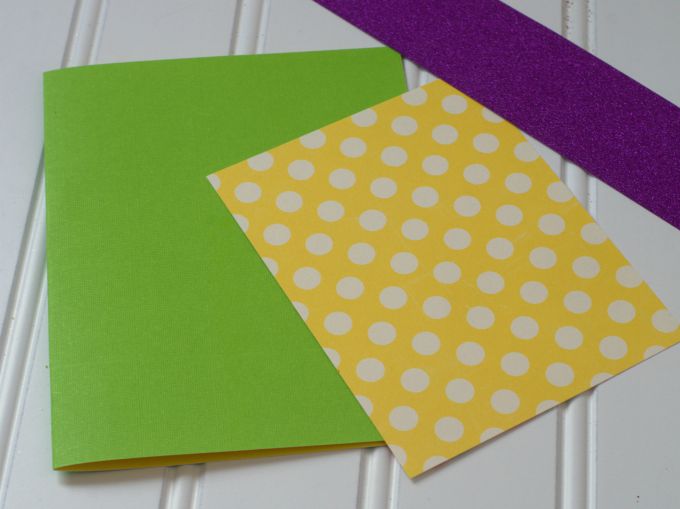 Fold your lime green cardstock in half to make a card that's 4 ¼ x 5 ½ inches.
Place adhesive on the back of your yellow polka dot paper, and center it on the green card.
Measure about 1/3 of the way in from the fold, and stick the purple glitter cardstock down with dry adhesive, overhanging the strip a little on each end. Trim flush with scissors. Set aside.
Take the vellum and fold it in half, creating a piece that's 3×4 inches.
Run dry adhesive around two sides, leaving one side open.
Take a pinch of the purple sequins, silver holographic sequins, and safety pin confetti and drop into the vellum pouch. Add a few of the large spangles and shake the pouch, holding the open end closed. Decide if it needs a few more sequins or if you're happy with the contents. Seal the open end.
Run washi tape down the two parallel sides, overhanging the washi tape on the ends. Trim flush. Now, repeat on the other two sides.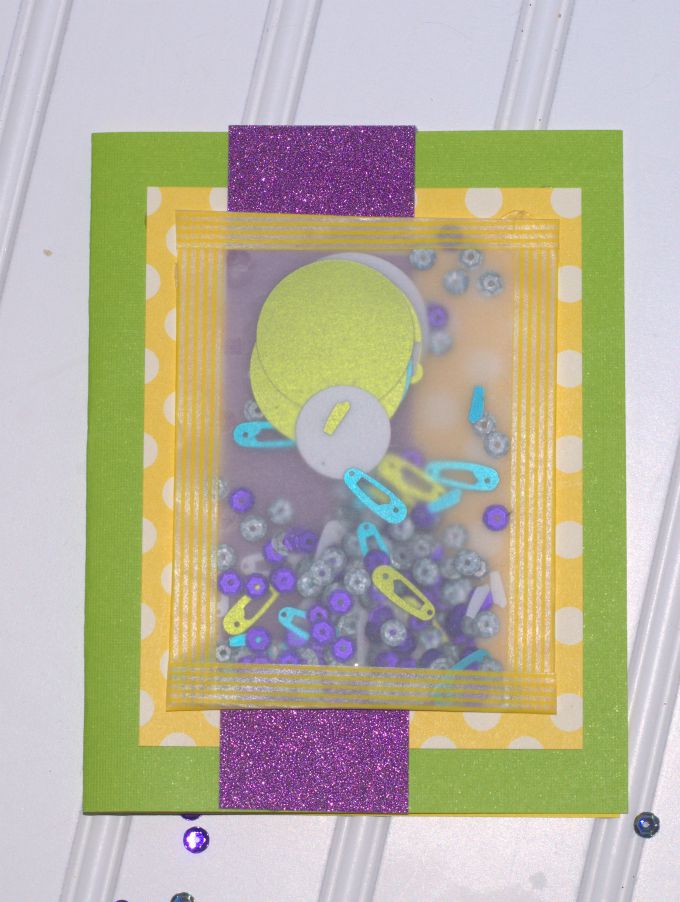 Adhere the vellum pouch to the card. If you want to use the confetti mix to sprinkle, use removeable adhesive to stick it to the card.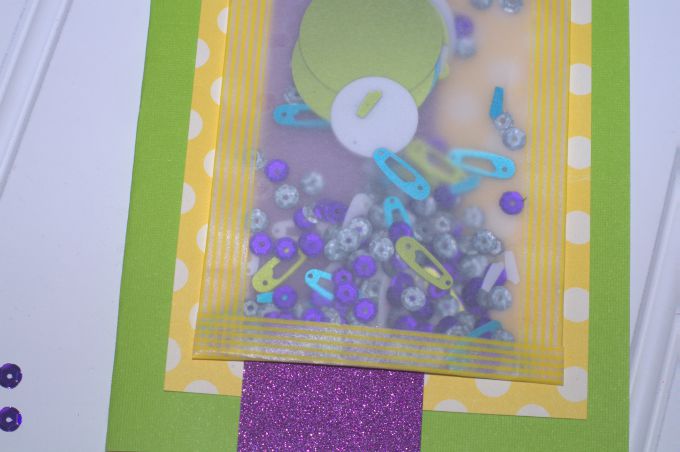 Print a time/date/details on good quality paper and stick it on the inside of your Baby Sprinkle invitation. Use something nicer than the normal plain ol' white cardstock. You could even print it on the same clear vellum you used to make the pouch, and stick it down with your washi tape.
Congrats! You've just made a pretty awesome Baby Sprinkle Invitation.