Ahhh…Valentine's Day.  It's a day designed for love and romance, lust and lace. We tend to think red and cupid and hearts when the day rolls around.  There's something else though – lace.  Lace adds a really great feminine touch to almost everything it's added to.
To that point, we've put together a Valentine's Day outfit that has NO RED or PINK. That's right – it's lace instead.  WHOA! This is perfect for travel or warmer weather.  Headed to Vegas for a weekend getaway?  How about a cruise to celebrate that special anniversary?  This is the perfect outfit.  Know what's even better?
All of these pieces came from Target, so they're really budget friendly.  That might be the most romantic thing of all. Links may be affiliate links.
The Perfect Valentine's Day Outfit for Warm Weather
Links may be affiliate links.
Three Hearts Lace Trim Top ($11) – Such an adorable top with lace detailing on the yoke.  Also available in coral. And let's face it – you really can't beat the price!
Merona Seersucker Ankle Pants ($28) – Personally, I love an ankle pant, especially in warmer weather.  When I worked, I could wear them to the office and I could dress them down on the weekend.  Ankle pants make you look dressed up with minimal effort.  Who doesn't want that?
Nala Ankle Strap Wedge Sandals ($18) – A really great pair of shoes for a myriad of outfits.  Perfect for pairing with a skirt or dress, but not too much for slacks or capri pants.  Or even ankle pants.  Available in Cognac or Black.
Lace Overlay Weekender Bag ($35) – This bag is really fabulous.  It's huge, and is great for taking everything you need for an overnight trip or even a weekend getaway.  It doubles as a fab beach bag or a really stylish tote for all the miscellaneous items you have to schlep around.
Button Pearl Earrings ($8) – Everyone can use a simple understated pair of button earrings.  These are slightly different than the ones shown
Long Necklace with Faux Pearls ($17) – This is such a great necklace.  You'll want to add it to your wardrobe, and it's one that you'll reach for again and again.
With a few simple pieces, you see how easy it is to create a perfect Valentine's Day outfit for warm weather.  These are all pieces that you'll reach for again and again, too!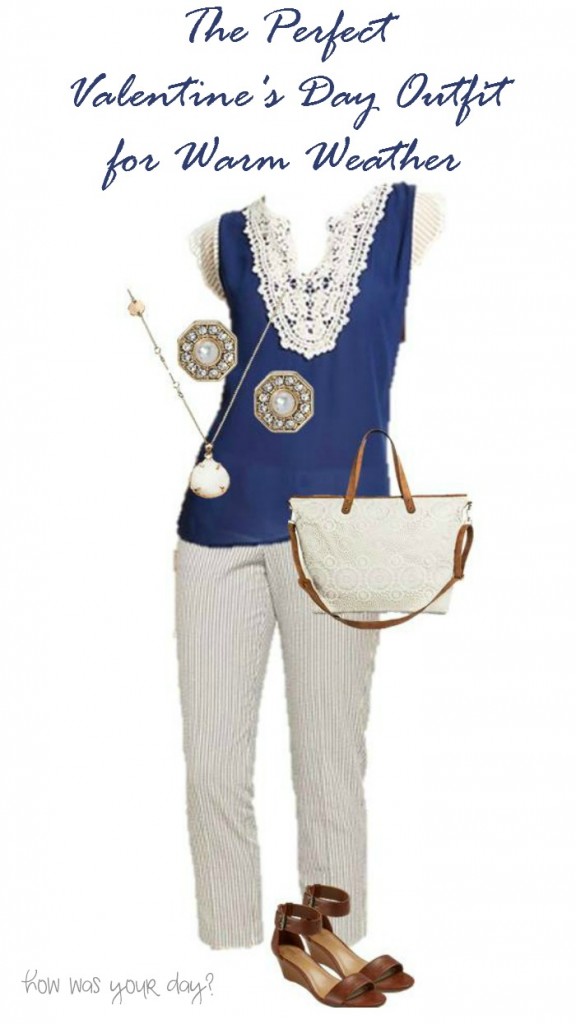 For more Valentine's Day fashion, beauty and style ideas, visit a few of my favorite bloggers: