In times past, society may have been scandalized by those who decided to marry outside of a chapel. An initiation to attend an outdoor wedding may have resulted in raised eyebrows and whispered conversations about newfangled ideas. Trends in weddings today seem to be almost completely opposite of what they were in the past. Diamond rings for men? Women in a tux? Themed weddings, unique wedding venues, and high adventure weddings draw the attention of people worldwide as pictures and ideas for outrageous wedding ideas are spread through social media.
What Makes for Outrageous Wedding Ideas?
Couples who are intent on having a unique and memorable wedding often begin with a simple question. "What would make our wedding outrageous?" The theory behind this thought is that the event will be much more memorable if it is far from tradition. These weddings often come with crazy demands and even crazier goals. In order to ensure that their wedding day is not soon forgotten, couples don costumes, enact favorite movies, and even take vows in precarious places.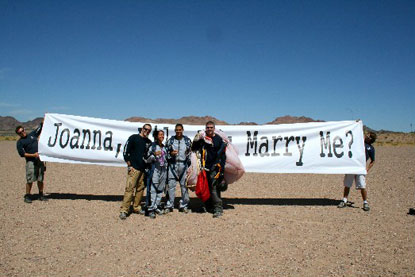 Skydive Wedding
Las Vegas has long been known for its interesting wedding venues. From stating vows in front of an Elvis lookalike to being surrounded by famous (wax) guests, the possibilities for unique weddings are almost endless. One newer, and more adventurous, form of wedding that is now available in Las Vegas is a skydive wedding. Couples can either choose to be wed on the ground before boarding the plane, or have a skydiving preacher perform their ceremony as the plane is soaring through the sky. Many couples find the perfect avenue for their sense of adventure by saying their "I do's" only moments before they jump from the plane and fall at the speed of 120 miles per hour.
Twilight Wedding
One couple may have recently topped the charts for the most outrageous wedding ideas. They planned their entire wedding to strongly resemble their favorite movie, Twilight. In order to ensure that the wedding had the most realistic feel, the couple legally changed their last names after the ceremony so they would match the last names of the movie characters. From the lookalike dress to the copycat hairstyle, the details of the wedding were planned to resemble the wedding scene from the well renowned vampire movie.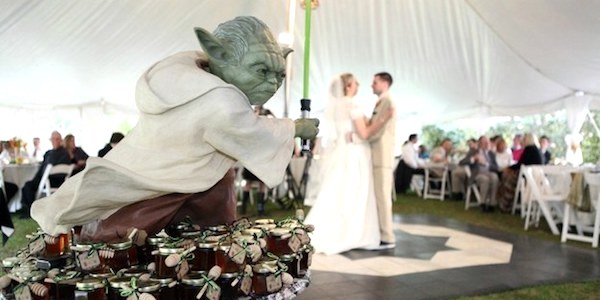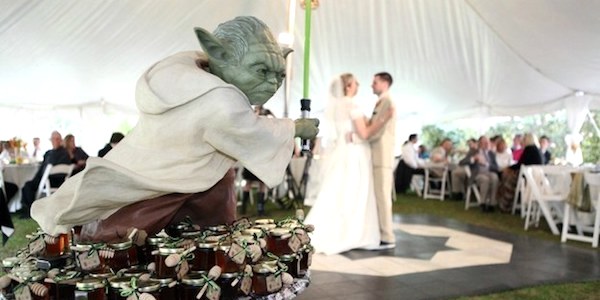 Star Wars Wedding
It only stands to reason that Star Wars, the science fiction story line that has been popular for well over 30 years, would have its own following with reference to outrageous wedding ideas. Such weddings feature as many iconic parts of the movie series as possible. One such wedding boasted the bride and groom dressed as Luke Skywalker and Princess Leia. An R2-D2 projector was used in place of the traditional ring bearer. Stormtroopers accompanied the groom's father into the venue as Darth Vader's Theme song played, adding to the movie feel . Photos of the couple's wedding featured guests in costume, reenacted battle scenes, and an all too realistic Jabba the Hutt wedding cake.
Superhero Wedding
Many children, once smitten with love for comic books and super heroes maintain a lifelong obsession. Some, however, take it to outrageous levels when planning their wedding event. One such comic book wedding featured everything superhero from start to finish. A comic book page was sent out to invite each of the guests, stating that the dress code was normal clothing on the outside and superhero clothing underneath. Tables at the event were named after famous comic book characters. Even colors for the bridesmaids and groomsmen were chosen in bright comic book colors.
Unique and interesting weddings seem to be growing in popularity today, leaving many couples trying to outdo the outrageous wedding ideas that they have seen posted online. It would seem that for those looking for a memorable wedding ceremony today, all it takes is creativity, imagination, and a willingness to step far away from the traditional church wedding of the past.