This post is sponsored.
If you have a toddler or a pet, you've been there.  Someone rings the doorbell, and there's a dash to the front door by you, your toddler, and your pet to see who it is.  And if your child is old enough, they may even try to get that door open.  If this scenario has happened in your household, you've probably tried to mitigate your damages by installing a child gate.
Well, we all know how that turns out. We install the gate just to find out that the pets or kid can bulldoze through it on adrenaline alone.  There is a solution, though. Enter Hideagate.
What's a Hideagate?
I can hear you asking this.  It's the answer to your prayers is what it is.  Hideagate is a disappearing, sturdy and completely kid- and animal-proof gate. It doesn't just swing out of the way, though.  Nope. Hideagate actually disappears into the wall.  WHOA! Not only that, but the gate is visually appealing.  No more blue or white plastic mesh barricades for you!
This is the device you've been looking for. The modern, sleek design is thanks to the nicely finished 14-gauge steel construction with a durable powder coating. Better yet, Hideagate is able to withstand years of kids and dogs and their attempted escapes. It's virtually indestructible, and no amount of abuse from children climbing, or pets chewing on the Hideagate will mar its good looks.
As previously mentioned, the Hideagate will disappear into the wall when not in use.  Its folding mechanism allows it to collapse and hide in a narrow pocket built into the wall.  Kids gone to grandma's house?  Fold the Hideagate into the wall until later.  Having a party that you don't want your pooch to attend?  Simply fold the gate down into place, and Fido is out of the action.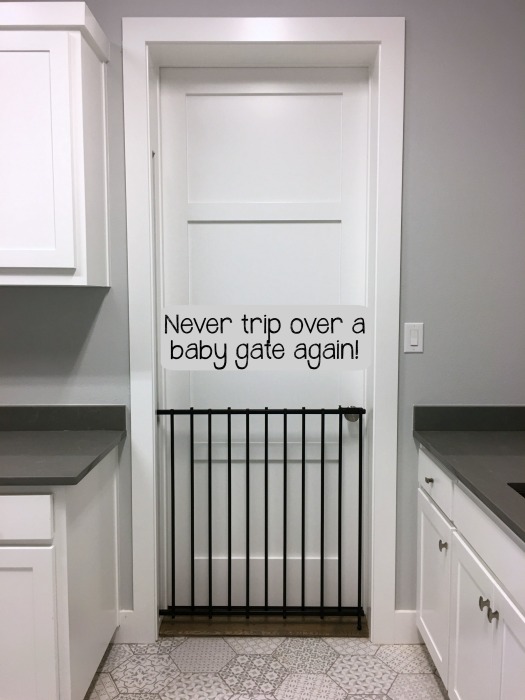 Cool! How does it work?
Hideagate is available in standard door widths of 32", 36" and even 48" to fit almost any opening.  Coupled with the fact that it can be installed in conjunction with a pocket door or standard swinging door, it will fit into almost any home hall or doorway.  Hideagate can also be installed into a wall alone.
The gate is designed for new construction and remodels, as it has some structural points to consider, such as extra stud placement.  Models are available for installation in either a 2 x 4 or 2 x 6-inch wall. Both gates are designed for installation while the wall is being framed.  The 2 x 4 version is available already framed, so it installs much like a pocket door, where you would slide it into place and secure as instructed. The 2 x 4 version is designed for 31" and 36" spaces, while the 2 x 6 Hideagate is perfect for wider openings. The Hideagate unit has a universal bracket that allows for either right- or left- hand installation.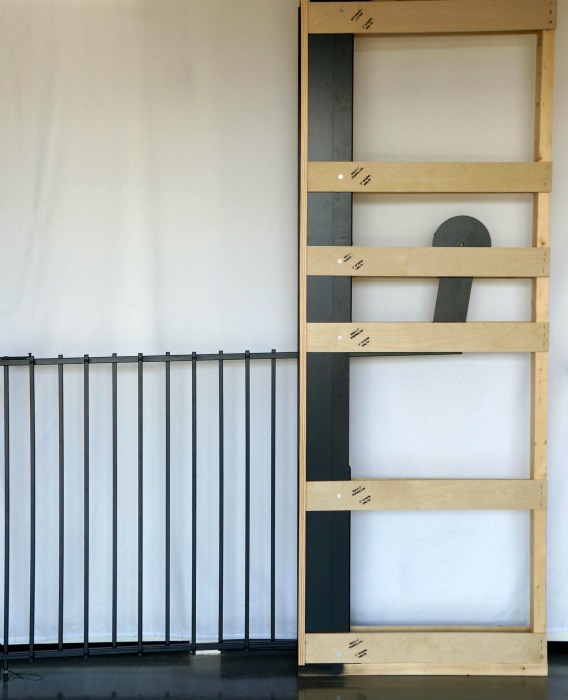 Hideagate has taken many safety precautions with their gates, too, by complying with the JPMA (Juvenile Products Manufacturers Association) guidelines and recommendations. These recommendations include vertical bar spacing, overall height and height from floor to provide product safety for children. They've also taken the APA (American Pet Association) guidelines and recommendations for pet safety, into consideration, as well.
Although the price point for the Hideagate is around $850, it will provide you with a lifetime of safety and security for you and your family.  Installation isn't difficult, and your builder should be able to handle it without any special tools or training.
This is where design and function meet, and helps to keep your kids and pets contained.  I call that a win.