Special thanks to Area Trend for sponsoring this conversation about spring and summer style trends.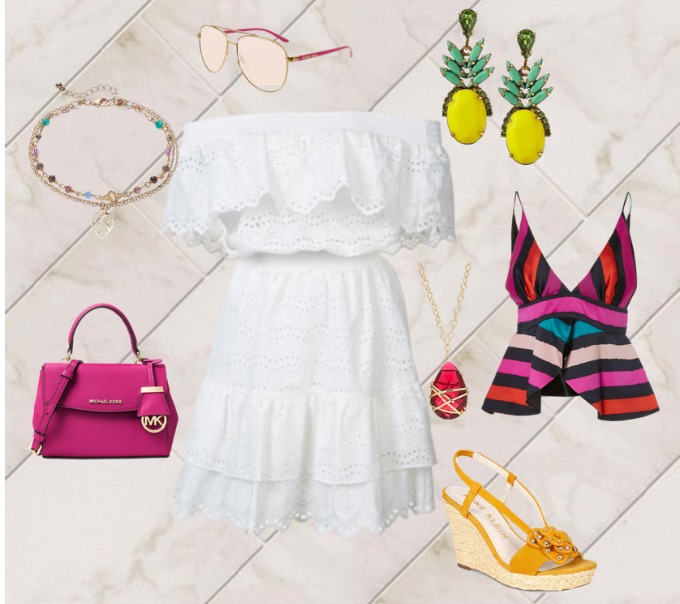 Birds are chirping, the grass is green, and trees are in full bloom. The warmer weather is here again! Now, it's time to figure out what you're going to wear, and work into your wardrobe for the warmer weather.
Luckily, the spring and summer fashion trends are bringing us some fab new looks, and keeping some of our favorites from years past. These are some of our favorite fashion trends for spring and summer 2017.
Stripes
I am a huge fan of stripes, so any time they're on trend, I may go a little overboard. It's okay, I'm embracing the trend completely. For spring and summer, the stripe trend is in full effect. You can go with bold stripes. You can choose to wear narrow stripes. Even pinstripes are popular this season. Go 'head now, pick up some stripes.
Pink
I think bright pink looks good on just about everyone. Of course, you have to find your shade of bright pink, but once you do, there's no stopping ya! Go for deeper pinks than you've been wearing. There's no pastel baby pinks here. Fuchsia, berry, and magenta are your go to colors for summer.
White Dresses
White seems to be a spring and summer staple. What better way to show off your great tan – real or fake – than with a beautiful white dress? White is so chic, and so easy to wear. Lace dresses, flowy linen pants, slightly oversized tops, even that button down shirt that you nabbed from his closet. It all works.
Wedge Sandals
Wedge sandals do a lot for your legs, and they're fairly comfortable to wear. Once you get used to walking in them, that is. They do take a bit of practice, but since they've been a trend for a couple years now, you should have at least a couple pairs in your closet.
Sunglasses
There's never a bad time for sunglasses. And you really should have several pairs. You don't just have one pair of shoes or one necklace, do you? No! You don't need 20 pairs of sunglasses, necessarily, but at least three or four pairs are good. The designer women sunglasses you're wearing around town or to a great lunch date aren't necessarily the same sunnies you're wearing at the beach.
Bralettes
The bra top is back, baby. There's so many incarnations of this look, from the soft sports bra look to the really strappy pieces. A lot of the bralettes are leaning towards athleisure and away from delicate and frilly. They're a great layering piece, too.
Anklets
Ankle jewelry is here for the summer. It's kind of sexy, and oh so easy to wear. It adds that little sumtin-sumtin to your look. The trend thus far has been mostly chain anklets. DIY the look by wrapping an inexpensive necklace around your ankle.

Yellow
Yellow is having its moment, too. Bold shades of sunflower, banana, and even acid yellow are everywhere. Now, a lot of people don't look great in yellow. If you're one of them, capitalize on the yellow trend with a great bold handbag, shoes, or other accessories.
Espadrilles
Espadrilles are easy to wear, and really cute. They're a little ethnic, a little vintage-retro, and so totally cool. It's like kicking up your everyday sneakers or flats up a couple of notches. Espadrilles are usually reasonably priced, so there's no reason not to pick up two or three pairs.
Sheer Fabrics
Summer always seems to bring the lightweight fabrics, but they're creeping into spring, too. We're going to be showing some skin, even though we're covered. Gauzy fabrics, lace, and even organza are going to show up all over. These sheer fabrics aren't just white, either. They're black, smoky grey, and even bold colors.
You can really update your spring and summer wardrobe with a few key elements. Mix the trends with bold pink and/or yellow stripes. Add a bold yellow bralette under your white sheer dress. It all works!