Special thanks to the Minnesota Wild for hosting us.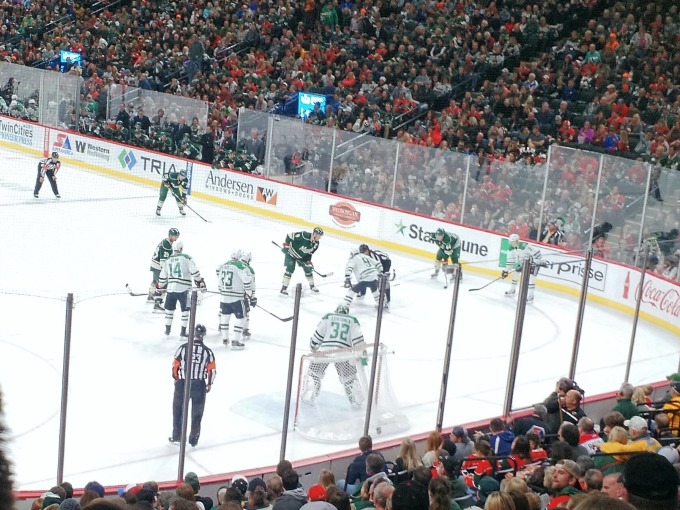 I've been fortunate enough to attend a lot of events in my life.  From operas and concerts to stage plays and sporting events, each one seems to have its own ambiance. Operas and symphonies seem to be quite subdued with a bit of a murmur when the show begins, while stage shows vary depending upon the time of day, and the theme of the show.
By the same token, various sporting events have their own vibe. I grew up going to a lot of baseball games during the summer, and it wasn't uncommon to show up in the 2nd inning and leave in the 7th. Conversely, we'd go to a hockey game, and get there slightly before puck drop, and leave when the game was over. IF it was a blowout, or the LA Kings were pretty surely going to win, we miiiiigggghhhhhhtttt leave a little early.  There was none of this going to half of the game stuff, though.
 
The Lead Up
On our recent trip to Minneapolis and St Paul, MN, we were lucky enough to attend a Minnesota Wild hockey game. I'd asked a couple people at our hotel what time we needed to leave, and what time we should arrive. Everyone said we should get to the arena an hour early.  Not the area, the arena, the actual Xcel Energy Center. And if we wanted to eat before the game, to go TWO hours early.
Now, I knew Minnesota was hockey crazy, but this seemed kind of nuts. We relented, figured that the locals knew best, and planned to go early.
As we arrived in downtown St Paul, we saw tons of people wearing Minnesota Wild gear. Now, this isn't unusual in an area around an arena, even on a non-game day.  But once we arrived at the game, it really felt like we were the only ones without jerseys on.
 The Minnesota Wild Game Experience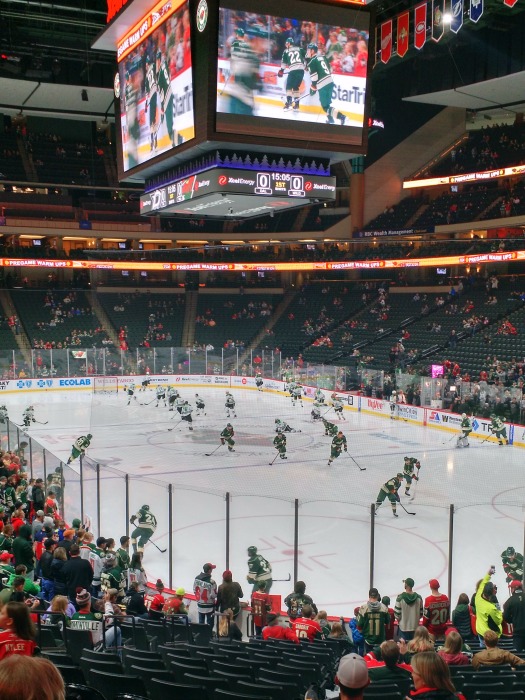 We were there early enough for the pregame skates, and the Wild fans were out in force.  I'd venture to say that the arena was already about 40% full.  And this was AT LEAST an hour before puck drop. These fans were seriously hard core. As the game started, there were no signs of people settling down.  If anything, they were getting more pumped up.
Of course, it didn't hurt that we went to a game during a win streak, and on a Saturday night. Now, each team, and every arena has their traditions, but Minnesota seemed to have A TON of these. One of my favorites was the goal celebration song, which is Let's Go Crazy. Such a great choice, because the crowd really does celebrate, and because of the local ties to Prince. And the arena was loud.  Not normal loud, but more like can't hear yourself think loud.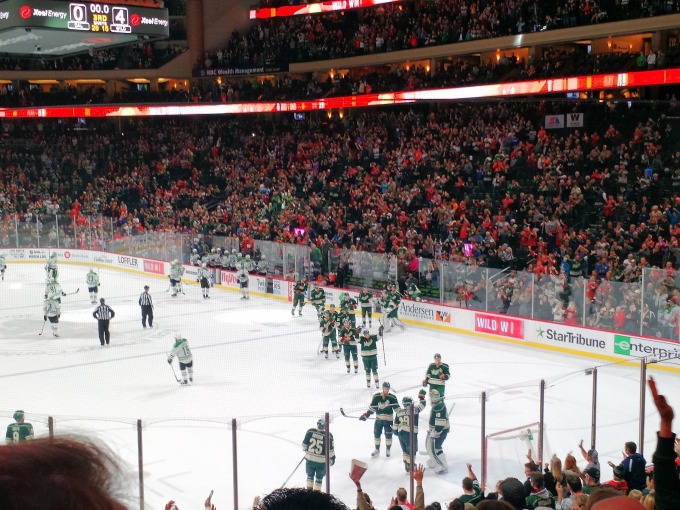 The Xcel Energy Center is an older arena, but you'd never know it. It's totally modern, and is actually the arena that a lot of the newer ones are modeled after.  It has some really great features that we'll get onto later, and all of these things are designed to make you feel closer to the action. It really works!
If you're a sports fan at all, you need to add attending a Minnesota Wild home game to your sports bucket list.