Are you looking for a dish that will make your taste buds do the Zorba dance? Look no further than this Mediterranean Layer Dip recipe!
With its layers of fresh veggies, creamy tzatziki sauce, and tangy Feta cheese, it's an easy to make dish that's sure to impress.
Links may be commissioned.
Let's start with the star of the show: the seasoned tomato, red onion, and cucumber mixture. This vibrant combination of veggies is like a Greek salad in dip form. The cherry tomatoes add a burst of sweetness, while the red onion provides a bit of bite. And the cucumber? It's crisp, refreshing, and just the thing to balance out the flavors.
Next up, we have the tzatziki sauce. Made with Greek yogurt, garlic, and dill, this sauce is cool, creamy, and oh-so-tasty. It's the perfect complement to the veggies, adding a touch of tanginess that ties everything together.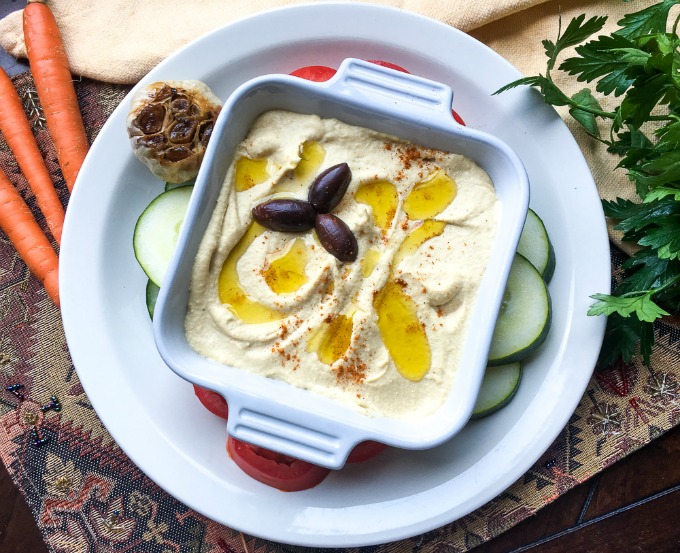 And then there's the hummus. Creamy, garlicky, and smooth, it's the perfect base for all those tasty toppings. Spread it on thick and get ready for a flavor explosion.
But wait, there's more! No Mediterranean Layer Dip is complete without a few finishing touches. We're talking Kalamata olives, crumbled Feta cheese, and fresh parsley. These toppings add a salty, briny, and herbaceous flavor that takes the dip to the next level.
So what are you waiting for? Grab a bag of pita chips or some sliced veggies, and dive into this Mediterranean Layer Dip. It's a dish that's perfect for parties, potlucks, or just a night in with friends. And with its fresh ingredients and bold flavors, it's sure to become a new favorite.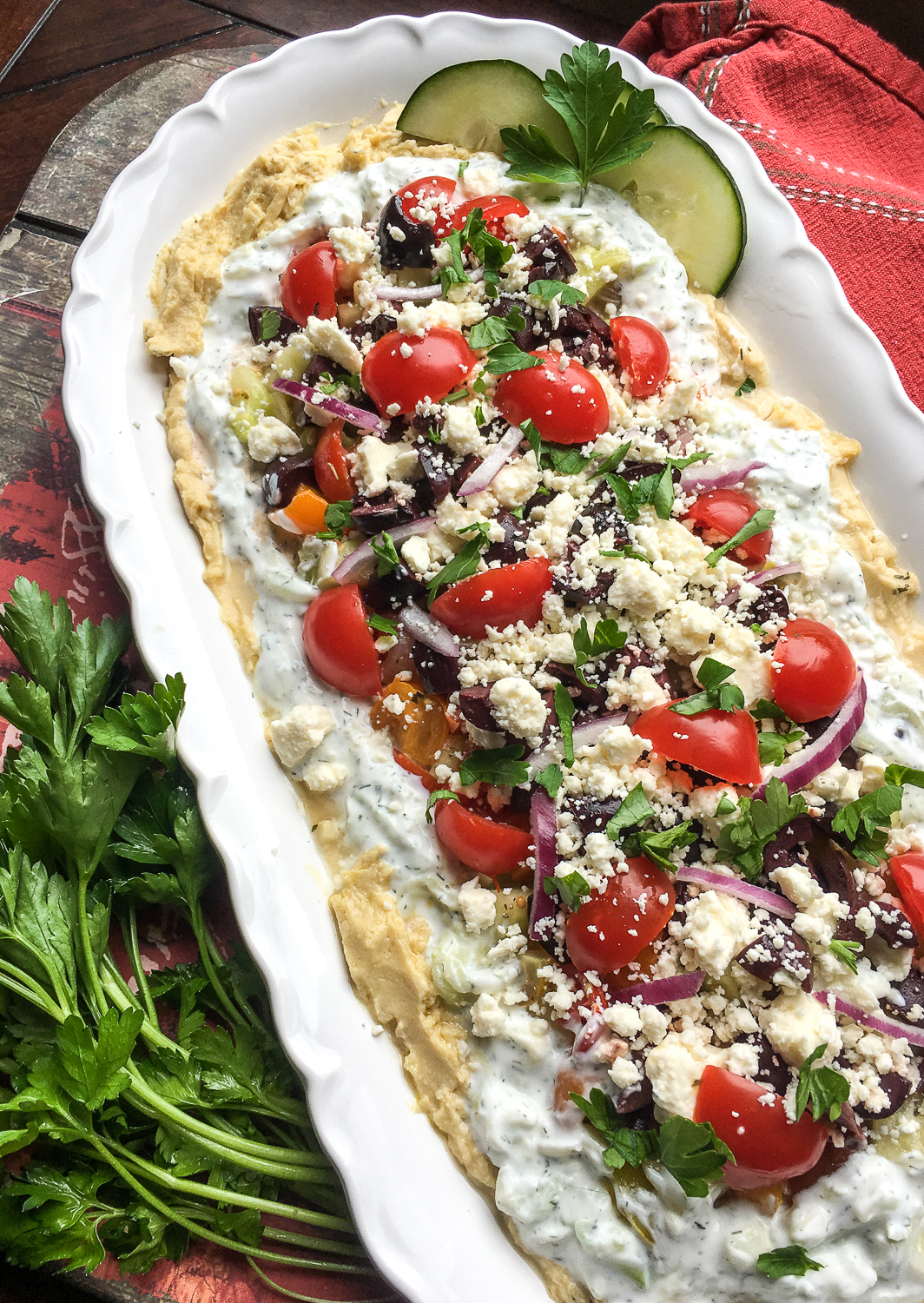 How to Make Mouthwatering Mediterranean Layered Dip
Want to make this recipe at home? Here are the ingredients you'll need:
1 large seedless cucumber, peeled and cut in half
1 cup cherry or grape tomatoes, chopped
1/2 small red onion, sliced thin
1 tablespoon extra virgin olive oil
3 tablespoons lemon juice, divided -1 teaspoon garlic powder
1 tablespoon fresh oregano (or 1 teaspoon dried), divided
Sea salt and black pepper, to taste
1 cup plain Greek yogurt (full fat)
2-3 cloves garlic, minced
1 tablespoon fresh dill (or 1 teaspoon dried)
1 1/2 cups hummus, store-bought or homemade
1/2 cup Kalamata olives, chopped
1/2 cup Feta, crumbled
1/4 cup fresh parsley, chopped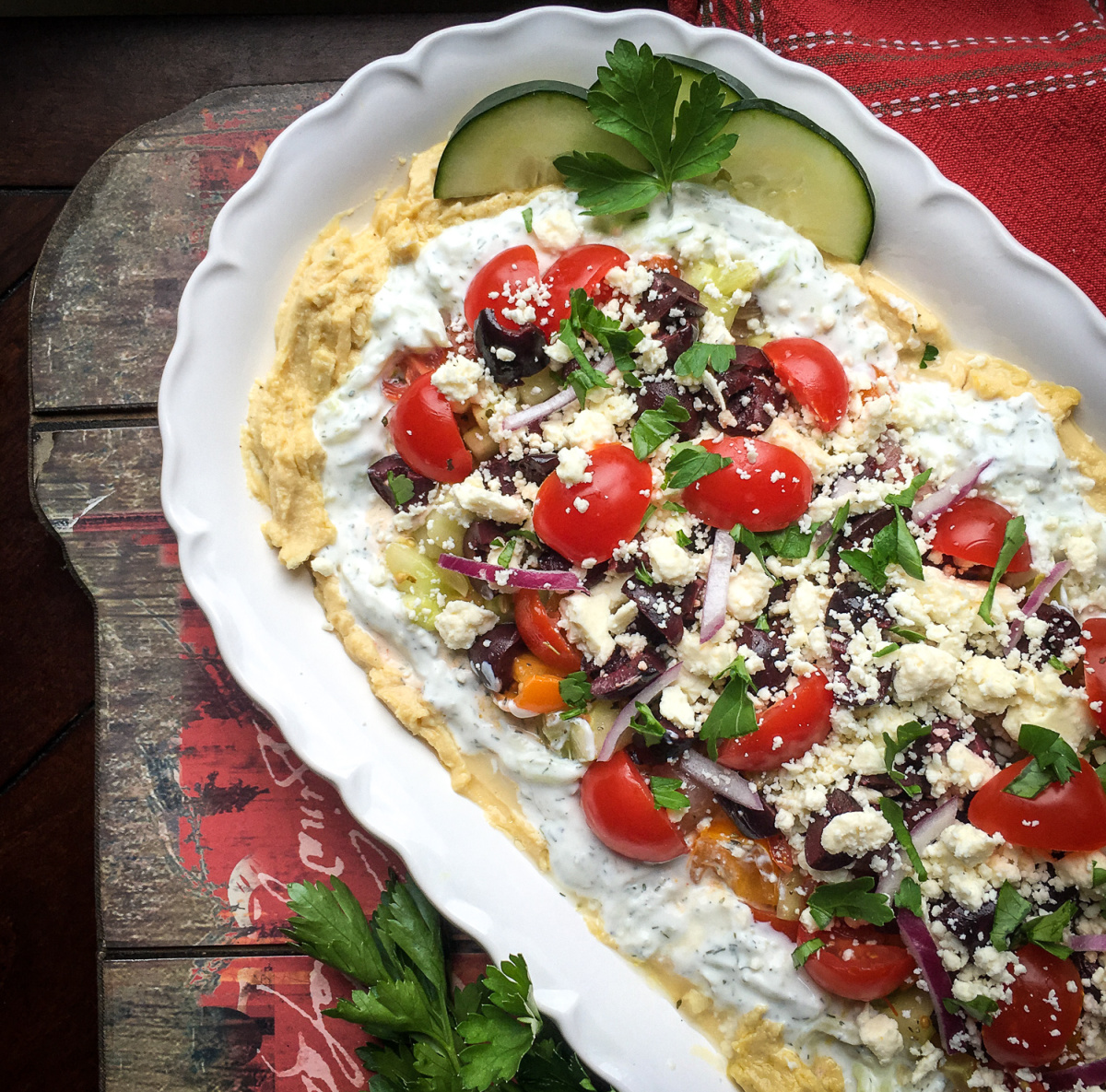 Directions:
In a large bowl, combine diced cucumber, chopped tomatoes, sliced red onion, olive oil, 2 tablespoons of lemon juice, garlic powder, and half of the oregano. Season with salt and black pepper, to taste. Stir to combine and set aside.
In another large bowl, shred the remaining half of the cucumber with a box grater. Add plain Greek yogurt, minced garlic, dill, and the remaining oregano and lemon juice. Season with salt and black pepper, to taste. Stir to combine and set aside.
Spread the hummus in a uniform layer on a small serving platter or in an 8" x 8" casserole dish.
Top the hummus with an even layer of the tzatziki sauce from Step #2.
Use a slotted spoon to drain excess liquid from the seasoned tomato, red onion, and cucumber mixture before spreading it on top of the tzatziki.
Serve the dip immediately with your favorite dipping vegetables such as sliced bell peppers, cucumbers, and carrots. Pita bread, pita chips, and bagel chips are also great options.
This dip is perfect for any occasion, from a casual gathering with friends to a fancy dinner party. The combination of fresh vegetables, tangy Tzatziki sauce, creamy hummus, and salty feta cheese make for a flavor explosion in every bite. For a really great evening, try pairing this dip with a full bodied dry Rose' or a Sauvignon Blanc wine.
Not only is this Mediterranean dip delicious, it's also loaded with healthy ingredients like Greek yogurt, cucumber, and cherry tomatoes. Plus, it's a great way to impress your guests without spending hours in the kitchen.
Do I need any special tools or equipment?
No, you don't need any special tools to make this Mediterranean Layer Dip. Just a few basic kitchen utensils such as a good knife, cutting board, bowls, and a spoon should be enough to prepare this delicious and easy recipe.
If you're going to make the hummus from scratch, you'll need a food processor to puree the hummus ingredients into a smooth paste. You can also use a blender if you don't have a food processor. If you're using store-bought hummus, you can skip this step entirely.
Of course, you also need a great platter, like these Fiestaware platters. The bright colors would really set off the Mediterranean Layer Dip. If you're feeling especially fancy, you could use these appetizer cups and make individual cups like a Mediterranean version of 7 Layer Dip.
Overall, this recipe is very beginner-friendly and doesn't require any fancy equipment or tools. It's perfect for anyone who wants to whip up a tasty and impressive appetizer in a short amount of time.
Do you have any tips or tricks for this Mediterranean Layer Dip?
Here are a few tips and tricks to make sure your Mediterranean Layer Dip turns out perfectly:
Be sure to drain the excess liquid from the tomato, cucumber, and red onion mixture before adding it to the dip. This will prevent the dip from becoming too watery and diluting the flavors.
Use full-fat Greek yogurt for the Tzatziki sauce to achieve a creamy and tangy texture. Low-fat or non-fat yogurt can be too watery and won't thicken up properly.
If you're short on time, you can use store-bought Tzatziki sauce instead of making it from scratch. You'll want to choose a high-quality brand with fresh ingredients.
You can customize this recipe by adding other ingredients such as roasted red peppers, marinated artichokes, or grilled eggplant. Just be sure to chop the ingredients into small pieces so they're easy to eat with the dip.
This dip can be prepared up to 24 hours in advance and stored in the refrigerator until ready to serve. Make sure to cover it with plastic wrap to prevent it from drying out.
Next time you're looking for a quick and easy appetizer that will impress everyone, give this Mediterranean Layer Dip a try. It's sure to become a staple in your recipe arsenal!