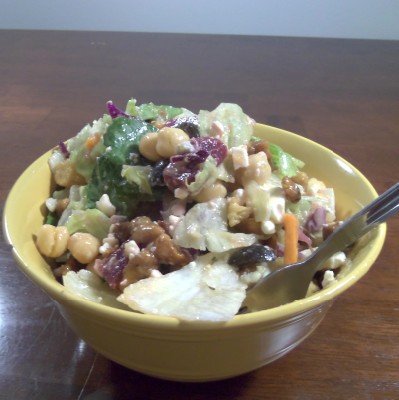 I may have mentioned a time or two that I love salad. I could seriously eat it every day. In the summer months, I'll often have salad 8-10 times a week. While salads are subjective, this is one that just about everyone enjoys. Chances are that you have everything necessary to make this salad dressing recipe in your pantry already.
You will need:

For the Salad Dressing Recipe:
¾ Cup Filippo Berio Olive Oil
¼ Cup Vinegar
2 Tbsp Water
1 tsp Garlic (I used dried minced)
2 tsp Sugar
1 ½ tsp salt
1 tsp shredded or grated parmesan cheese
Mix all ingredients together. While this is a decent right away, it's really good if you let it sit overnight and meld. Refrigerate any unused portions. This will keep for a couple weeks – if it lasts that long!
I like to make my dressing in a jar with a tight fitting lid. That way, I can just shake it up when it needs it.

For the Salad:
Organic Baby Field Greens
A firmer lettuce – I like butter or romaine lettuce, but do use the All American salad mix sometimes.
Cheddar Cheese – I usually use something like cheddar in the salad then top with either blue cheese or feta.
Sliced Pickled Beets – drained
Garbanzo Beans – drained
Baby Corn – drained
Grape Tomatoes
Feta Cheese
Candied Walnuts
Croutons
Dressing to taste
Add the organic baby greens and the firmer lettuce to a mixing bowl. The baby greens are good for variety and taste, but they have a very soft mouth feel. The firmer lettuce gives some structure and crunch. Cube up your cheddar and add it. Cut your beet slices into quarters, so they'll easily fit on your fork. Add them to your bowl, along with the garbanzo beans and baby corn. Dress to taste, and toss. Divide into servings. Top with Feta, Candied Walnuts, grape tomatoes, and croutons. Serve to your guests. Or your family.
You can easily add salmon, chicken, steak, or shrimp to this, too.