I love cheesecake. It's one of my favorite desserts to order when going out, mainly because it seems to take forever and a day to make it at home. It's not that making homemade cheesecake is difficult, it's just a long process. And then, of course, you want to make sure it doesn't crack, and then unmolding it sometimes has issues. There's a new way to make cheesecake at home, and it's in the Instant Pot pressure cooker.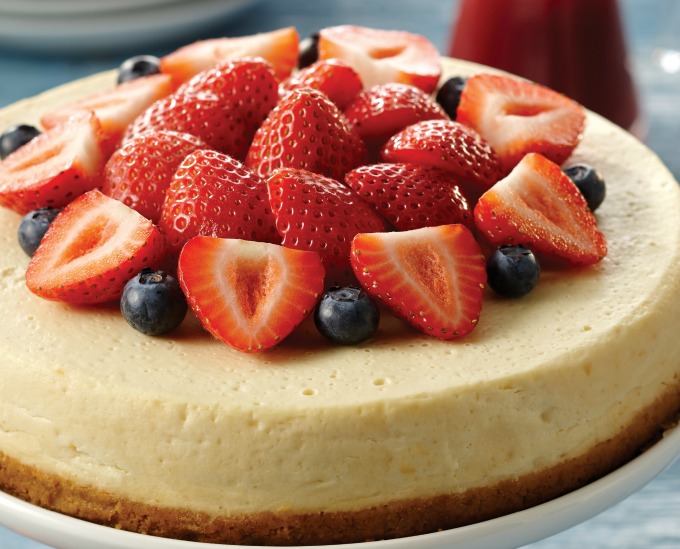 Seriously, it's amazing what this little kitchen gadget can do. It makes beans from dry to table in practically no time at all. It makes meat tender and flavorful, and now it makes Instant Pot Cheesecake. If you're making this Instant Pot Cheesecake recipe to serve as dessert, you'll want to make it early in the day, or possibly even the night before. It should sit for a while to cool.
Classic Instant Pot Cheesecake Recipe
Links may be affiliate links.
Are you familiar with the Instant Pot? It's basically a small, digital version of a pressure cooker, and has become a catch-all phrase for the kitchen gadget. This is the electric pressure cooker I have, and it works fabulously. You'll want to make sure to pick up the accessories bundle, as well.
For this Instant Pot Cheesecake recipe, you'll need a few other gadgets and equipment items as well. A 6 inch springform pan fits inside the Instant Pot, and makes a lovely sized cheesecake. A food processor is a must have when making any kind of cheesecake recipe. This one from Cuisinart is powerful enough to handle what you throw at it, and a good size.
Yield: 8 servings
Classic Instant Pot Cheesecake Recipe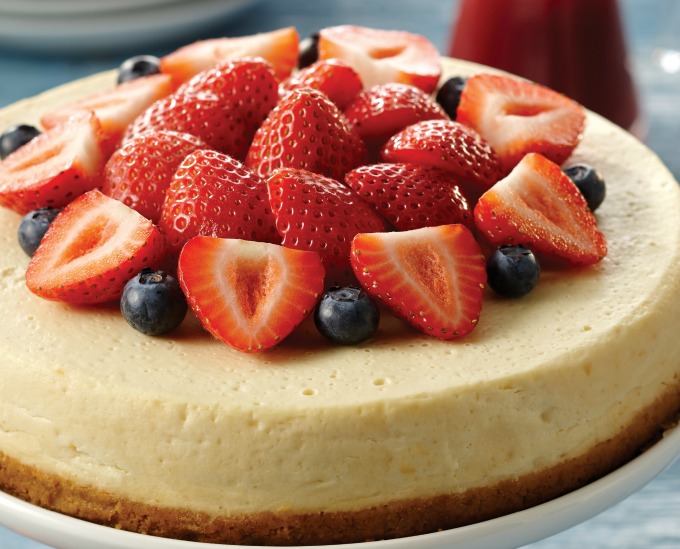 A classic NY style cheesecake that's made in an Instant Pot or other kind of electric pressure cooker.
Ingredients
1 1⁄4 cups graham cracker crumbs
1⁄4 cup unsalted butter, melted
1 lb. brick-style cream cheese, softened
1⁄2 cup granulated sugar
2 large eggs, at room temperature
11⁄2 tbsp. all-purpose flour
1⁄4 cup cottage cheese (preferably 
small-curd)
Grated zest and juice of 1⁄2 lemon
1⁄2 tsp vanilla extract
Instructions
Prepare the springform pan by buttering it liberally.
In a small bowl, combine graham cracker crumbs and butter until evenly moist.
Press into the bottom and halfway up the sides of the prepared pan.
In food processor, process cream cheese and sugar until smooth, scraping down the sides of the bowl as needed.
With the motor running, add eggs through the feed tube and process until smooth.
Add flour, cottage cheese, lemon zest, lemon juice and vanilla; process for 2 minutes or until smooth and creamy. Pour batter into the pan.
Add 2 cups (500 mL) water to the inner pot and place the steam rack in the pot. Place the pan on the rack.
Close and lock the lid and turn the steam release handle to Sealing. Press Manual; the indicator will read "High Pressure." Use the button to decrease the time on the display to 25 minutes.
When the timer beeps, press Cancel. Let stand, covered, until the float valve drops down. Turn the steam release handle to Venting and remove the lid.
Check to make sure a tester inserted in the center of the cheesecake comes out clean. (If more cooking is needed, reset the manual pressure to "High Pressure" for 5 minutes.)
Using the handles of the rack, carefully remove the rack and the pan and let the pan stand on the rack for 1 hour. Remove the edges of the pan and refrigerate for at least 6 hours or up to 2 days before cutting.
Nutrition Information:
Yield:
8
Serving Size:
1
Amount Per Serving:
Calories:

402
Total Fat:

28g
Saturated Fat:

16g
Trans Fat:

0g
Unsaturated Fat:

10g
Cholesterol:

120mg
Sodium:

300mg
Carbohydrates:

32g
Fiber:

1g
Sugar:

22g
Protein:

7g
Nutritional info is provided as a courtesy, and may not be accurate
See how easy it is to make a classic cheesecake in an Instant Pot? Who knew that you could have homemade cheesecake so quickly and easily?!?! I could see that this is going to be dangerous.
Will you be making this Instant Pot Cheesecake recipe?
Courtesy of 175 Best Instant Pot Recipes by Marilyn Haugen © 2016 www.robertrose.ca Reprinted with publisher permission. Available where books are sold.