Special thanks to Dunkin' Donuts for sponsoring this conversation about breakfast whenev.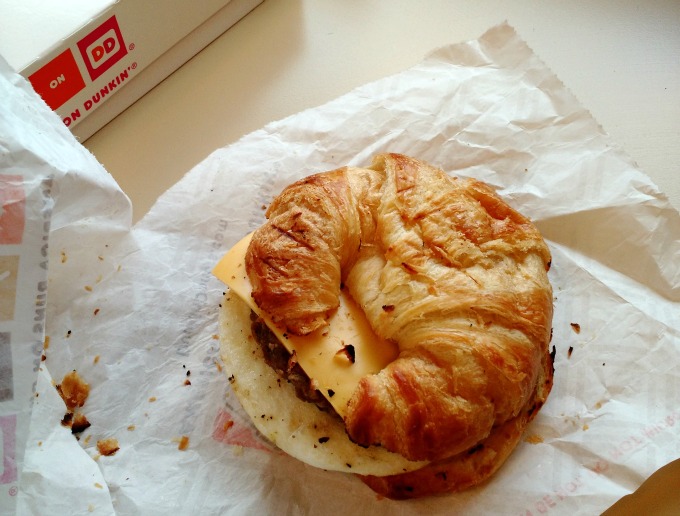 We've all had the urge to have breakfast at a non-breakfast hour.  Generally, that leads to something like having Brinner – breakfast for dinner – or looking for some kind of restaurant that serves breakfast all day.  Pancakes and omelettes are great and all, but what if you want something different?
You're in luck! Dunkin' Donuts has recently started serving their tasty breakfast sandwiches longer hours.  How long?  All dang day! That gives us a budget friendly option that's convenient to get our breakfast fix, too!
I knew we were road tripping up to Kansas City, and one of the places we always go when we're in town is Dunkin' Donuts.  You see, I live in one of the very few areas that still doesn't have a Dunkin' Donuts.  Can you believe it?  I know, we're totally deprived.  When I tell people this, they look at me like I've grown a second head or something.
I'm gonna be honest – I didn't even know that Dunkin' Donuts served breakfast sandwiches.  Well, that's not true. I knew Dunkin' Donuts had a couple breakfast sandwiches, but I had no clue they had such a variety.  I had originally gone in to get some donuts and someone else in the store was getting a breakfast sandwich, and I was kind of like "Whaaaa?!?!?! How can this be?  It's midafternoon, you can't get a breakfast sandwich at this hour!  And also, ummm…excuse me, you're at Dunkin' Donuts sir.  They don't have breakfast sandwiches."
Of course, I pushed these thoughts deep down, and remained polite.  But man, world shaken.
Anyway. One of my favorite things is croissants and croissant breakfast sandwiches. I knew I had to get a Sausage, Egg and Cheese Croissant breakfast sandwich, and it definitely did not disappoint.  The croissant was toasted nicely and it was buttery and flaky.  The ingredients were really good quality, and they even used real eggs on their breakfast sandwich.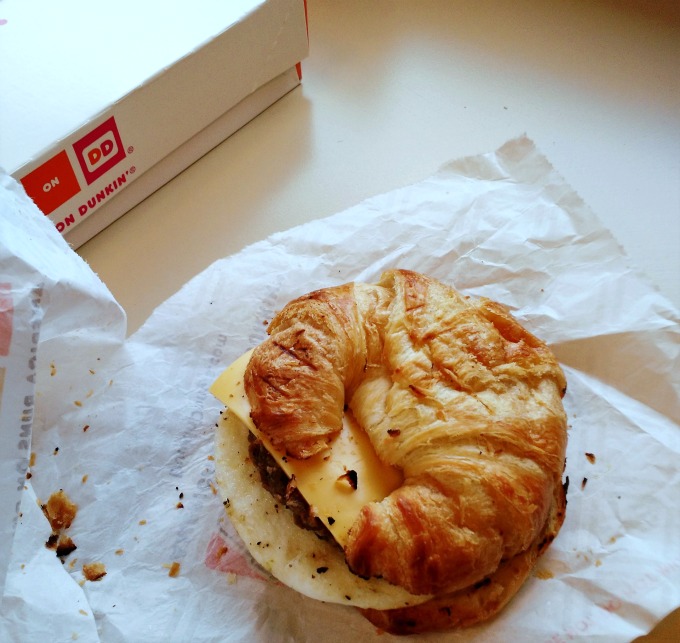 Next time the urge for Brinner strikes, head on down to your local Dunkin' Donuts. They have lots of options for breakfast that are available at any time of day.