This post is sponsored by CAULIPOWER Cauliflower Tortilla but the content and opinions expressed here are my own.
I love a good, unique taco combination, and these chicken teriyaki tacos are a perfect combo. They're a little different, but not so weird that you can't get even the pickiest eaters to try them.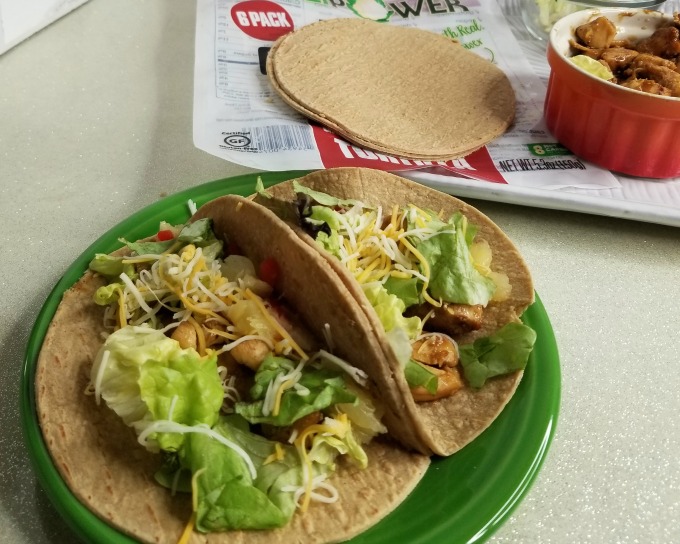 I first tried these at a California restaurant chain many moons ago. Unfortunately, the chain isn't in the Midwest, and I've had to do without my beloved Chicken Teriyaki Tacos. Or make my own.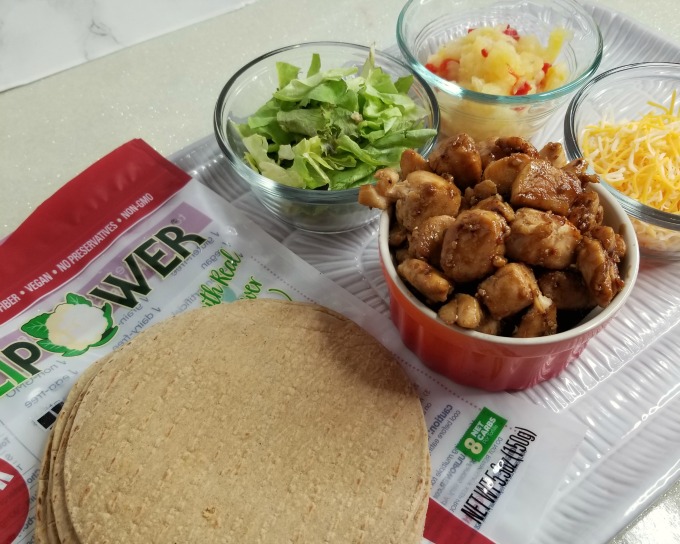 I decided to make my own recipe. I mean, it couldn't be all that hard, after all. It's just a twist on classic chicken tacos. Except, it's not, at all.
There are two real keys to these Chicken Teriyaki Tacos. One is that you have to have a good teriyaki sauce. It's a fine line between the ones that are thin, and work better as a marinade, and the thick variety that clings to your food. Personally, I prefer the thicker variety, but you can use whichever you like,
In the spirit of the new year, we made them healthier with the addition of CauliPOWER tortillas. They're gluten free, and made from – you guessed it – cauliflower. They were really a good option, and we didn't really notice the difference in flavor. They can be found in the refrigerated or frozen section of your local grocery store. I also have a $2 off Coupon for you!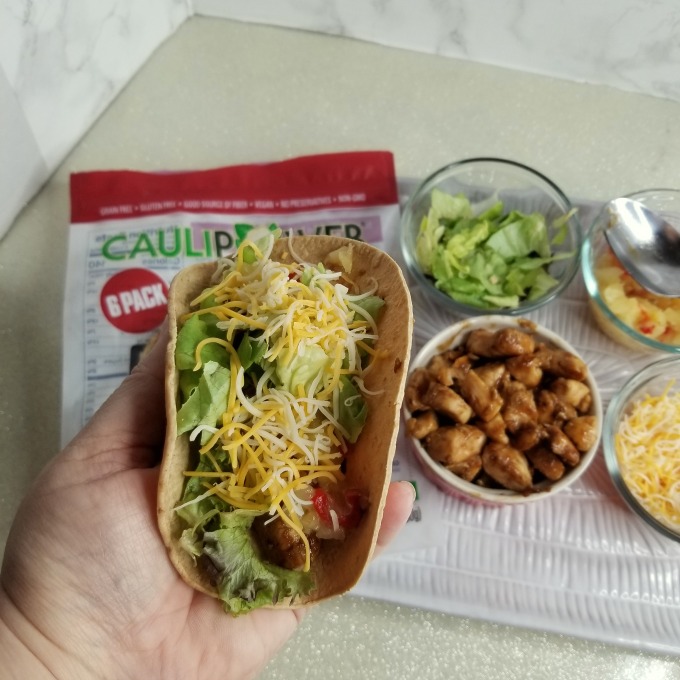 Chicken Teriyaki Tacos Recipe
1 lb chicken breasts, cut up
1 tsp oil
2 Tbsp Teriyaki Sauce – use your favorite variety.
6 oz can crushed pineapple, drained.
1/4 C mild red pepper, finely chopped
1/4 C onion, finely chopped
Salt and pepper
Toppings like shredded cheese, lettuce, and pineapple salsa
CauliPOWER Tortillas
Cook chicken with a little oil in a skillet over medium heat. When Tenderloins are cooked through, lightly season with salt and pepper. Add 2 Tablespoons of Teriyaki Glaze. Stir to coat chicken and heat through.
In a small bowl, combine crushed pineapple, onion, red peppers, with a little salt and pepper. This is also good with a little cilantro, if you like the flavor. Set aside.
Warm CauliPOWER tortillas per the directions on the package. Since they come frozen, this is a step you don't want to skip.
Add chicken to warmed tortillas, and top with lettuce, pineapple salsa, and some shredded cheese. Fold into a taco and enjoy!
Alternatively, you can serve this as a taco bar style, and let everyone make their own tacos. This is what we normally do, and it works well. No more complaining!
If you're having a decent sized crowd over, you'll want to pick up a couple packs of CauliPOWER tortillas. They're a great choice for those trying to cut down on their carb intake, but not their tacos or quesadillas!