Great uses for Tea Tree Oil was inspired by The Body Shop's new Tea Tree line. I received items for consideration.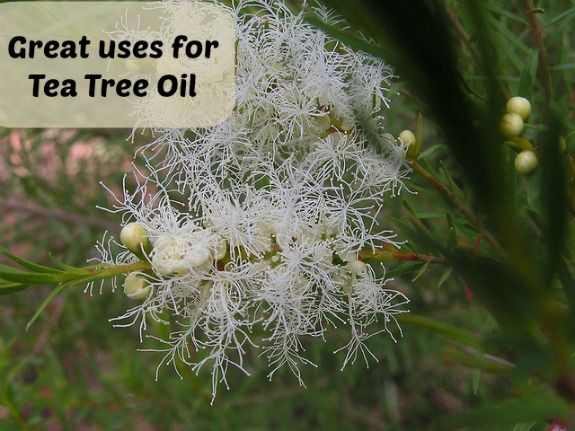 Tea Tree Oil has a myriad of benefits. Often referred to as a medicine cabinet in a bottle, it's often used to treat a plethora of conditions. First things first, though.
What is Tea Tree Oil?
Tea Tree Oil is an essential oil that is steam distilled from a plant known as Melaleuca alternifolia, which is native to Australia. It's not found naturally growing in any other place on earth. Tea Tree Oil should always come in a dark glass bottle, and be used with a dropper. You should also never ingest Tea Tree Oil orally.
What are some uses for Tea Tree Oil?
There are tons of uses for Tea tree oil. Many times, it's used to treat bacterial skin conditions. What kind of conditions?
Acne – A little dab on a blemish will make it recede.
Athlete's foot – Helps kill the fungus & bacteria
Eczema – Helps treat the bacteria causing the condition.
Dandruff & Dry Scalp
A drop or two in shampoo can help kill head lice
Scabies
Tea Tree Oil is often used as a antiseptic for cuts, bug bites, and abrasions, too.
When The Body Shop was creating a new line for acne treatment and blemished skin, they knew that they'd have to consider Tea Tree Oil as one of the ingredients. The Tea Tree line was born soon after. Consisting of a broad spectrum of 13 products, there's a treatment for everyone. Since it's The Body Shop, the line is made with only the best ingredients. Ingredients like organic tea tree oil, tamanu oil, and Lemon tea tree oil.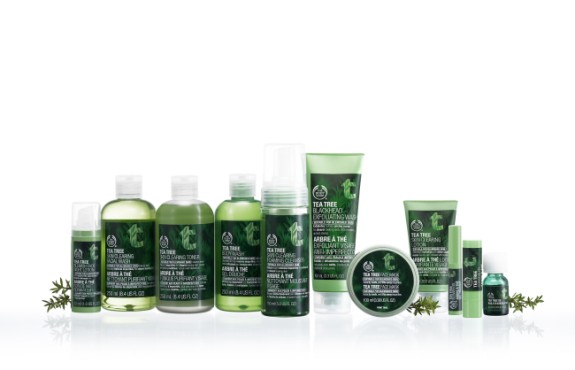 The Tea Tree line has cleansers for every person – foaming cleansers, gel facial wash, even wipes and a blackhead exfoliating wash. Then, because we all know blemishes don't just go away magically, there's the spot treatment products in the line. Tea Tree Blemish gel, which is like tea tree oil in a gel base, works wonders. Just place a dab on your blemish, and it recedes like magic. There's also a concealer that's part of the line. It works just like it sounds – it's tinted, like a regular concealer, with a bit of tea tree oil in it. How awesome is that? Conceal and heal at the same time.
The Body Shop has really thought the whole line through, though. Other items in the Tea Tree line include :
Tea Tree blotting papers. These are amazing for hot summer months and soaking up your extra oil.
Tea Tree Face Mask: Helps to pull out impurities while treating & soothing the blemish-prone skin
Tea Tree Blemish Fade Night Lotion: This gel crème helps to soothe your skin, moisturize it, and calm the breakout prone areas.
Of course, since these items are from The Body Shop, they're contain Earth friendly, and people friendly ingredients. The Body Shop recommends recycling, with all of their packaging being not only recyclable, but also 100% recycled! They never test on animals, either.
The Tea Tree line can be found at over 2200 The Body Shop locations around the world. Most pieces retail for $15 or under, too!
photo credit: Arthur Chapman via photopin cc