Instructions on how to grill pizza & samples were provided by Jack's Pizza.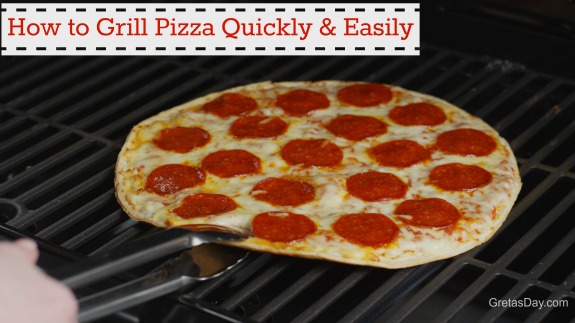 Confession time:  I am not a fan of pizza.  I think it happened when I was working somewhere where we ate pizza like 3 or 4 times a week.  Eventually, I just became like "NO MAS!" and I tapped out.
That's not to say I don't ever eat pizza.  It's just not a common occurrence.  And to get me to eat pizza, it usually has to be a really, really good pizza.  Enter grilled pizza.
I have to admit, I had never even considered grilling my own pizza.  I suppose it makes sense, as I do enjoy woodfired oven pizzas.  Even after seeing it on all sorts of cooking shows, the thought had still never occurred to me.   I certainly never planned to grill a frozen pizza.
However, after reading these simple instructions for how to grill a pizza, there was no reason not to give it a go.  I figured a day by the lake on the 4th of July was the perfect time!  It was tasty and surprisingly delicious.  It didn't seem to take too long, either.  Although I wasn't the one doing the grilling.  We all know how that goes, right ladies?
This grilled pizza serves 3-4, or it would make a fabulous appetizer.
Tell me – will you be trying out grilled pizza at home?
Greta
Yields 4
Grilled Pizza
Grill a pizza, quickly and easily. Give your frozen pizzas a whole new twist.
10 minPrep Time
15 minCook Time
25 minTotal Time
Ingredients
Frozen Pizza, such as Jack's brand pizza.
Instructions
Pre-heat your gas grill to 400°F with the lid closed
Using a spatula or tongs, carefully place the pizza directly on the center of the grate
Cook for 12 to 15 minutes, rotating half a turn approximately seven minutes into the cook time
You'll know your pizza is ready to enjoy when the cheese is melted and bubbling in the center, the crust is golden brown and the pizza has reached 160°F
You can check internal temperature with a standard cooking thermometer.
7.8.1.2
3
https://www.gretasday.com/how-to-grill-pizza-quickly-and-easily/