We all have those friends that love a good cocktail. They have the most amazing home bar, and are in the know about the hottest cocktail trends. What do you get them for a gift?  Sure, you could do a bottle of liquor, but chances are they have that already.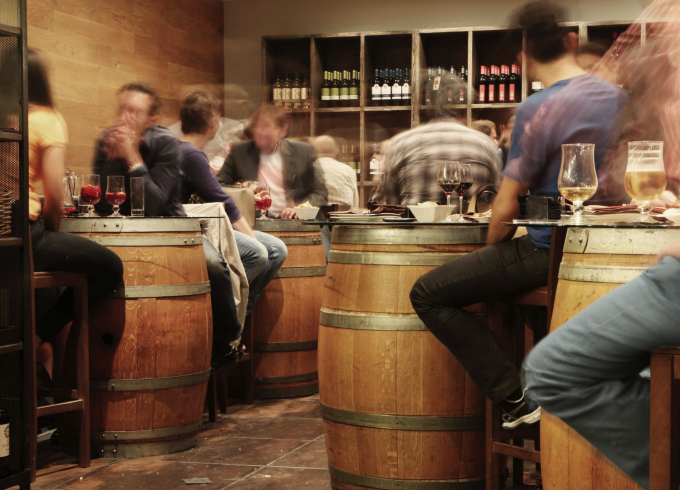 How about getting them a really cool item that's liquor adjacent? Something that would definitely pique their interest, but is likely to be something they don't already have.  We've rounded up some of our best gift ideas for friends that appreciate a great adult beverage.
What Do You Get Someone that Enjoys a Great Cocktail that Isn't Liquor?
Editorial samples or payment may have been received. Links may be affiliate links. They help support our love of glitter, coffee, and an occasional adult beverage.

McCrea's Single Malt Scotch Caramels
I love caramel, and good ones are even better.  McCrea's are one of our favorite brands here. They're always great quality, fresh, and their flavor selection is amazing.  Pick up a tube of McCrea's Single Malt Scotch caramels for your booze loving friend. It's a gift they'll love – and will be willing to share. There's a reason these are carried at Barney's New York.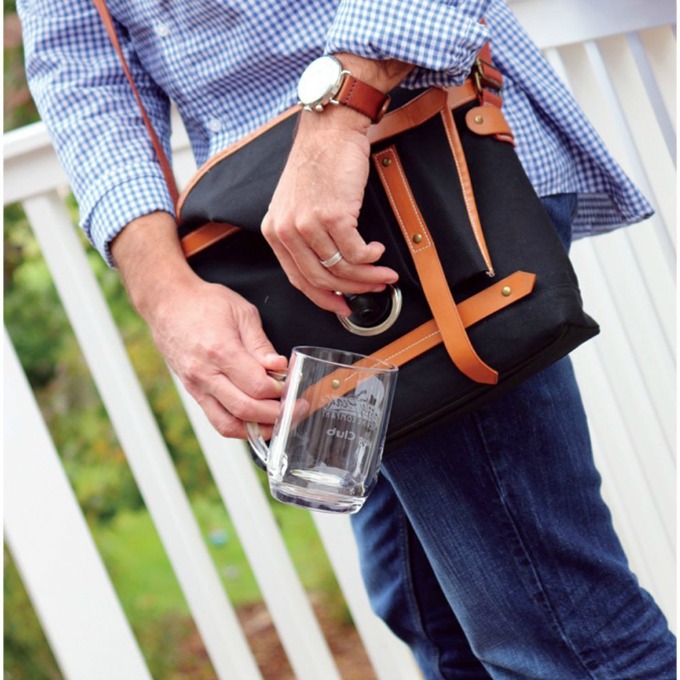 VivaJennz Kevin Wine Messenger Bag
Yeah, I said it. It's a wine purse, y'all. Now you can take your favorite vintage with you, wherever you go. The Kevin Messenger Bag from Vivajennz carries your favorite beverage – alcoholic or not – wherever you want to go. Just fill the bladder with your drink of choice, and toss a couple of freezer pouches in the bag. The insulated bag will keep your beverage cold, and you can dispense it right from the bag.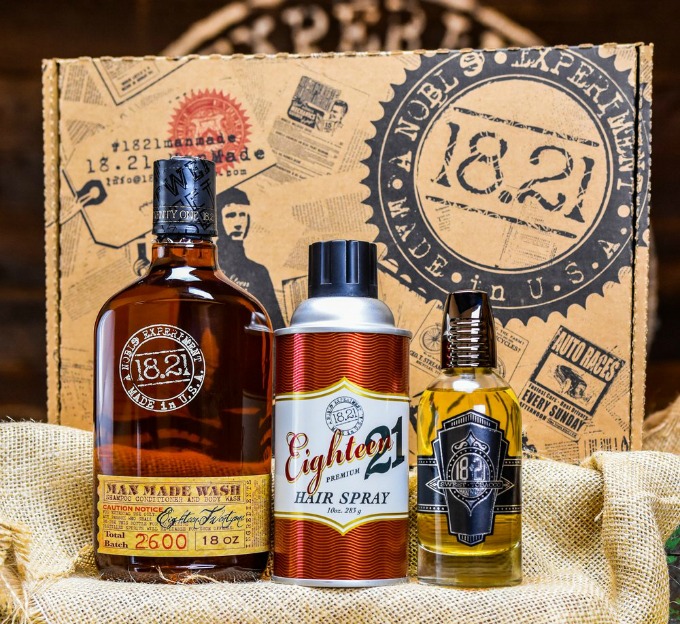 18.21 ManMade Hair Care
I'm sure you're thinking to yourself "what does haircare products have to do with boozy gifts?"  Just trust me. The 18th Amendment to the US Constitution enacted prohibition. The 21st amendment repealed prohibition. 18.21 ManMade pays homage to that time with not only their name, but the stylistic choices of their products.  The Shampoo looks like it's in an old whiskey bottle. The styling paste has a delightful tobacco-whiskey scent that's oh so sophisticated. Boozy and elegant – we like that!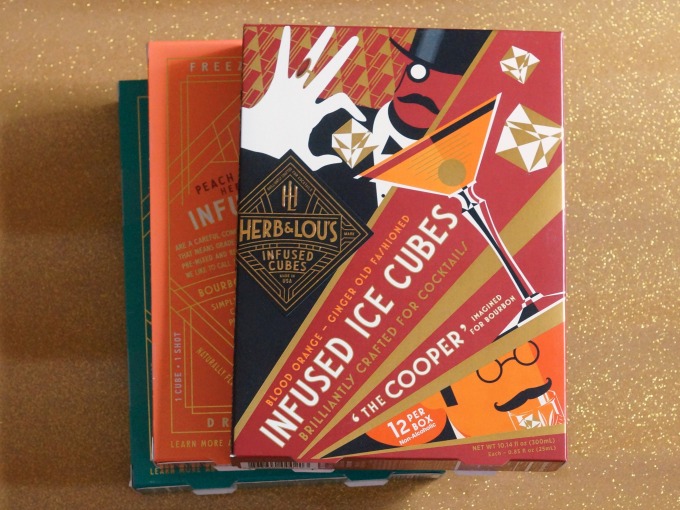 Herb & Lou's Infused Cubes
One of the biggest hurdles to making cocktails at home is having all of the correct ingredients. It's frustrating to discover you're missing that one crucial liquor or a type of bitters. THIS is the reason your at home cocktails don't taste like the ones from the bar. Enter Herb & Lou's Infused Cubes. These are a concoction of bitters, herbs, flavors – all the things you need to elevate your drink. Simply freeze them, pop one out, and mix with your liquor or seltzer.
The Spice Lab Mixologist Salt Collection
One of the things that really sets off a great cocktail is a good rimmer. The Mixologist Salt Collection from The Spice Lab helps you with this.  The 11 piece set has a myriad of choices, from Merlot infused sea salt to black lava sea salt to spicy bloody mary sea salt. These aren't only great for cocktails, but are wonderful as an addition to anyone's kitchen.
Can Cooler/Wine Fridge
You have a great man cave, but it's lacking that one thing to make it perfect.  When you have the guys over, you have to lug ice and coolers for all the beer you want to keep cold.  Never fear, the NewAir Can Cooler fits in!  First, it keeps your beer at the optimum drinking temperature (which is 36 degrees – but you already knew that).  Second, it holds 96 cans (you know that math – 4 cases!).  It will also hold 58 bottles, and has racks to hold wine bottles for when you're feeling fancy.  Oh, and you can also store cans of soda, for your teetotaler friends.  What could be a more perfect gift?  PS – the door has a lock to keep the kids out of your cold ones.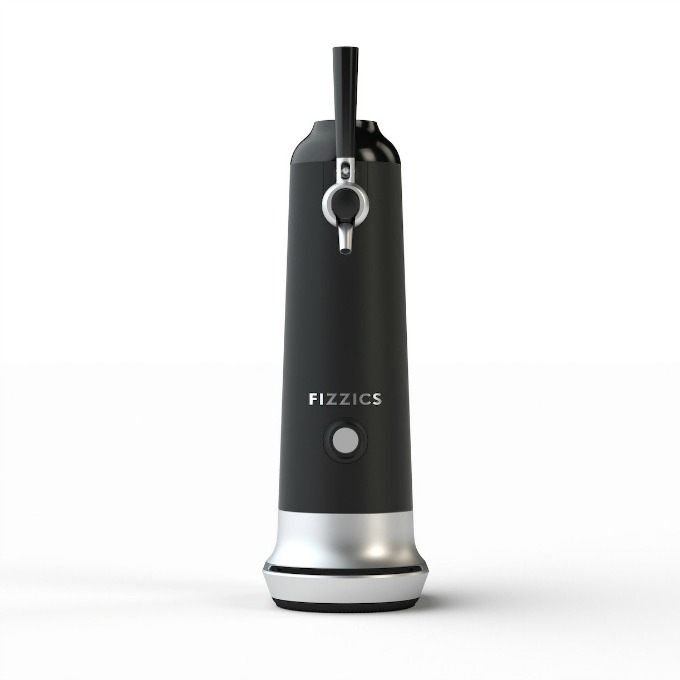 Fizzics Beer Tap System
Raise your hand if you like beer!  I see that's most of you.  However, the beer you're drinking at home just isn't as good as the beer you get when you're out.  We have a way to fix that.  Enter the Fizzics – your new best bar friend!  Use the Fizzics to pour any beer into a draft-like experience. Use with any type of beer in any type of container – from cans to bottles to growlers.  Fizzics will create a perfect pour, every time.  No need to head out to a bar for your favorite draft brew – you can serve up a cold one at home!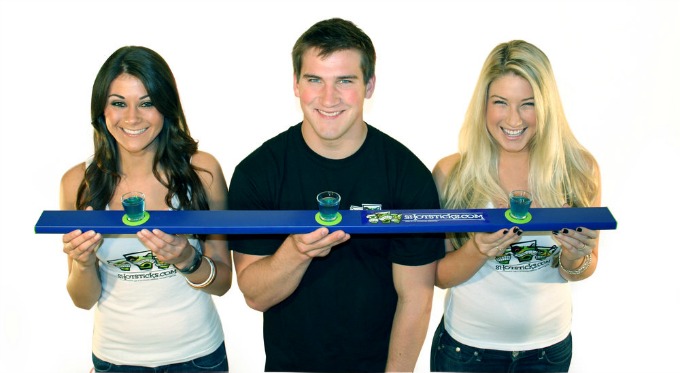 Shotsticks
There are times, when you're having a get together, and you decide to do something boisterous.  Shotsticks is perfect for this. You can line up shot glasses or beer glasses along the surface. and screw them in. Load 'em up with your libation of choice, and everyone takes a drink. If you're not ready, you're gonna get wet – and also miss your chance to drink.
See?  That's a great list of gift ideas that go beyond a bottle of good bourbon or fine wine.