I am a bit of a messy person. I may or may not have mentioned this before, I really can't remember. Anyway, my mess issues are three or four-fold. I'm a bit of a packrat, you see. I can't bear to throw anything away, always believing that it's going to be the perfect item I need for some project. Well, that's not totally true. I throw lots of stuff away, but if I deem it has value, it has to stay FOREVER.
I am always in the midst of a project – or ten – and I have half projects sitting all over. I tend to do projects assembly line rather than one from start to finish. Since it's a beautiful day I might as well paint everything I ever thought about making all at once. Or I might was well glue everything since I have it out.
But mainly, I'm just not sure where to put stuff. Yep, that's really one of the main problems with my messiness. I mean, it's organized, kinda sorta, and I can find stuff when I'm looking for it. But it's not pretty and appealing, especially when others want to come over.
Well, the good folks at ClosetMaid had to have heard about this little issue I have, because they generously sent over three of their awesome new closet organizers, as well as some of the fabulous fabric drawers that fit inside the cubbies.
These new organizers are amazing! They come in three different styles:
Shoe Organizer – 16 x 36 x 11.61 inches – has 8 little cubbyholes to organize 8-16 pairs of shoes.
Shelf Organizer – 15.35 x 36 x 11.61 inches. Has 4 cubbyholes and 2 larger spots for bigger items.
Floor Organizer – 17.5 x 36 x 15.83 inches. This one has two tiers, with large sections for bulky items, a medium section, and two small cubbyholes.
And the closet organizers come in two colors – white or Espresso brown. However, the Espresso Brown is only available at Target.com.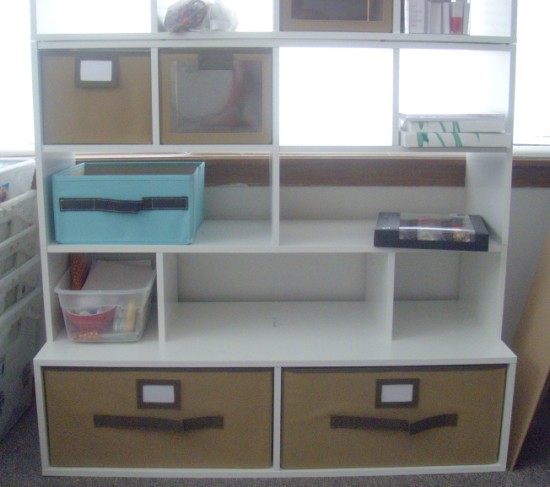 It took me a while to figure out how to best utilize these ClosetMaid organizers. Originally, I was going to put them in the closet. However, there is already a closet system in there, and these didn't really fit that well. Besides, they're so attractive, why should we lock them up in the closet? Yes, they're white laminate, but they're not the cheap flimsy white laminate. These have some serious weight and heft to them.
After throwing around a few other ideas, we ended up building the organizers into a shelving unit in the bedroom. We put the floor organizer on the bottom, the shelf organizer on top of the floor organizer, and the shoe organizer on top. ClosetMaid provides brackets and pegs to put your organizers together and provide additional support for them.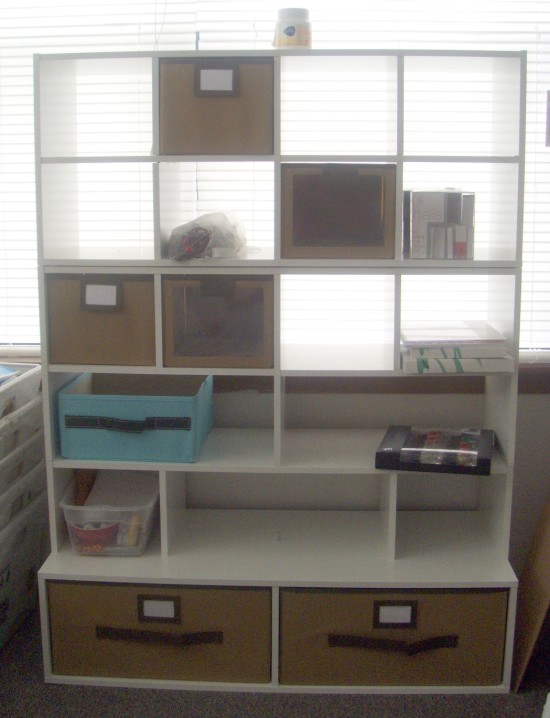 As you can see, I'm still deciding what to put on my shelf. I'm leaning towards beauty and makeup stuff in the cubbies, with some accessories and larger items in the other areas. Of course, that could change at any time!
How would you use the ClosetMaid items to organize your treasures?