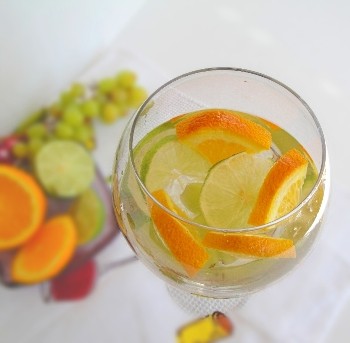 Champagne and champagne cocktails always feel so indulgent. I don't know if it's the "ooh Champagne!" that's been ingrained in us, or if it's the showiness of opening the bottles. Any way you look at it. they're a great way to celebrate. Here's a collection of 5 Champagne Cocktail recipes you may have never considered.
1. White Sangria
Ingredients:
3 oranges, thinly sliced
4 lemons, thinly sliced
4 limes, thinly sliced
1 1/2 cups white sugar
1/2 cup tequila
2 trays ice cubes, or as needed
1 (750 milliliter) bottle dry white wine
1 (750 milliliter) bottle champagne
2 cups club soda

Put orange slices, lemon slices, and lime slices in a large punch bowl.
Pour sugar over the fruit; add tequila and mix gently with a wooden spoon.
Let soak 6 hours to overnight.
Put plenty of ice in the punch bowl.
Pour white wine, champagne, and club soda over the ice. Stir and serve immediately.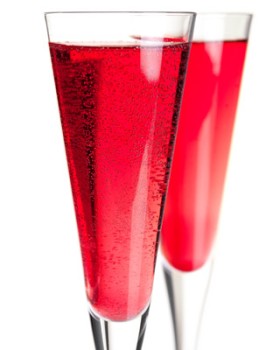 2. Pomosa
Ingredients
1/2 cup brut Champagne
2 tablespoons bottled pomegranate juice
1 teaspoon pomegranate seeds (optional)
Pour champagne into a flute, filling about 3/4 full.
Top with pomegranate juice.
Garnish with a few pomegranate seeds.
3. Cucumber, Mint, and Elderflower Champagne Cocktails
Ingredients
1 Large cucumber, coarsely grated
Juice of ½ a Lemon
Large bunch of fresh mint
100ml Elderflower Cordial
1 bottle Champagne
Squeeze the grated cucumber over a fine strainer and into a bowl. Add the lemon juice. Bruise half of the mint leaves in a mortar and pestle. Add them to the cucumber/lemon juice mixture and leave to infuse for at least an hour.
Add the Elderflower cordial and chill.
Wrap the remaining mint leaves in a damp paper towel and chill as well.
Place 8 champagne flutes in the freezer 20 minutes before serving.
Shred the chilled mint leaves,
After removing from the freezer, divide the cordial/cucumber mixture between the glasses.
Top with Champagne.
Add shredded mint for garnish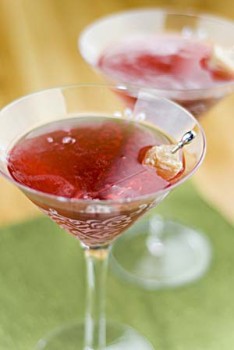 4. Cranberry Ginger Champagne Martinis
Ingredients
4 oz Cranberry Juice
4 oz Ginger Liqueur, such as Domaine de Canton
1 Oz Orange liqueur, such as Grand Marnier
Champagne
Crystallized ginger, for garnish
Ice
Combine the cranberry juice and liqueurs in a cocktail shaker that's half filled with ice.
Shake vigorously for one minute, then strain into glasses.
Top up with champagne and add ginger for garnish.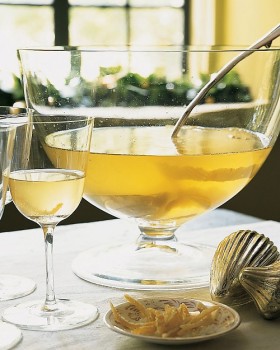 5. Lemon Drop Champagne Punch
Ingredients
3 Lemons
½ Cup Sugar
½ Cup water
1 bottle Champagne, chilled
¾ cup good quality Vodka, chilled
4 oz candied lemon peels
Remove the zest from each lemon, using a vegetable peeler in a long, continuous spiral. Juice the lemons and set aside. There should be approximately ¾ cup of juice.
Make a simple syrup with the sugar and ½ cup of water. Heat them in a small saucepan until the sugar has dissolved. Bring to a boil and remove from the heat. Add the lemon zest and let cool completely.
Pour champagne, vodka, lemon juice, and syrup into a punch bowl. Stir and mix well. Serve glasses of punch with candied lemon peel for garnish.