We've all seen the feathers in accessories that are so hot right now, right?  I mean, they're everywhere!  Jewelry, hair accessories, even on clothes, home goods, and bags!
Well, I'm going to show you how to make your own in this feather earrings tutorial.  Quickly and easily!
You will need
Feathers
Ear wires
Foldover crimp ends.
Pliers
Scissors
Glue (optional)
1. Open your feathers and sort them out.  You want to find a few that are roughly the same size and color/pattern.  Or totally different, if you want an asymmetrical look.
2. Take 2-3 different colors/styles/sizes that have been matched up.  You'll want the longest ones as the base of the earring, with smaller ones toward the front.  Line them up at the stem end.
If needed, you can peel off the feather fuzz or trim the stems down.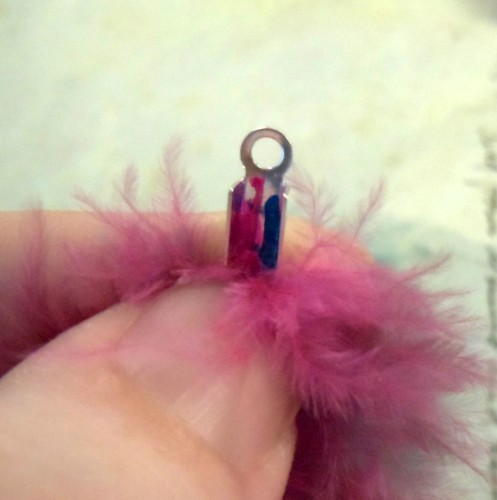 3. Take one of the foldover crimp ends,  and place your feathers in it, with the shortest feathers against the solid part.
4. Fold over the arms of the crimp, securing the feathers tightly.   Repeat for the other earring.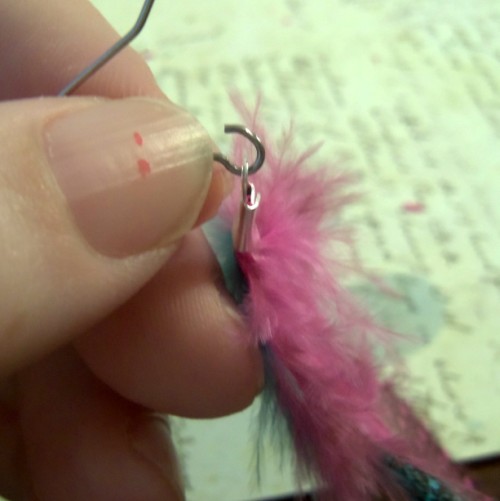 5. Open the loop on the bottom of your ear wire, just slightly.  Place the feather grouping onto the loop, making sure that it's facing forward.  Close the loop.  Repeat for the other earring.
Now, you have a pair of super hip and happening Feather earrings.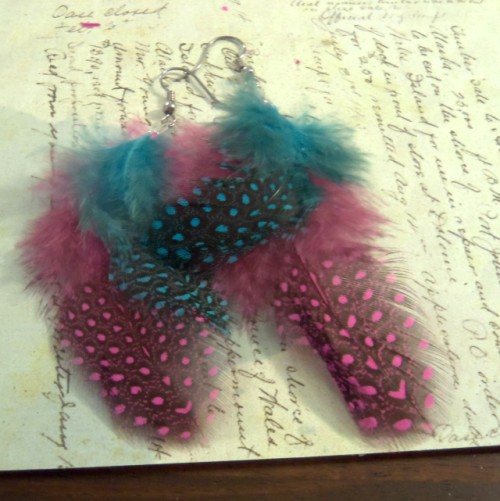 Time: 5 Minutes
Total Cost: About $0.50 a pair!
Feathers – $1.99 for a bag
Crimp Ends – $1.99 for 12
Ear wires – $2.99 for 50-ish