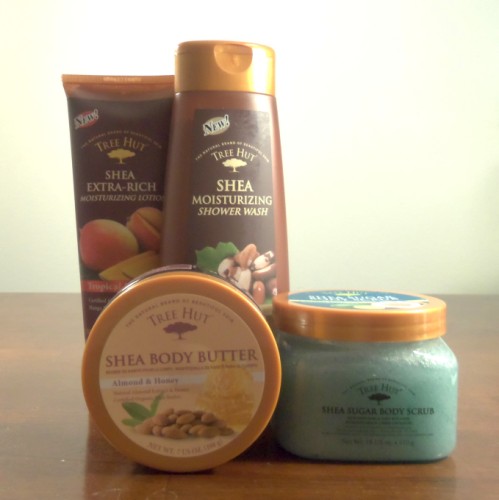 One of the great things about summer is that we get to break out all of our cute clothes. Sleeveless tees, tank tops, shorts, flirty dresses, and even bathing suits. For some of us at least.
However, before we go strutting around with all that skin showing, we should get it ready for summer. What better way than with an awesome assortment of bath and body products from Tree Hut. Tree Hut products are made from natural and organic ingredients. Usually, products that have those kind of promises are quite pricey. Not so with Tree Hut! Their items all retail for under $10, making them quite affordable! Not only that, but their items are made in the USA and are cruelty free. That means they're never tested on animals.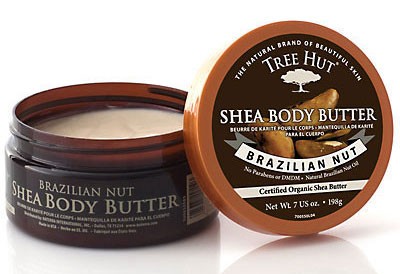 There are 4 main products, each available in an array of fabulous scents.
Shea Body Butter in Almond and Honey – The consistency of this was almost like cookie dough! However, when I applied it, it spreads nicely and soaks in quickly. I love feeling moisturized, but not sticky. This is made with Certified Organic Shea butter as well as natural almond extract and honey. It had a very light almond-y scent.
Shea Sugar Body Scrub in Coconut Lime – First, I have to admit it. This is one of my all time favorite scents. I love the coconut lime anything scents that have been popular the last few years. They're slightly sweet but fresh at the same time. This is a great body scrub for exfoliating the dead skin cells. Perfect before spray tanning, fake baking, waxing, or even shaving. It does warm when you use it, which was a surprising effect. I totally wasn't expecting that! This comes in a big ol' 18 oz jar, too. Ingredients include certified organic shea butter and natural coconut and lime extracts.
Shea Moisturizing Shower Wash in Brazilian Nut – I love the smell of this! It smells like pastries in a bakery! The body wash was moisturizing, but I felt clean after using it, too. Know what I mean? It includes certified organic shea butter and natural Brazil Nut oil.
Shea Extra Rich Moisturizing Lotion in Tropical Mango – This was another really moisturizing product. While the lotion itself was thick and creamy, it soaked in almost immediately. It made my dry legs feel pretty great! It has organic shea butter and mango puree in it! And the scent – well, it's pure tropical mango. But not too overpowering, because, well, no one wants to smell like a tropical fruit salad.
I found these items to be quite nice quality. Especially for the totally reasonable price and huge super sized containers of product.