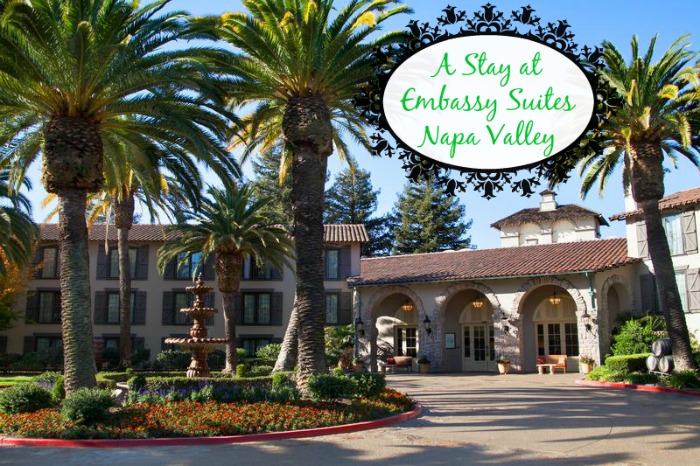 Normally, when I travel, I let the spirits be my guide. By that, I mean that I have very few set plans, and just sort of let whatever may be, happen. I mean, when we take a road trip, there's normally not even a plan of where we're headed. We make that decision when we get to a fork in the road.
Left or right?
Flip a coin
However, on my recent trip to San Francisco and Napa Valley with Hilton, I discovered something – it's really kind of nice having a plan. Knowing where you're going, and what you're doing for the day has its benefits. You know how to dress, what kind of shoes to wear, and even approximately what time you'll be done with the day's activities. You know you'll have time to relax in your hotel room, which is a total bonus when you're staying somewhere awesome. Somewhere like Embassy Suites Napa Valley.
What's so great about the Embassy Suites Napa Valley?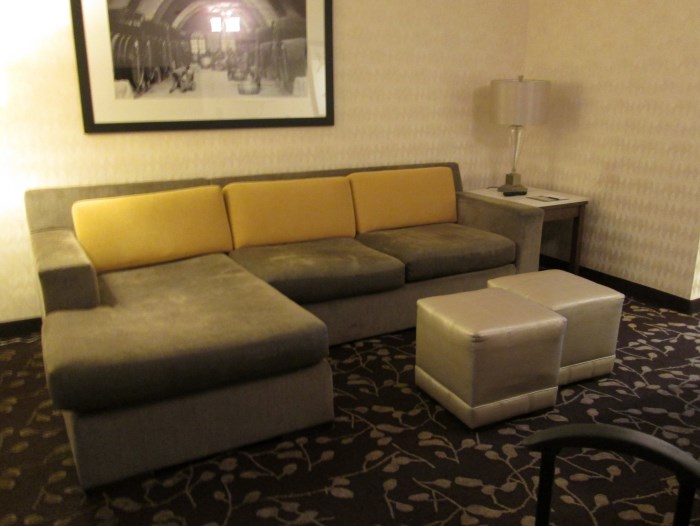 Well, for starters, there are the rooms. Every room is a two room suite that includes a sitting room and a bedroom. Each room in the suite has its own TV, too. That's always nice if you're traveling with someone – you each get to watch what you want. This configuration also allows for some alone time.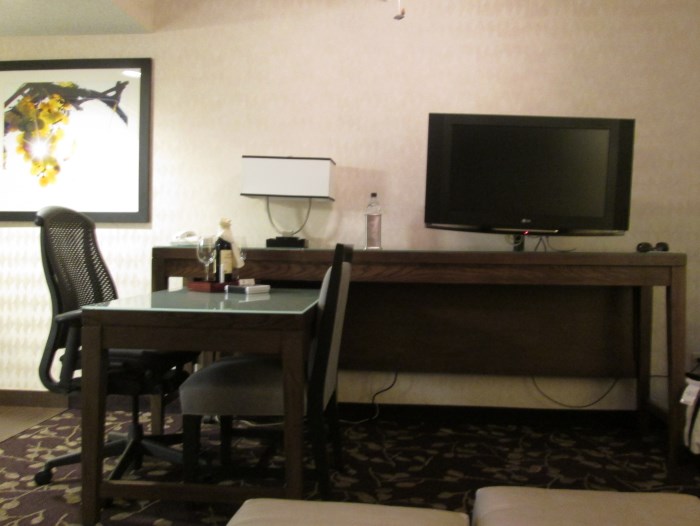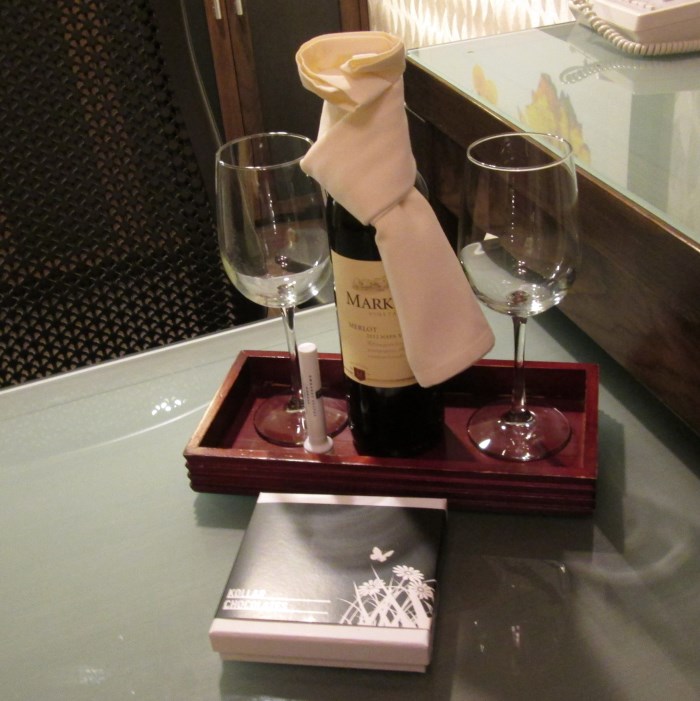 When I entered my room, I noticed that there was a bottle of local wine and a box of gourmet chocolates from Kollar Chocolates, a local Napa chocolatier. Ooh la la! Apparently, this is one of the packages that Embassy Suites Napa Valley offers, and wasn't just special for our group.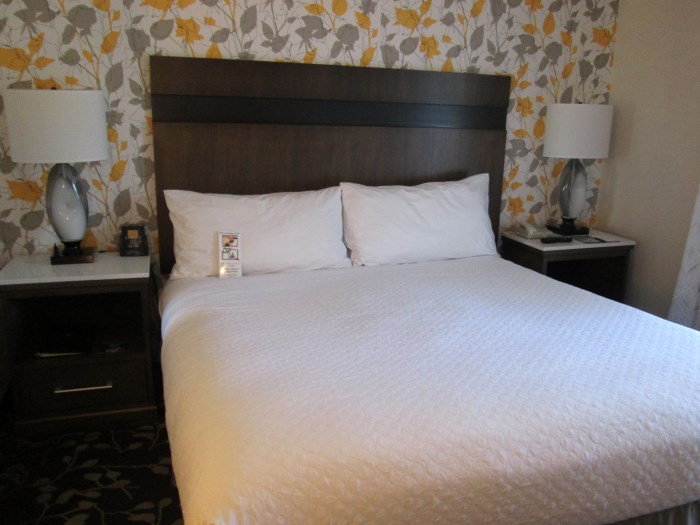 The decor of the Embassy Suites Napa Valley was modern, but not too modern.  It was still very comfortable.  There was a lot of wine-themed artwork, but not too much where it became cliche.  Those are fine lines to walk.  The suite also had a wet bar in the common area of the room. It wasn't until the second day that I discovered that there was a fridge in the room, too. It was hiding in the cabinet under the wet bar, along with a microwave.  Who knew?  Apparently everyone but me!  The fridge was even stocked with soft drinks and bottled water.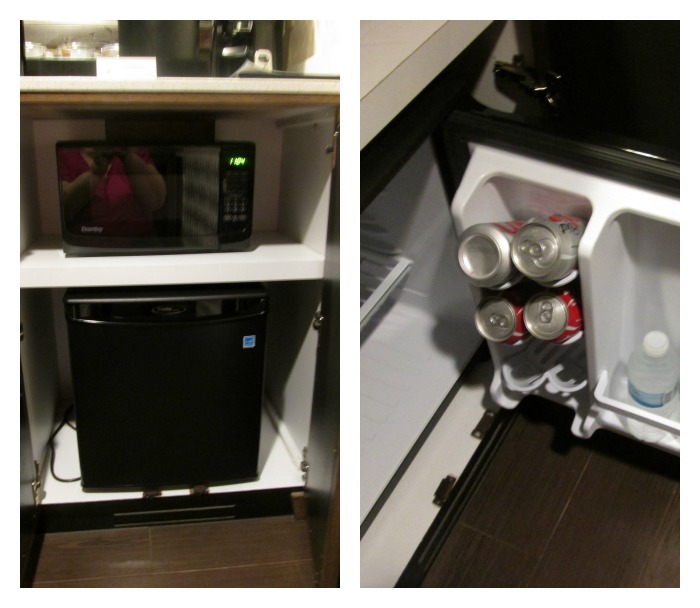 Embassy Suites Napa Valley serves complimentary cooked to order breakfast every morning. There were several varieties of cold cereals, custom omelets, pancakes, bacon and sausage, and so much more. There really was something for everyone. However, the in-room coffee included any type of coffee you could want, including whole bean coffee with a coffee grinder. That's pretty awesome, and I've never seen a hotel with that amenity before.
Whole bean coffee is available in room at Embassy Suites. #itsthelittlethings #beaweekender pic.twitter.com/lZRhk0EKuK

— Greta Brinkley (@GretasDay) September 16, 2014
But wait – there's more! Each evening, the hotel has a Manager's Reception where they serve champagne and hors d'oeuvres.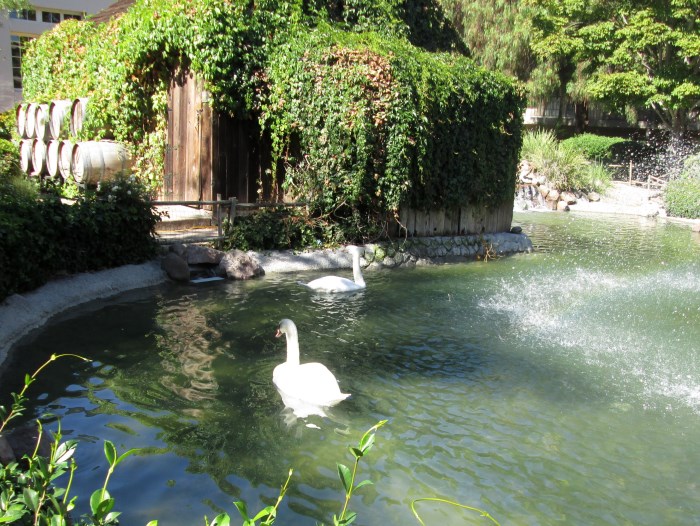 The courtyard area included a replica mill building with ponds. The ponds were filled with their resident swans – a pair of white and a pair of black – and a myriad of ducks. At night, the hotel lights their fire pit, and it's a gorgeous place to relax with a glass of wine or cup of coffee. Perhaps the best part – everyone was so friendly! I guess that happens when you live in a little slice of paradise.
Embassy Suites Napa Valley is conveniently located near everything, but far enough away that it's quiet. Next time you're in the Napa Valley, consider Embassy Suites Napa Valley for your lodging.
Hilton is encouraging everyone to enjoy a weekend getaway. Need inspiration for where to go? Hilton's got ya covered at hiltonweekends.com.  Even better, Hilton HHonors, the loyalty program for Hilton Worldwide's 11 distinct hotel brands, recently launched its Triple Your Trip promotion, where Hilton HHonors members can earn triple points for stays Friday through Sunday, and earn double points for stays Monday through Thursday.
I am working with Hilton to raise awareness of its #BeaWeekender campaign. All opinions are my own, of course."