I seriously debated what to call this post.  Eating My Way Through Napa Valley?  Gluttony in the Napa Valley?  How to Have a Really Great Time?  I think I selected the right choice.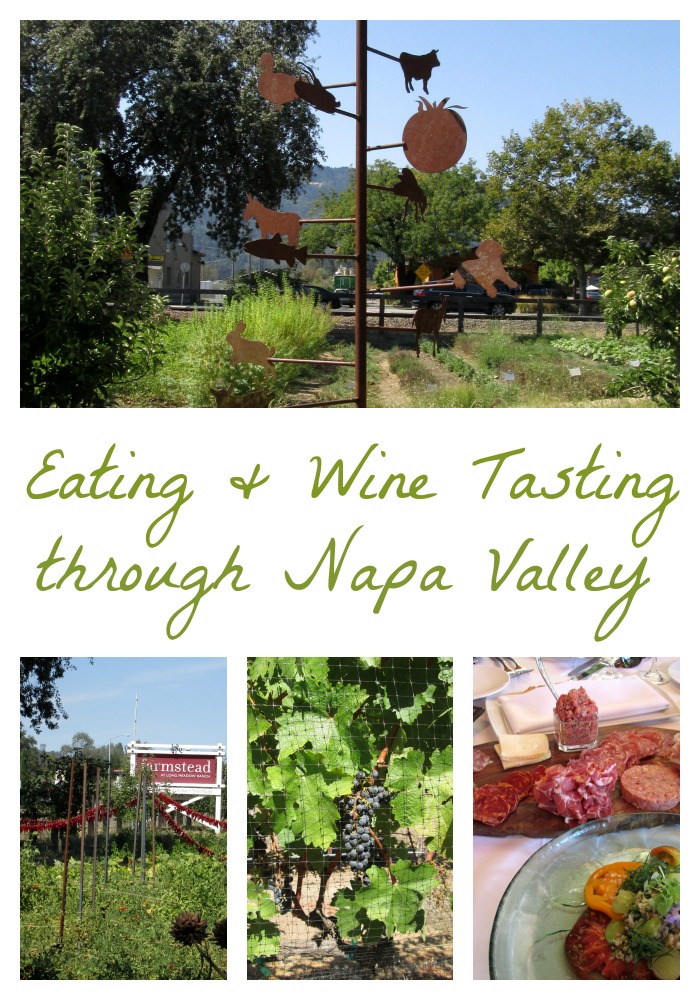 Recently, Hilton invited me out to experience Napa Valley and San Francisco. Who could turn that down? While we were only in town for a few days, there were some serious highlights to our Napa Valley trip. Our group basically ate great food, and wine-tasted our way through the NapaValley.
How to Have a Great Time in Napa Valley
It started at Farmstead at Long Meadow Ranch. This is a beautiful spot to have lunch or dinner. They grow a lot of the food served in their restaurant either on the grounds, or at one of their other ranch locations in the region. In addition to this, they had a farmer's market on the grounds. If this hadn't been our first stop of the day, and knowing that I was travelling, I totally would have loaded up on fresh produce. Farmstead at Long Meadow Ranch also had a gorgeous green space, that, on this particular day, they were preparing for a concert. I can see why it's such a desired location for weddings.
Since we were early for our reservations, we decided to look around. It was then that our group discovered we could do a wine tasting while we waited. Long Meadow Ranch had some of our favorite wines of the trip. The 2013 Sauvignon Blanc Rutherford was the group's favorite wine. My personal favorite was the 2010 Cabernet Sauvignon Estate.
After lunch, we headed to our hotel. More on that later. After touring the grounds, and a little rest & relaxation, it was spa time. We headed over to Spa Gaia at Doubletree by Hilton Hotel & Spa Napa Valley – American Canyon, where I had a facial. After this, it was time to eat again.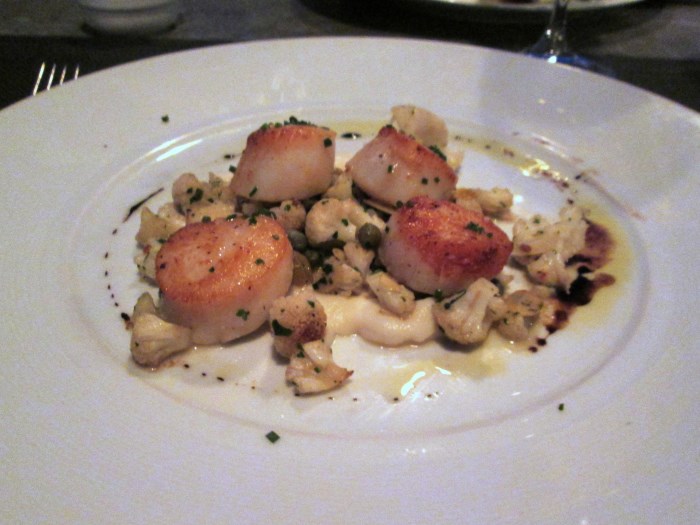 Dinner this night was at Redd. Now, Napa Valley is known for having great food. Redd was simply an amazing restaurant. The Summer Salad, Caramelized Diver Scallops, and Yellowfin Tuna Tartare were really tasty. Everything we had was marvelous, even the fennel ice cream. The owners of Redd also have a more reasonable priced restaurant, which we heard about from some people at one of the wineries later.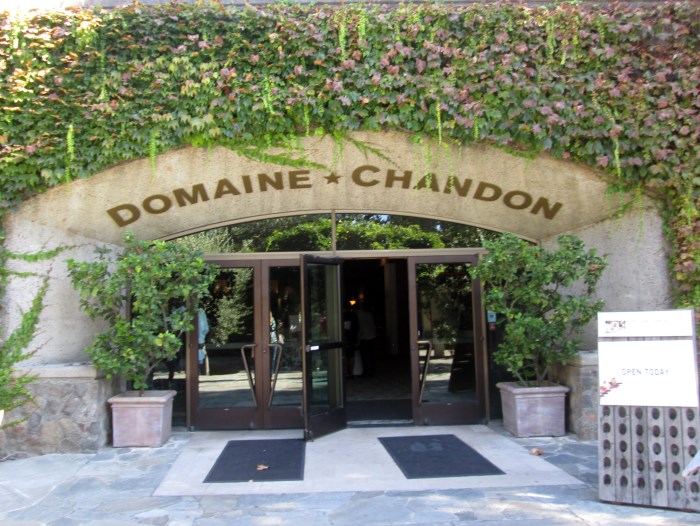 The next day, we got up bright and early. After a great breakfast at the hotel, we headed out for more wine tasting. First up was Domaine Chandon. Yes, that Chandon. The one that's famous for their champagnes. You know, like Moet. And of course, who doesn't want to start their day off with some bubbly? While there, I learned that they not only produce sparkling wines, but also still wines. Who knew? We finished the tour with a tasting of the Etoile sparkling wines – etoile Brut, etoile Rose, and etoile Tete de Cuvee. The Rose was my favorite, but you really can't go wrong with any of them.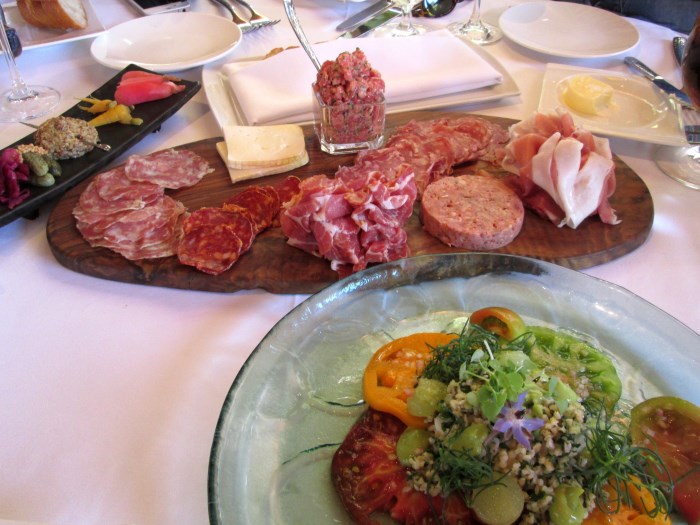 We had lunch at etoile, the magnificent restaurant at Domaine Chandon. They had amazing sourdough bread that was served with fresh butter that had been sprinkled with sea salt. It was fabulous! I know it sounds weird to go on about the bread, but it was really good! The Charcuterie plate was amazing, too.
Next up was grape stomping at Grgich Hills. Have you ever seen the movie Uncorked? Well, that movie was loosely based on Mike Grgich's stint as winemaker at Chateau Montelena. Basically, they went to the Judgement of Paris wine competition, and won the whole thing with a bottle of Napa Valley wine. This really helped to launch Napa Valley as one of the premiere wine regions of the world.  We had a wine tasting at Grgich Hills, as well, but I can't remember what we had, and the photos are verrrryyyy blurry.  Ermmm…yeah.
Grape stomping was super fun!  And we got to make shirts!! Grgich Hills doesn't take reservations for grape stomping, so allow some time. We happened to arrive when there was one group finishing up and before another group arrived. Lucky timing, I guess!  We also had a chance to sit outside and enjoy the patio while waiting for our shirts to dry.  It was a welcome respite from the go go go of the trip.
After our grape stomping adventure, we headed over to Hall Wines. Hall Wines was quite the dichotomy in the Napa Valley, as their facility is very modern, with lots of modern art. One of the initial things I noticed when we arrived in Napa Valley was this giant Chrome Bunny Foo-Foo sculpture. I would soon discover that this piece of art is a cause of much decisiveness in the area. Personally, I kinda like it! The Vineyard is covered with all kinds of really great art and, what I love even more, high end craft pieces. More than that, Hall Wines has a very wry sense of humor, and it shows in all of their pieces. I mean, as we were touring one of the buildings, which was very elegant, they were playing Kriss Kross through the sound system. And when you pull in the gates, there's a sign that says something like "You look marvelous today." You have to love that!
They don't just have a great sense of humor, and love of art though. Nope. Hall Wines is seriously dedicated to producing great wine in an eco-friendly manner. There wasn't a bad wine there, and we even got to taste wine straight out of the barrel. Hall Wines also had some of our favorite wines of the trip. I believe that everyone in our group purchased wine at Hall. I know I picked up a bottle of the 2011 Cabernet Sauvignon. We also happened to be at the winery a day or two after the 2011 Kathryn Hall Cabernet Sauvignon was released, so we had the opportunity to try that, too.
We headed back to our hotel to figure out how we were going to get this fabulous wine home! Or maybe that was just me, I'm not sure. I mean, I have bottles of Napa Valley wine to bring home, and clothes not to get stained with wine, and well…I wasn't gonna pay to ship it.  Really, though, I didn't think of the logistics.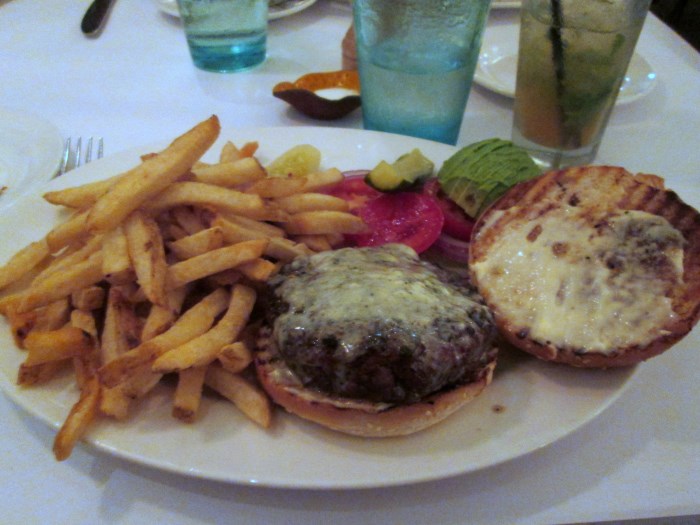 Our last dinner of the trip was at Cindy's Backstreet Kitchen. It was sooo good. This had a more casual ambience than most of the places we had gone, and it was a fabulous choice for a final dinner. Cindy's Backstreet Kitchen has comfort foods with a grown up twist. Like a grown up grilled cheese or a duck burger. They have the best Caesar salad I've had in a long while. And the Campfire Pie? Don't skip that! It's huge, and 3 people can easily gorge on the pie.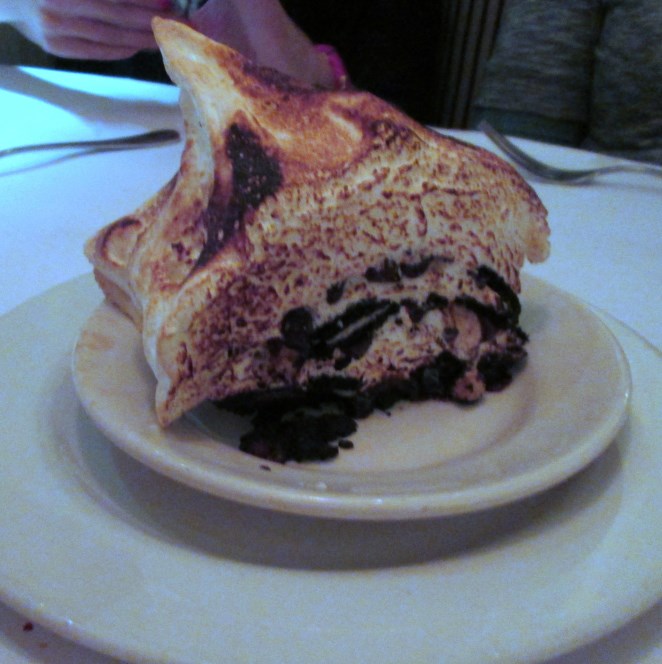 On our final day in the NapaValley, we went down to Oxbow Public Market. We were specifically headed to Model Bakery, (it's okay, nothing spectacular) but ended up with some extra time. As we wandered around, I picked up quite a few more items to bring home. Grrrreeeeaaattt….However, I picked up a brownie at C Casa that was ahhhh-mazing. Seriously, so good.
And then…we bid adieu to the Napa Valley, and headed back to the San Francisco airport. Until we meet again, Napa Valley.
Hilton is encouraging everyone to enjoy a weekend getaway. Need inspiration for where to go? Check out the great ideas at hiltonweekends.com.  Even better, Hilton HHonors, the loyalty program for Hilton Worldwide's 11 distinct hotel brands, recently launched its Triple Your Trip promotion, where Hilton HHonors members can earn triple points for stays Friday through Sunday, and earn double points for stays Monday through Thursday.
I am working with Hilton to raise awareness of its #BeaWeekender campaign. All opinions are my own, of course."