I love love love to travel. It's one of the great joys of my life. I love road trips, where we just get in the car and go. I like to fly off to faraway lands on trips that take more planning. I even like to see the sights that are around me, and explore my area as a tourist.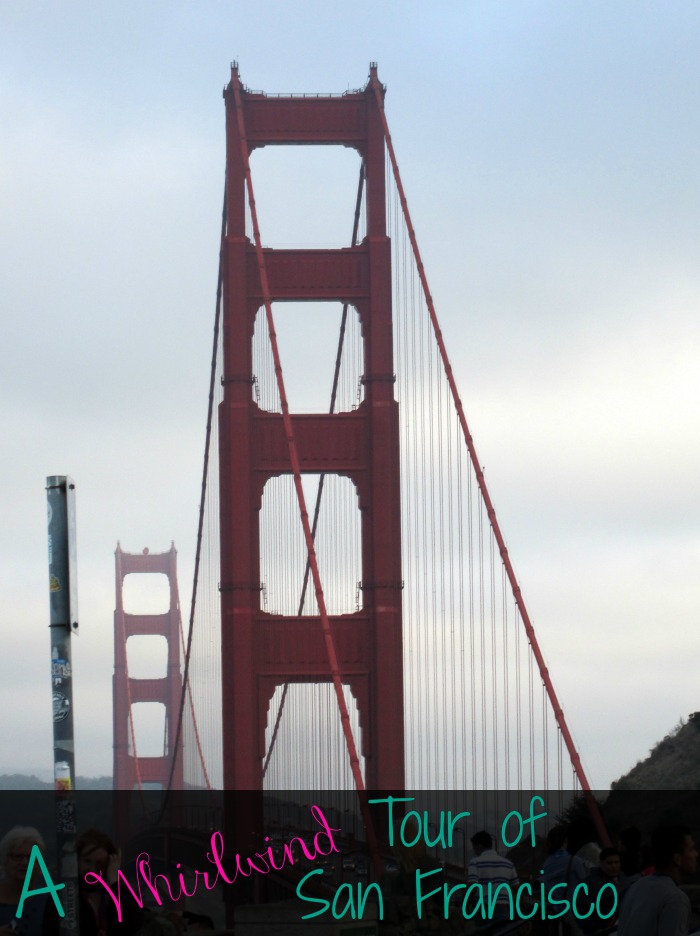 For some reason, though, it seems that I don't travel nearly as much as I used to. I don't know if it's because of the adult responsibilities I have now, or I don't know where to go, or money, or a combination of these. When Hilton invited me to visit one of the great cities of the world – San Francisco – how could I possibly say no?
A Whirlwind Trip to San Francisco
The trip started with a great cab ride. I know that sounds totally bizarre, but my cab driver was awesome. He loved driving a cab, and enjoyed sharing what he knew about the city. He told me all kinds of factoids like the Beatles last live performance was at Candlestick Park. As a closure, Paul McCartney played the last ever show at Candlestick Park. That's cool, right?!?! He also made sure that I knew where the In N Out Burger locations were. Stuff like that is important for a SoCal girl like me.
Eventually we arrived at the Hilton San Francisco Financial District. This hotel is GORGEOUS! Since it's right on the border with Chinatown, there is a lot of the Chinese influence in the hotel. In fact, one floor has the Chinese Cultural Center as its main tenant. The Chinese Cultural Center has all kinds of artifacts and traditional art on display. You can also get traditional items there as souvenirs that are legit, not the stuff that's made for the tourist market. Unfortunately, the CCC was closed when we were there, but if you're in the area on weekday, you definitely want to check it out.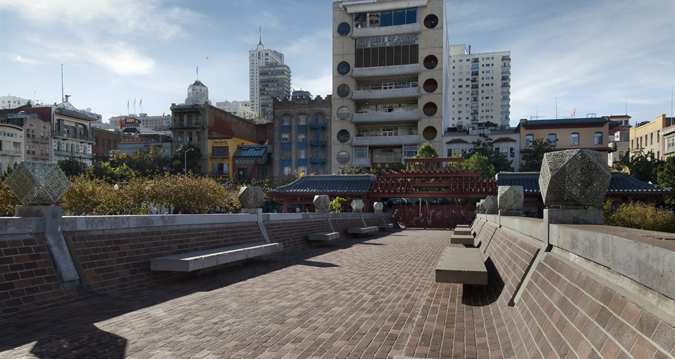 There's also an amazing stone bridge that takes you from Hilton San Francisco Financial District into Chinatown. The space is absolutely amazing, and would be fabulous for a wedding or a wedding reception.  San Francisco's Chinatown is the largest in the US, so you'll definitely want to set aside some time to visit.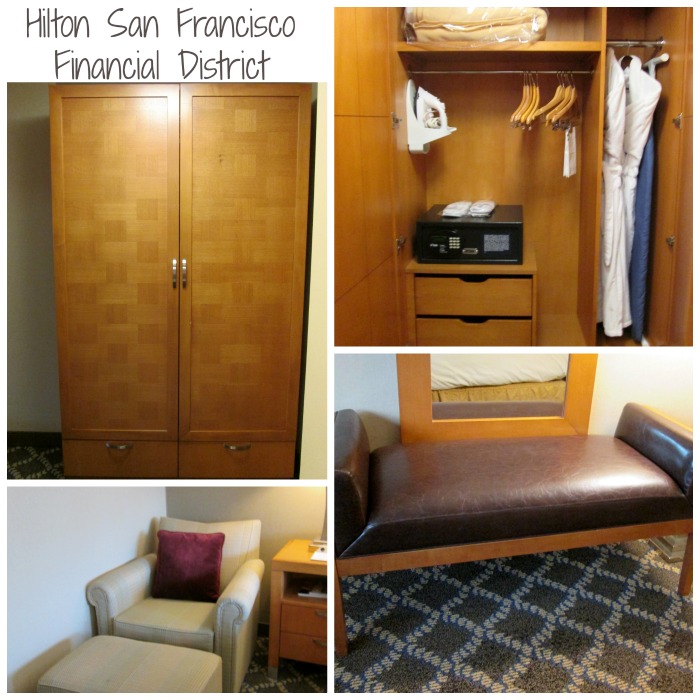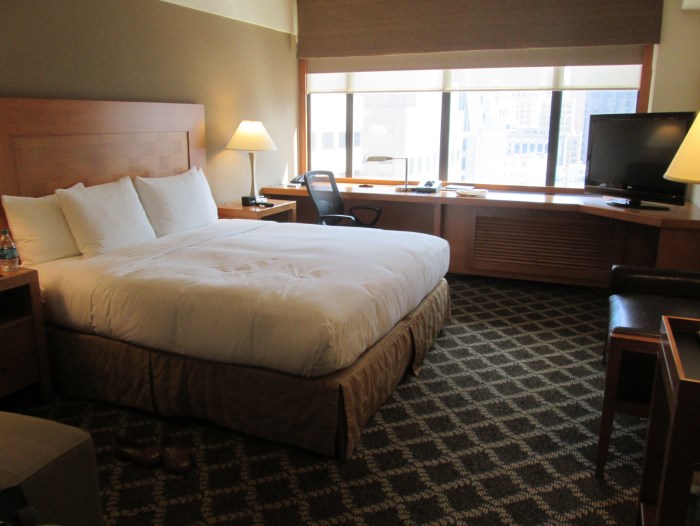 The rooms themselves were pretty fab, too. There was an armchair with an ottoman, as well as a bench for seating. I love these little touches, because you don't always want to sit on your bed. The bed was luxuriously plush and oh so comfortable. It was so comfortable that I actually fell asleep while waiting to go meet up with the group. *gasp* Also included in the room was a beautiful armoire with super luxe bathrobes hanging inside. Such a nice surprise! I noticed that Hilton San Francisco Financial District had in room coffee from The Coffee Bean and Tea Leaf. That was another great touch.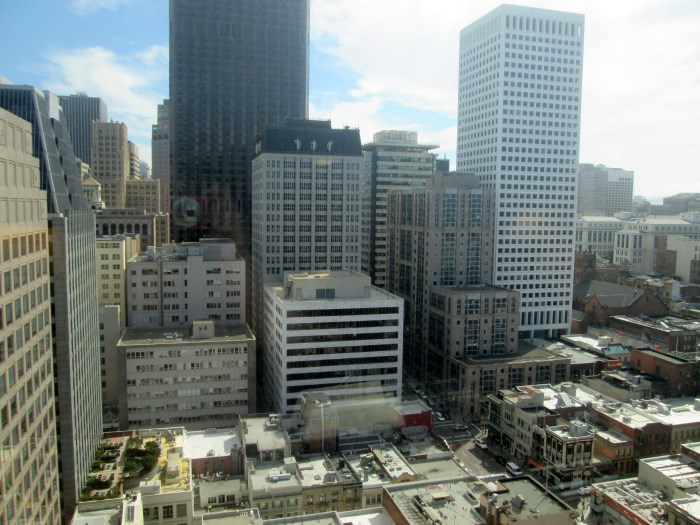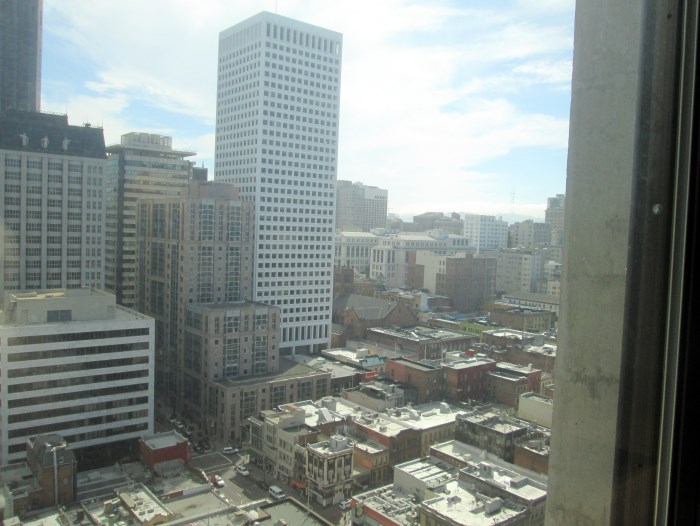 And check out these views! I had a city view room, which featured amazing views of the city, the Financial District, and Chinatown.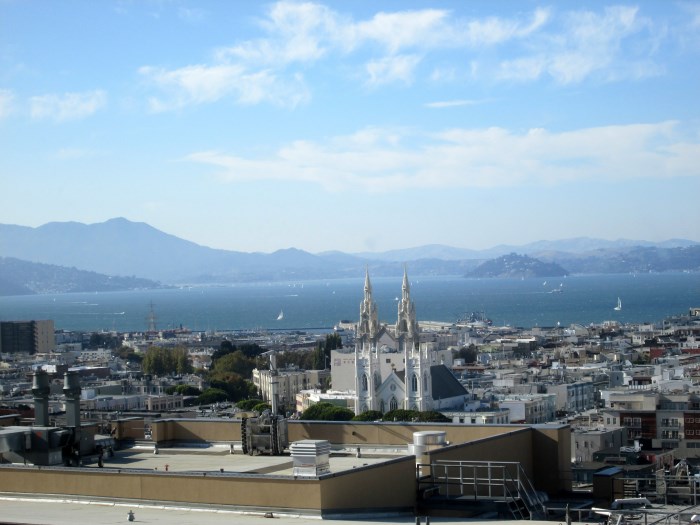 Of course, the bay views are breathtaking. I'm pretty sure that if I would have had a San Francisco bay view, they'd have had trouble getting me to leave.
Of course, no trip to San Francisco is complete without a visit to all of the tourist spots. What better way to do that then on a trolley tour? That's right – there's no better way! We piled in to the trolley, and off we went.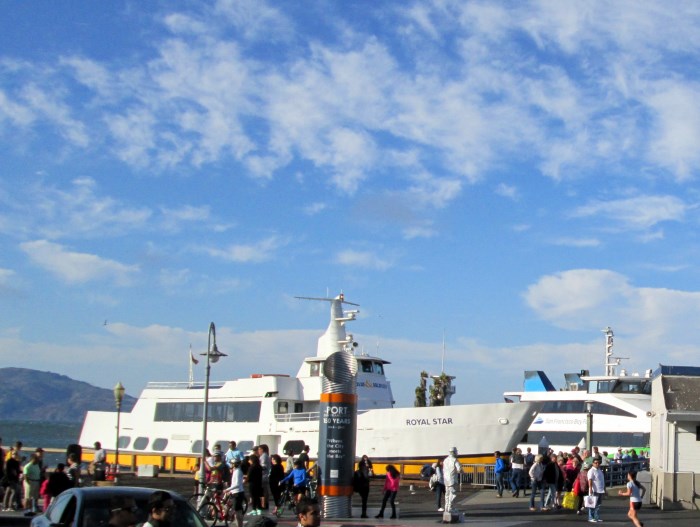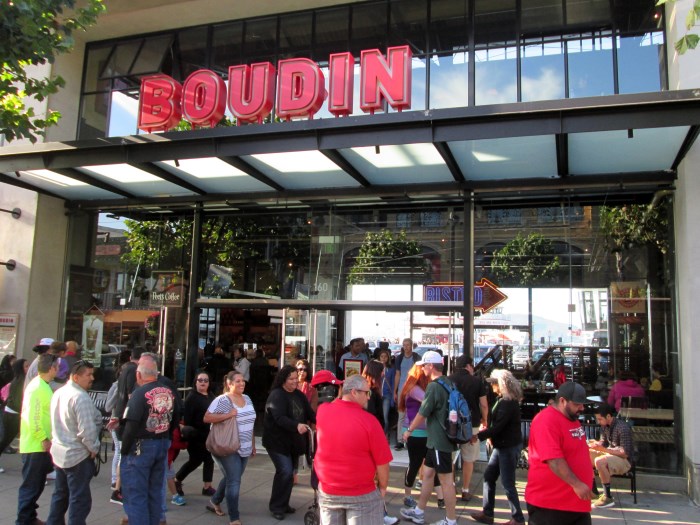 We went down to Pier 39 and Fisherman's Wharf. We checked out the fleet, and some of the restaurants that have been around forever. Then there was Boudin, the amazing bakery which has been using the same sourdough starter since the Gold Rush! Maybe that's why there's always such a demand for their breads?  We also had amazing views of Alcatraz and Angel Island. We didn't get a chance to go there, but maybe next time.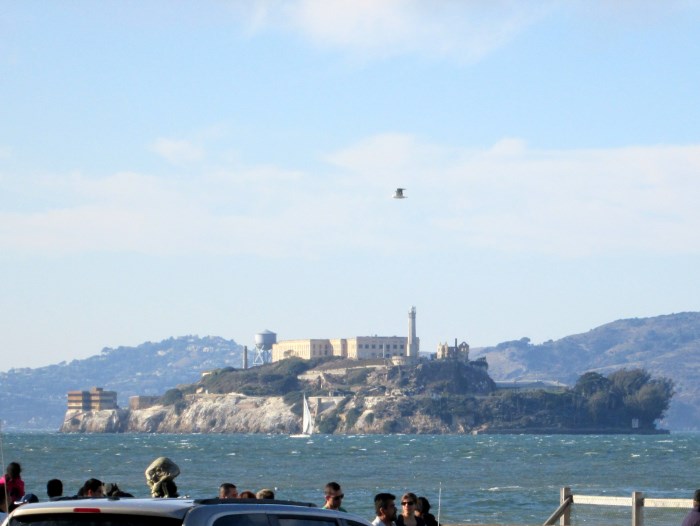 We had an opportunity to stop at the Palace of Fine Arts, which was designed by Bernard Maybeck for the 1915 Panama Pacific International Expo, and look around. It's quite impressive, with the neoclassical architecture that's really quite a bit different from the rest of San Francisco.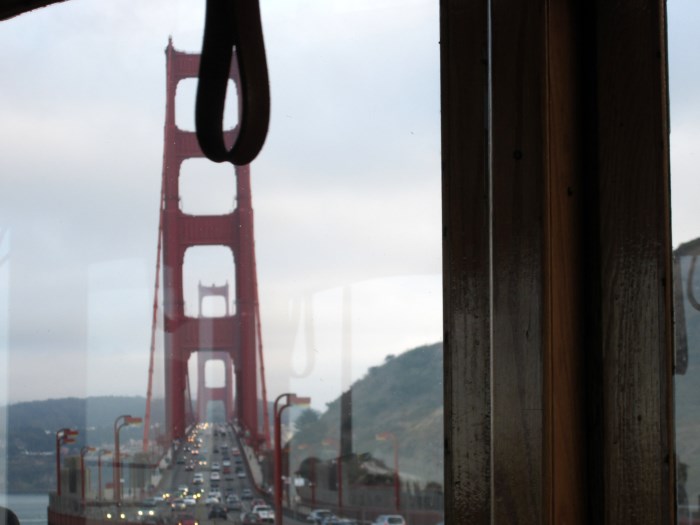 From there, we headed over the Golden Gate Bridge. It's really kind of surprising how many people walk or ride their bikes over the bridge. Maybe it's just surprising to me since I've never lived in an area that has a major bridge like this. When we arrived at the lookout spot, I was amazed at the views.  Take this view of San Francisco from the Golden Gate Bridge, for example: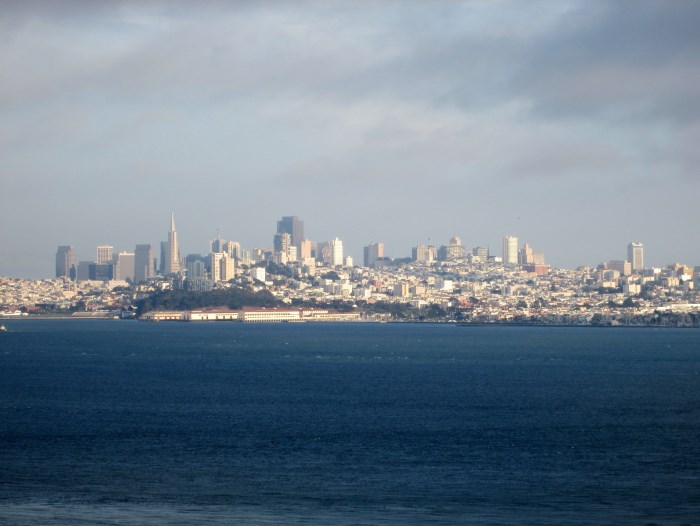 After visiting the Golden Gate Bridge and the trolley tour, it was time to eat. For dinner, we went to the amazing Lolinda restaurant on Mission Street. It's a small plates style restaurant, where everyone shares what you order. We didn't happen to get any photos here, as the restaurant is kind of dark, and seemed to keep getting darker. We also happened to be really hungry! No time for pics when you wanna eat, man.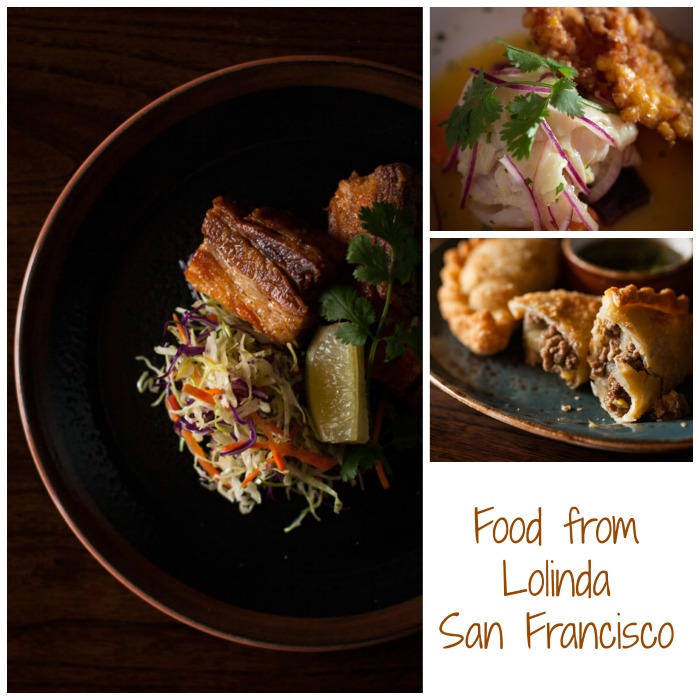 After a fabulous meal and even better conversation, we headed back to Hilton San Francisco Financial District for a great night's sleep and to prepare to head to Napa. More on that later.
Hilton is encouraging everyone to enjoy a weekend getaway. Need inspiration for where to go? Hilton's got ya covered at hiltonweekends.com.  Even better, Hilton HHonors, the loyalty program for Hilton Worldwide's 11 distinct hotel brands, recently launched its Triple Your Trip promotion, where Hilton HHonors members can earn triple points for stays Friday through Sunday, and double points for stays Monday through Thursday.
I am working with Hilton to raise awareness of its #BeaWeekender campaign. All opinions are my own, of course.