The days are colder, and we're all looking for something warm and filling, like New England Clam Chowder.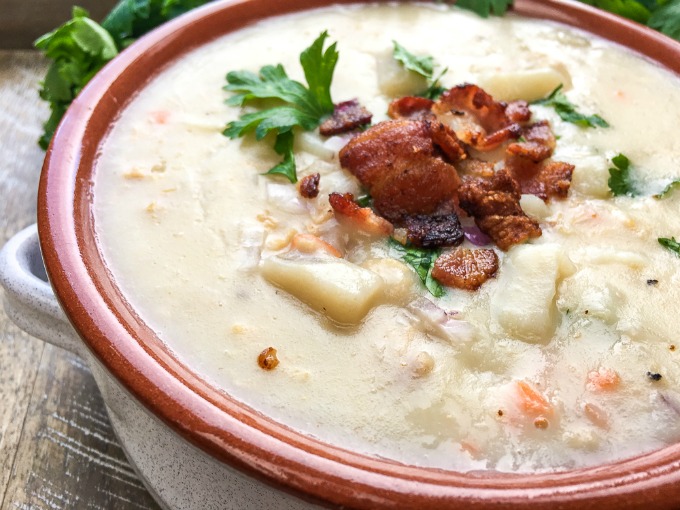 You say you don't necessarily want to spend hours on end in the kitchen? Never fear! This version can be made after work with no issues.
My mom has been making New England Clam Chowder ever since I can remember. It's really a fairly easy soup recipe that comes out thick and hearty, and oh so satisfying. And now I'm sharing it with you. Shhh…don't tell her.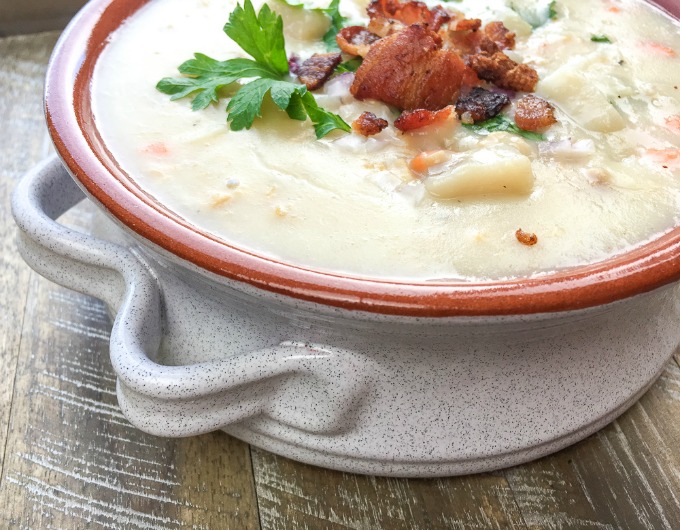 Honestly, it wasn't until recently that I realized how easy this soup recipe was to make. I always thought it took like allllll day to make. Nope. She's been getting over on me all these years. Hmmmppphhh!!


Simple and Easy New England Clam Chowder Soup Recipe
Yield: 3 cups
Simple and Easy New England Clam Chowder Soup Recipe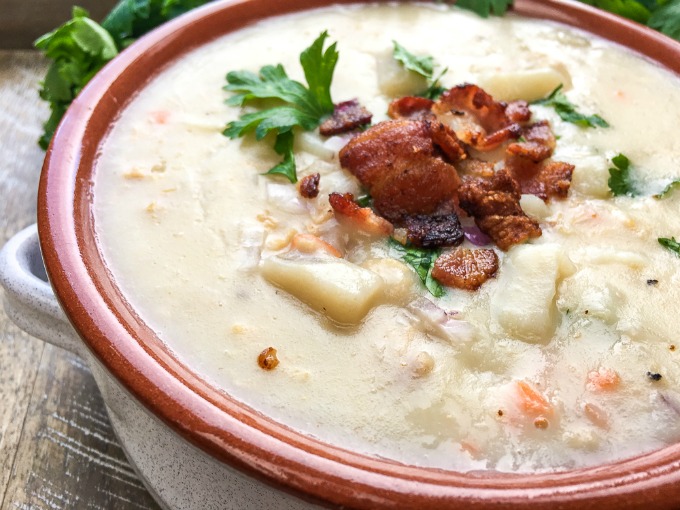 An easy New England Clam Chowder that's oh so quick. You can make this soup in an evening

Prep Time 10 minutes

Cook Time 25 minutes

Total Time 35 minutes
Ingredients
6 slices thick-cut bacon, diced
1 small red onion, diced
2 large carrots, finely chopped
3 cloves garlic, minced
Sea salt and black pepper, to taste
2 T. flour
½ c. clam juice
2 c. whole milk
½ c. heavy cream
1 lb. Yukon Gold potatoes, peeled and cubed
½ t. Old Bay seasoning
1 t. fresh thyme
2 6.5-oz. cans minced clams, including juice
3 T. fresh parsley, chopped
Instructions
Heat a large soup pot over medium heat. Add bacon and cook, stirring occasionally, until the bacon becomes crispy, around 4-5 minutes. Remove bacon with a slotted spoon and transfer to a plate lined with paper towels. Blot off excess grease and let drain.
Drain and discard all but about 2 tablespoons of bacon grease from pot before adding onion, carrots, and garlic.
Season with salt and black pepper, to taste, and sauté until soft, around 4-5 minutes. Sprinkle with flour and cook for another minute, stirring frequently.
Add the clam juice, milk, and heavy cream, and whisk until combined. Add the potatoes, Old Bay seasoning, fresh thyme and 2/3 of the cooked bacon crumbles. Season with additional salt and black pepper, if desired, and stir to combine.
Increase heat to medium-high and bring to a low boil, then immediately reduce heat to a medium-low. Cover and simmer until the potatoes are fork-tender, approximately 15 minutes.
Once the potatoes are cooked, add clams and stir to combine. Continue cooking for 2-3 minutes, or until the clams are heated through. Taste and adjust seasonings, as desired. Remove from heat and serve immediately topped with remaining bacon crumbles and fresh parsley, if desired. Enjoy!
Nutrition Information:
Yield:
4
Serving Size:
1
Amount Per Serving: Calories: 521Total Fat: 23gSaturated Fat: 11gTrans Fat: 0gUnsaturated Fat: 9gCholesterol: 105mgSodium: 1366mgCarbohydrates: 49gFiber: 4gSugar: 17gProtein: 30g

Nutritional information is provided as a courtesy, and may not be accurate.

See how quick and simple that was to make? I like to serve this with either crusty sourdough bread and butter or cheesy biscuits. Sometimes we even do garlic bread.
Like this New England Clam Chowder soup recipe? Don't forget to share on social or pin it to save it for later.