This is a Fashionista Event and a promotional item was provided to me by Sweetworks. Hosts for this event are Still Blonde after all these Years and ModlyChic.
I grew up in a bakery. I was always there, doing something, whether I wanted to or not. Cake decorating has come a long way since then! Cake decorating is truly an art form. You see these amazing cakes, and you think "that's amazing!" and "There's no way I could do that!" You're only partially correct – yes, it is amazing. AND yes, you can do it yourself.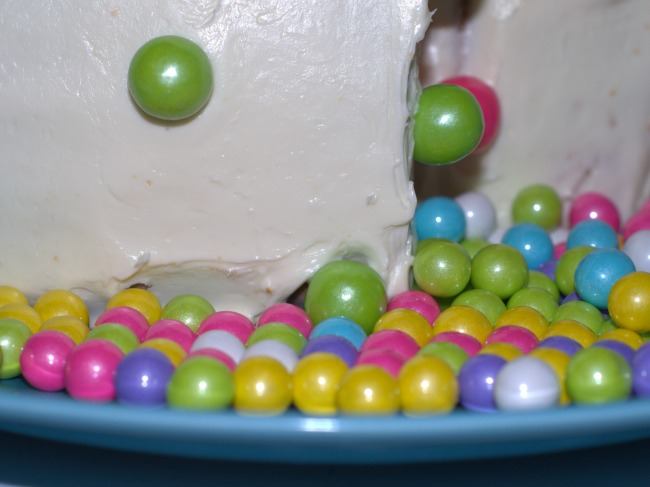 The book Cake My Day shows you how to make these amazing cakes, step by step. It tells you how much cake you need to bake, and how much frosting in which colors. It even tells you how much of whatever decorations you'll need. Perhaps the best part – it tells you where to get the decorations. Whaaaa??? That's always been an issue for me "Well, where am I supposed to get tiny candy carrots and flower discs?" Now I know! Sweetworks candy is used in a ton of the Cake My Day projects to give the cakes a little special sumtin sumtin.
Not only does the book tell you exactly what you need, Cake My Day gives you step by step, illustrated instructions for how to make these cakes and use these amazing and new techniques. You'll be using these techniques ALL THE TIME to make your projects ahh-mazing. Seriously.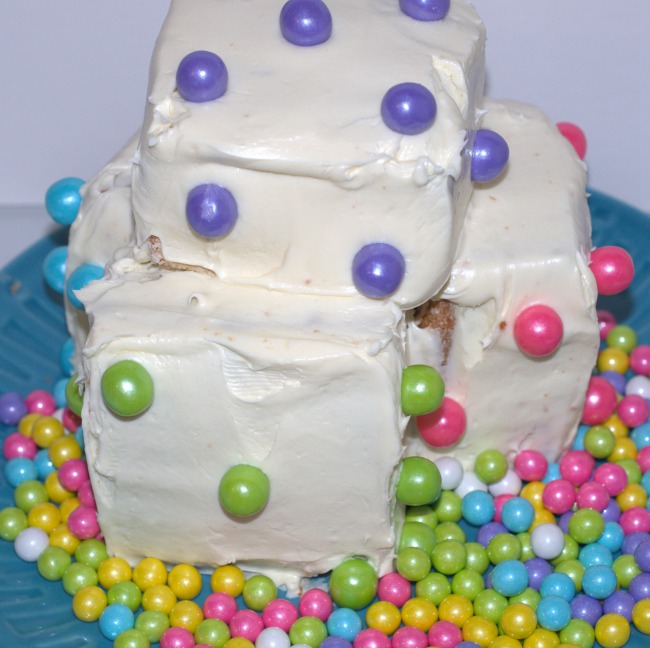 I was inspired to make this Spring Dice Cake by Cake My Day and Sweetworks. While this project isn't actually in the book, it's insanely easy. This DIY Spring Dice cake is simply large cubes of cake that are decorated to look like dice.
How to make a DIY Spring Dice Cake
Greta
Yields 8
DIY Spring Dice Cake
An easy DIY decorated cake that will impress your friends. We used pound cake as the base, so you don't even have to bake.
10 minPrep Time
10 minCook Time
20 minTotal Time
Ingredients
2 Pound Cakes (I used Sara Lee frozen ones)
2 tubs of frosting
Assorted pastel colored gumballs from Sweetworks
Instructions
Cut your pound cakes in half vertically.
Trim off the ends that are rounded, so you have pieces that are squarer. Eat the ends. You should have 4 pieces of cake that are roughly cube-shaped.
Frost all sides of your cakes. Stack them in a pleasing manner. I chose to do three with the 4th on the top.
Decorate with gumballs to look like dice. Voila!
7.8.1.2
28
https://www.gretasday.com/diy-spring-dice-cake-my-day/
Are you dying for this book? You can pre-order Cake My Day here and be entered to win a $250 prize package.
But wait – there's more! We're also giving away a prize package related to the Cake My Day book.
One lucky winner is going to win an assortment of Sweetworks candy and a digital copy of Cake My Day. This prize package is valued at $50. Ready to enter? Do so in the widget below!
Sweetworks

Now that you've entered here, hop on along to the other awesome bloggers that each have their OWN prize pack to win!