There are those times, especially when you're traveling, and you have something that's so good. And then you go home, and you're like "where did I have that really great meal?" It's only after the realization sets in that it was when you were away, and you can't get that thing at home. Trust me, I've been there. A lot. The Rush on the Rocks cocktail is a great example.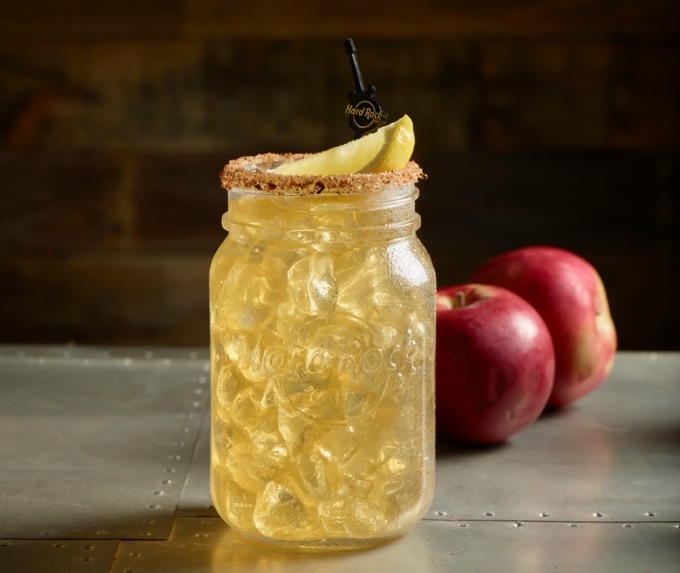 Rush on the Rocks is one of the Hard Rock Cafe's signature drinks. If you've ever been to a Hard Rock Cafe, you know that everything – ERRYTHANG – there is music themed. The cocktails are no exception. This one is named after the eponymous Canadian rock band Rush. I'm guessing it has something to do with the maple flavoring and Canadian whisky. These are also the same things that makes this a great drink for Fall. And we're teaching you how to make one at home. Yay!
Copycat Hard Rock Cafe Rush on the Rocks Cocktail
Yield: 1
Copycat Hard Rock Cafe Rush on the Rocks Cocktail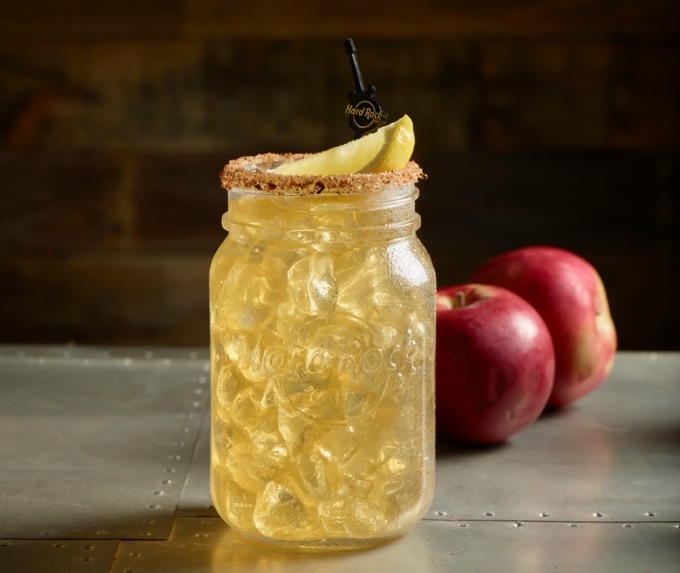 A copycat version of the Rush on the Rocks cocktail from Hard Rock Cafe. This is the perfect drink for fall, with the spicy maple and apple flavors.

Prep Time 2 minutes

Cook Time 2 minutes

Total Time 4 minutes
Ingredients
2½ oz apple juice
1½ oz Crown Royal Maple Whisky
1½ oz sweet and sour mix
¾ oz Monin Spiced Brown Sugar
Speared lemon wedge
Cajun seasoning for rim
Ice
Instructions
Coat mason jar rim with Cajun seasoning.
Combine apple juice, Crown Royal Maple Whisky, sweet and sour mix and Monin Spiced Brown Sugar syrup in a cocktail shaker with ice.
Shake well to combine.
Pour over fresh ice and garnish with speared lemon wedge. Enjoy!
Doesn't this sound amazing for all of your fall and winter gatherings? It's so easy to make, and one of those drinks that everyone will love. Really, who can go wrong with spiced apple and maple flavors?
Will you be making Rush on the Rocks part of your Fall and Autumn repertoires?