Fall is starting to roll around again, and is showing it's face. That means it's time to start updating our wardrobes. One of the places that I like for Fall fashion finds is Old Navy. They have decent quality clothes at a fair price, and a great size range. One of the things that I adore is the fact that their regular sizing usually goes up to a 20, or an XXL. While I'm not shopping at Old Navy for everything, I like that I can add in the current trends without blowing my budget.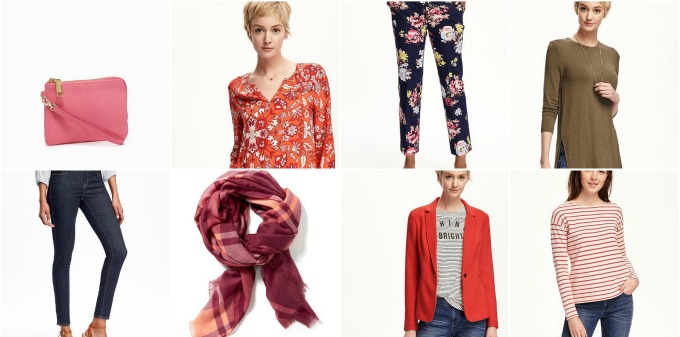 We've selected 16 items from Old Navy's Fall 2016 lines that we're loving. These fall fashion finds are all items for women, and would make a great addition to anyone's wardrobe.
Women's Old Navy Fall Fashion Finds For 2016
These are some of our favorite fall fashion finds. Links may be affiliate links, and prices are everyday prices. You know Old Navy always has great sales, so there's probably a deal to be had!
1 Classic Marled V Neck Pullover Sweater ($30) – Who doesn't love a sweater? It's like wearing a t-shirt, but with a little extra something going on. It looks like you made more effort than you did, and it keeps you warm on crisp autumn days. This is a classic look with a touch of modernity. Available in Pink or Grey.
2 Long Open Front Cardigan ($35) – This is sort of a cross between the great wool jacket and the structured cardigan, also featured. A long cardigan isn't for everyone, but for those that can pull it off, it's a real statement. This one is nearly duster length, and looks great with skinny jeans and boots or leggings. It's a perfect layering piece for fall, and that's why it's one of our fall fashion finds. Available in 3 colors.
3 Swing Boho Blouse ($30) – Blue and white was a major trend for spring and summer, and it shows no sign of slowing down. Boho is always one of my favorite trends. Add them together, and you have this great top. Pair it with jeans. Pair it with a pencil skirt. Add a blazer to dress it up, or loose and free for a more casual look. The possibilities are endless.  Also in blue.
4 Boyfriend Chambray Shirt ($33) –  A chambray shirt is another great wardrobe staple. They're just sort of always in style. They look great with long necklaces or scarves. A chambray shirt is also great when paired with white denim or a white tee. This is also available in white chambray.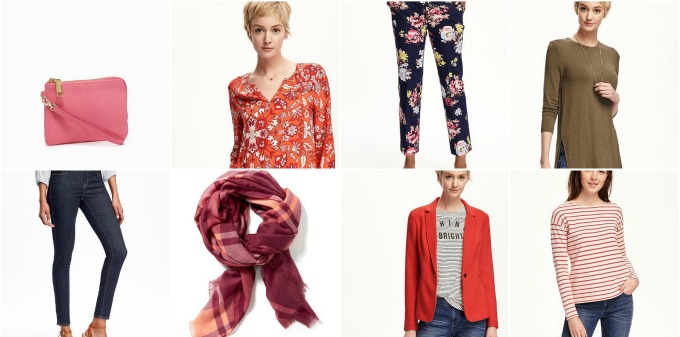 5 Faux Leather Wristlet ($17) – A little wristlet is always a great thing to have. You can just drop this into your bigger bag, your tote bag, or your carry on when traveling. Shown in Peekaboo, but comes in 4 great shades, including Metallic Gold and Leopard.  Hello!
6 Open Neck Blouse ($27) – Much like the Swing Boho Blouse, this is a great one for dressing up or dressing down.  It's great for the office, but isn't out of place on Sunday afternoon or on Date Night. The orange color packs a punch, too. If that's not your thing, it's also available in blue.
7 Mid Rise Harper Trousers ($35) – I am a huge fan of a trouser pant. I think they look good, and they elevate you from the basic jeans without losing the comfort factor. These floral print ones are amazing! Pink is huge for fall, and these aren't too springy, yet are totally feminine. These are one of our favorite fall fashion finds.
8 Relaxed Long and Lean Tunic ($17) – This is a great shape for fall. The sleeves aren't too long, or too short, and it looks good with jeans. It's also a good length for leggings, and not too bulky for layering.
9 Mid Rise Rockstar Built in Sculpting Jeans ($50) – Skinny jeans are here to stay. At least for a while. These jeans have something in the construction and fabric that helps keep everything in place, where it's supposed to be. It also gives you an amazing silhouette.  Plus, there's a little bit of spandex of a touch of stretch. That helps the fabric snap back into shape as well, and doesn't give you that jean sag. Who can beat that?
10 Printed Oversized Scarf ($17) – A scarf is so versatile, and can really make or break an outfit. Wear it when you want a burst of color, or an accent of pattern. This fall fashion find is about the size of a blanket scarf, without the weight and heaviness. The size of this scarf lends itself to be worn in so many great ways, too. Available in 7 patterns.
11 Textured Twill Blazer ($40) – A blazer is an easy way to add a bit of polish to your look.  Wearing a Tee shirt and jeans? Add a blazer, and now you're casual chic. It just bumps everything up a notch. This one comes in 4 great shades, and is one of our favorite fall fashion finds.
12 Heavy Knit Boat Neck Tee ($20) – Everyone needs a nautical or Parisian striped shirt, and a boatneck looks good on almost everyone.  Combine them both in this great look, that is so preppy casual. Comes in Navy/White or Red/white, too.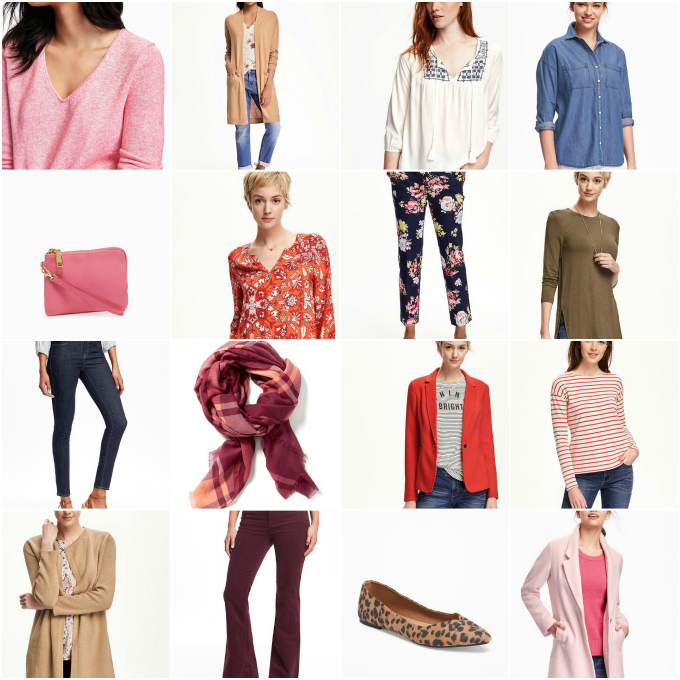 13 Soft Structure Open Front Cardigan ($45) – This is a great layering piece, or a light jacket for those warmer fall days.  Not quite a blazer, not as prim as a cardigan, sleeker than a kimono, and nicer than fleece. This cardi will keep you warm without sweating, and looks like you put some effort into your look. Available in caramel or berry.
14 High rise Vintage Flare Cords ($35) – For me, fall is all about textures. Corduroy adds a great texture, and these plum-berry colored cord flare jeans are a quintessential fall piece. They come in black, and a camel-ish shade as well.
15 Sueded Pointy Ballet Flats in Leopard ($23) – Animal print is so in for this season, so these had to be among our fall fashion finds. I can't say I'm disappointed. What better way to add that accent than with a cute pair of ballet flats? Leopard's not your thing? There are about a dozen other colors available.
16 Wool Blend Everyday Coat ($60) – I believe everyone should have an amazing wool coat in their wardrobe. This is one of my splurge pieces, as a good one, properly cared for, will last for years. However, when you want a wool coat in a fun color, Old Navy is perfect or that.  As mentioned previously, pink is H-U-G-E for fall, and this coat in pink?  I DIE. Get one. I almost bought a very similar piece in spring that was almost 3 times this price. I'm glad I waited now!
Now that we've shown you our Fall Fashion Finds, what are yours? What is your favorite piece from this collection?