Latkes are one of the traditional foods served at Passover.  Try a modern twist on latkes with Cod and Potato cakes with Horseradish Aioli.
Here at How Was Your Day?, we want to bring a fresh perspective to your Passover meals.  We'll be sharing several modern twists to traditional Passover dishes.  These recipes are great for all times of year, too – not just the holy holidays.
Our non-traditional Passover recipes include the following:
Cod and Potato Cakes with Horseradish Aioli
Chocolate Hazelnut Rugelach
Cod and Potato cakes with Horseradish Aioli
Yields: 8 portions
Prep Time: 45mintes
Cook Time: 30mintes
INGREDIENTS:
1 pound of cod, fresh
1 teaspoon kosher salt
1 teaspoon black pepper, ground fresh
3 potatoes, peeled and shredded
3 quarts water
2 cups of mayonnaise
Kosher salt
Freshly ground pepper
3 quarts of canola oil (for frying)
BATTER
2 cups potato starch
3 egg yolks
3/4 cup of almond milk
GARNISH
2 granny smith apples (julienned or shredded)
2 ounces of lemon juice
3 tablespoons parsley leaves
6 tablespoons of horseradish Aioli (see recipe below)
DIRECTIONS:
First bring a small pot of water to boil, blanch potatoes in the boiling water for 2 minutes. To stop the cooking the process, place the potatoes into an ice bath, then strain the potatoes and wring them out completely in a clean dry kitchen towel. Set aside.
Pre-heat oven to 375 degrees, season fish with salt and pepper. Place fish on a small roasting pan, and roast approximately for 8 to 10 minutes. You want the fish to be a tad under done. Let the fish completely cool.
Place cooled cooked fish in a bowl and shred with your hands. Add the mayonnaise,  and salt and pepper to taste and mix evenly. Form the fish mixture into eight 2 ounce portions. Shape portions into hockey puck shaped discs. Place fish cakes onto a parchment paper lined sheet pan and place in the freezer for 5 minutes.
Pre-heat a pot of canola oil to 350 degrees. In a bowl mix potato starch, egg yolks, and almond milk evenly until a thick paste forms. Dip the frozen cakes into the egg batter, coating evenly. Roll coated cakes into the potato shreds. Fry the cod and potato cakes in pre-heated oil until golden brown.
To plate: Toss apples in lemon juice. Place the Cod and Potato Cakes onto a plate with the dressed apples and horseradish aioli.  Garnish with parsley leaves.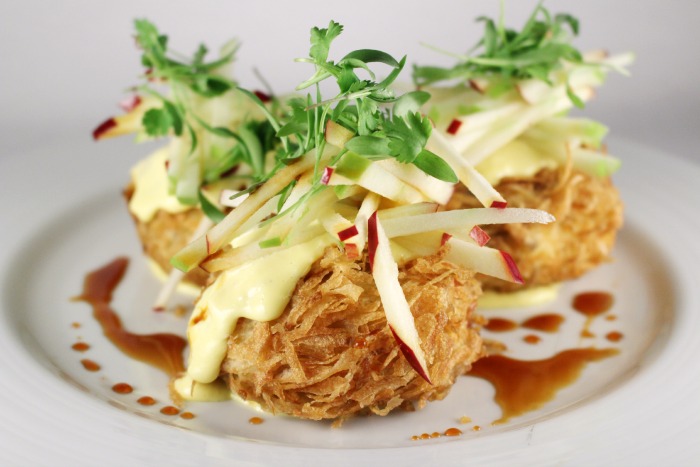 Horseradish Aioli
Yields 1
Horseradish Aioli
A great horseradish aioli sauce. Pairs well with meat or fish. Try it with some cod and potato cakes or on a burger.
5 minPrep Time
10 minCook Time
15 minTotal Time
Ingredients
3 cloves garlic
3 large egg yolks
2 tablespoon lemon Juice (fresh Squeezed)
3 cups of olive oil
4 tablespoons of horseradish, fresh (peeled and shredded)
kosher salt to taste
Instructions
Place garlic, egg yolks, and lemon juice into the food processor.
On low speed, very slowly pour in the oil with a thin stream.
Blend until mixture thickens and emulsifies.
Your aioli should be nice and smooth. If the aioli is too thick, just add a couple of tablespoons of warm water.
7.8.1.2
31
https://www.gretasday.com/cod-and-potato-cakes-with-horseradish-aioli/
 Will you be adding these Cod and Potato Cakes with Horseradish Aioli to your recipe repertoire?