Some type of brisket is one of the dishes that is traditionally served at Passover meals – usually with varying success.  As anyone knows, brisket can be tricky to cook if you're not smoking it.  This Red Wine and Honey braised brisket is so good, you'll be expected to make it for every holiday.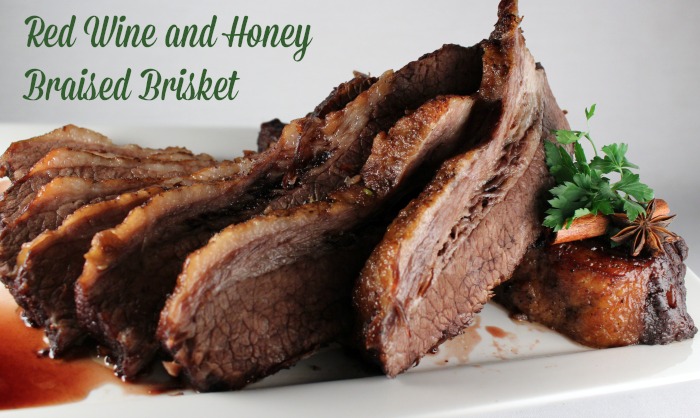 Here at How Was Your Day?, we want to bring a fresh perspective to your Passover meals.  We'll be sharing several recipes that have modern twists to traditional Passover dishes.  These recipes are great for all times of year, too – not just the holy holidays.
Our non-traditional Passover recipes include the following:
Wine and Honey Brisket
Chocolate Hazelnut Rugelach
Red Wine and Honey Braised Brisket
Yields 8
Red Wine and Honey Braised Brisket
Brisket is notoriously difficult to cook. This red wine and honey braised brisket will become a mainstay of your family's meals.
25 minPrep Time
3 hr, 5 Cook Time
3 hr, 30 Total Time
Ingredients
1 (5 pound) Brisket, trim the Fat
vegetable or cottonseed oil
3 tablespoons coarsely ground black pepper
2 tablespoons kosher salt
1 large onion, cut into large dice
2 heads of fennel, cut into large dice
3 large celery stalks, cut into large dice
8 garlic cloves, chopped
3 tablespoons ginger, chopped
1 cup sugar
3 cups orange juice, fresh squeezed
2 cup honey
1 bottle of Baron Herzog Old Vine Red Zinfandel
2 to 4 cups unsalted beef stock (IF NEEDED)
1 bay leaf
2 cinnamon sticks
3 whole star anise
1 chili de arbol or Thai chili
Instructions
Preheat the oven 325 degrees F.
Season the brisket with salt and pepper on both sides.
Heat up the braising pan on medium-high heat and add 1/4 cup of oil. Place the brisket in the pan and sear all sides until you have a golden brown crust.
Remove the brisket and set aside, add onions, fennel and celery to the pan. Brown the vegetables, then add garlic and ginger, sweat for one minute. Add sugar, cook until it melts, then add orange juice, honey, red wine, bay leaf, cinnamon, star anise and chili.
Cook off the alcohol, place brisket back into pan. Be sure that has enough liquid to almost cover the meat, if not, add unsalted beef stock.
Cover and roast in the oven for 3 hours until the brisket is fork tender.
Remove Brisket, place onto a cutting board. Strain vegetable from braising liquid. Remove excess fat from braising liquid and reduce liquid on stove top until desired consistency.
Slice Brisket across the grain and sauce with wine and honey reduction, garnish with rosemary and parsley.
7.8.1.2
32
https://www.gretasday.com/red-wine-and-honey-braised-brisket-recipe/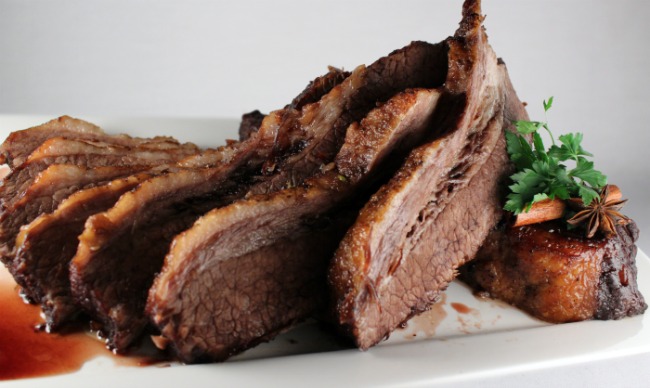 Special thanks to Herzog Wine Cellars for this delicious Red Wine and Honey Braised Brisket recipe.