Citrus Beet Salad is a great dish for year round meals.  It has a ton of variations and has that earthy-hearty-yet-fresh flavor profile going on.  This also makes it a great new take for a Passover dish.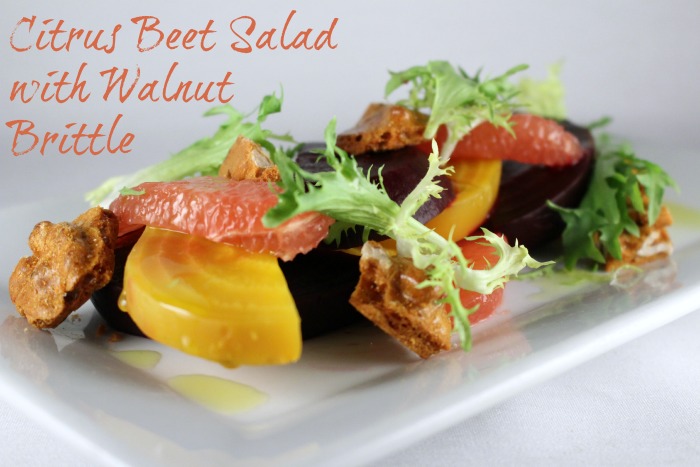 Passover, much like many other holiday meals, tend to become boring, staid traditions.  We all know who is making what, and we all pretend to like whatever dishes are being served.  Even when they're gagariffic.  Here at How Was Your Day?, we want to bring a fresh perspective to your Passover meals.  We're posting several modern twists to traditional Passover dishes.  These recipes are great for all times of year, too – not just the holy holidays.
Our non-traditional Passover recipes include the following:
Citrus Beet Salad
Wine and Honey Brisket
Fig and Port Wine Blintzes
Chocolate Hazelnut Rugelach
Citrus Beet Salad with Walnut Brittle
Yields: 4 to 6 servings
Prep time: 30 minutes
Cook time: 50 minutes
 INGREDIENTS:
2 lbs beets (of desired color*)
1 tablespoon kosher salt
3 tablespoons oil
1 pint water
2 large naval oranges segments
2 grapefruit segments
¼ cup of lime juice, fresh squeezed
¼ cup of lemon juice, fresh squeezed
¼ cup of extra virgin olive oil
kosher salt to taste
ground black pepper to taste
Frisée
Arugula
Walnut Brittle (recipe below)
Walnut Brittle
A twist on the traditional peanut brittle. Pairs beautifully as a garnish on salads, ice cream, or eating alone.
5 minPrep Time
30 minCook Time
35 minTotal Time
Ingredients
1/2 cup honey
1/2 cup water
1 cup sugar
2 cup walnuts
2 tablespoons margarine
1 teaspoon vanilla
1/2 teaspoon salt
1 teaspoon baking soda
Instructions
Boil the honey, water and sugar until just before it reaches the caramel stage.
Add in the walnuts and stir continuously, until walnuts are toasted and sugar has reached caramel stage.
Carefully stir in margarine, followed by vanilla, salt, and baking soda.
Quickly spread thinly on parchment paper and let cool completely.
Break into desired size shards.
7.8.1.2
30
https://www.gretasday.com/citrus-beet-salad-with-walnut-brittle/
DIRECTIONS:
Pre-heat oven to 350 degrees. Toss beets, salt, and oil together in mixing bowl. Put them in a high sided roasting pan and add enough water to cover beets half way. Cover roasting pan with aluminum foil.
Bake in oven until fork tender, or about 30 to 45 minutes. Allow to cool 5 to 10 minutes. Use a clean kitchen towel to rub the skin off the beets. Cut into wedges.
Pour lime and lemon juices over the beets as they cool. Refrigerate until thoroughly chilled.
When you're ready to serve the Citrus Beet Salad, place beet wedges in a medium size bowl, add oranges, grapefruit, and olive oil, toss to coat and season with salt and pepper to taste.
Garnish the Citrus Beet Salad with walnut brittle and fresh greens when serving.
*Please note to roast red beets separate from all other beets. They will discolor the other color.