Blackberry cupcakes are on the agenda today, everybody! Because what do you do when it's blackberry season? You make Chocolate Blackberry Cupcakes of course. Blackberries are one of my top five fruits. I love the sweet-tart flavor and picking the juicy gems right off the vine. Their delicious combination of sweet and tart makes them the perfect addition to any recipe, from breakfasts and salads to desserts and baked goods. They're a super versatile fruit, and they're the star of these extra tasty Chocolate Blackberry Cupcakes.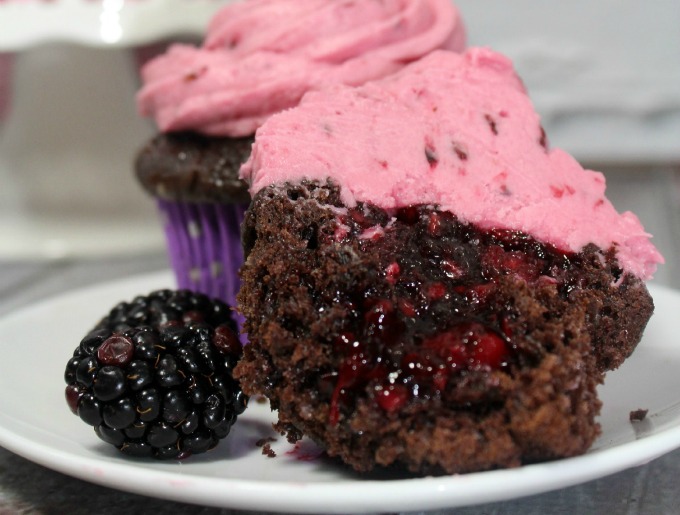 This Chocolate Blackberry Cupcake is sooo good. It's made from scratch, but don't let that scare you! This recipe may be from scratch, but it's not a Food Network-level undertaking. Anyone can make it, I promise. It's one of those recipes that's easy to make, but it makes you look like you really went all out. You get all the compliments without nearly the amount of work that people think you must have put into it!
Chocolate Blackberry Cupcakes Recipe
The secret to these cupcakes lies in the filling. Yup, you're gonna make a delicious blackberry compote and fill them. Everyone will be all like "you so fancy!" They'll never know it's not really that much work. It's just a matter of combining a handful of ingredients and cooking it down. Easy peasy. Aside from the "fancy" compote, this is a standard, straight ahead cupcake recipe. It's easy to make, letting the blackberry do all the heavy lifting to wow the crowd.
Chocolate Blackberry Cupcakes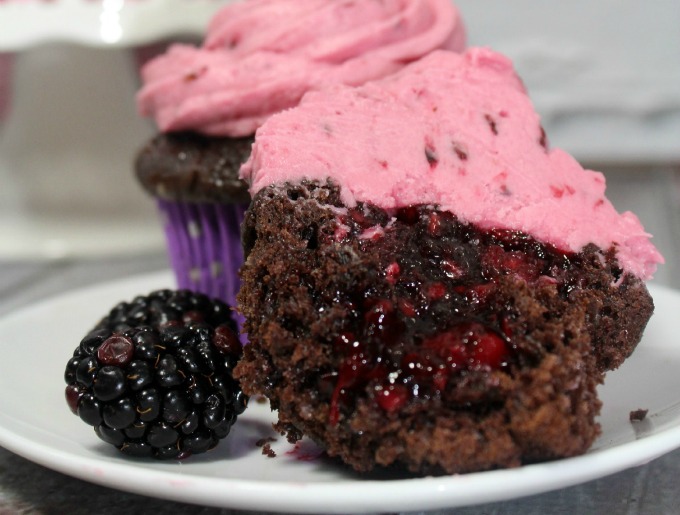 Delicious chocolate cupcakes filled with a homemade blackberry compote. Topped with a tasty blackberry buttercream frosting.
Ingredients
Chocolate Cake
1/4 C unsalted butter, softened
1 C sugar
1 C chocolate chips
2 LG eggs, room temp
2 LG egg yolks, room temp
1/2 C vegetable oil
2 tsp vanilla extract
1/3 C sour cream
1 C flour
1/2 tsp salt
1/2 tsp baking soda
1/2 C cocoa powder
1/2 C whole milk
Blackberry Compote
2 C blackberries
3/4 C sugar
2 TBSP Lemon Juice
1 TBSP of Fruit Pectin or Corn Starch
Blackberry Frosting
2 C. (1 lb) Butter, softened
6-8 C Powdered sugar
1 cup of fresh washed blackberries, crushed
Instructions
For the Cupcakes
Pre-heat the oven to 350 degrees F
In a medium-sized mixing bowl or the bowl of a stand mixer, cream the butter and sugar.
Melt the chocolate chips in the microwave or a double boiler.
Add chocolate to the butter/sugar mix and mix to combine.
Add eggs and egg yolks, one at a time, and beat into the butter mixture
Add oil, vanilla, and sour cream to butter mixture, and beat until well combined.
Sift flour, salt, baking soda, and cocoa powder into a separate medium bowl.
Add dry ingredients to wet ingredients. Make sure that they're well incorporated.
Add whole milk and beat well to combine.
Line a cupcake pan with cupcake liners.
Fill each cup 3/4 of the way with cupcake batter.
Bake at 350 for 15-18 minutes.
Use a toothpick to test cupcakes. If it comes out clean, they're done baking.
Let cool for 30 minutes.
Using a small spoon, remove the middle of the top half of the cupcake.
Add a dollop or two of the compote to the cupcake, filling it to the top.
Let sit for 10 minutes before frosting the cupcakes.


For the Compote
In a sauce pan combine all ingredients and bring to a rolling boil.
Reduce heat and simmer until compote thickens.
Set aside and let cool


For the Frosting
Add butter and blackberries to a large bowl. Mix on medium speed to combine.
Start to add the powdered sugar, one cup at a time, and beat until well blended.
Test for stiffness, and when this forms stiff peaks, you have enough sugar.
Increase the speed to medium-high speed and whip until light and fluffy.
Place frosting in a pastry bag and pipe onto the top of the cupcakes.
Nutrition Information:
Yield:
24
Serving Size:
1
Amount Per Serving:
Calories:

870
Total Fat:

26g
Saturated Fat:

13g
Trans Fat:

1g
Unsaturated Fat:

11g
Cholesterol:

79mg
Sodium:

217mg
Carbohydrates:

78g
Fiber:

2g
Sugar:

40g
Protein:

3g
Nutritional information is provided as a courtesy, and may not be accurate
Whew! These are a lot of steps, but they're sooo worth it. I promise! And honestly, it's not THAT much work. It's kind of like a journey of a thousand steps across the room. There are a lot of them, but you don't actually work that hard to get to where you're going. The blackberry compote is the star of the show with these brownies and even after you've made them. It keeps fairly well, so you can make a little extra to put over ice cream, pound cake, or even on top of your oatmeal in the morning. Dessert for breakfast anyone?
The point is, this Chocolate Blackberry Cupcakes recipe takes a little time, but it's not difficult to make. That makes it the kind of recipe that you might reserve for special occasions but that won't have you tearing your hair out in frustration. So for your next get-together, get your hands on some of these sweet and tart berries and whip up these delicious, from scratch cupcakes. You'll wow the crowd, and if you made enough compote, have some tasty topping leftover for yourself!