Caprese salad is one of those foods that is so amazingly good when it's fresh and in season. Luckily, the ingredients have become much easier to find in recent years. These caprese skewers are so good, and make a great appetizer for any time of the year.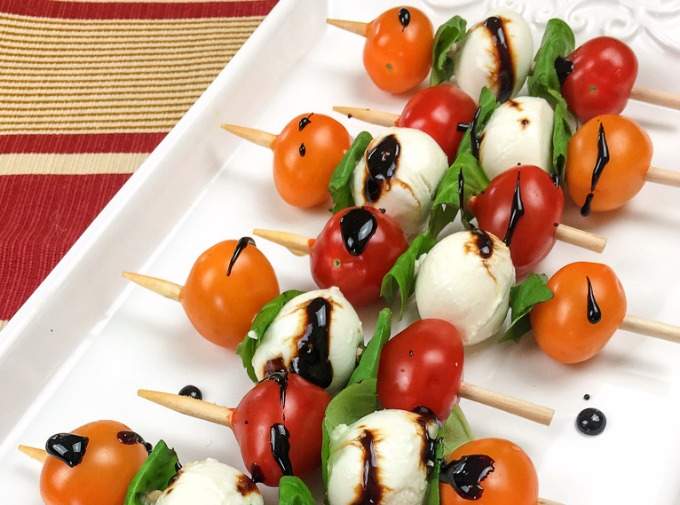 They're especially great for your holiday entertaining, as they look elegant and sophisticated, yet are so simple to make.
Caprese Salad Skewers
Links may be commissioned. They help support our site at no additional cost to you.
Caprese salad skewers are quick and easy, and the balsamic glaze bumps it up to the next level. They sweet tang pairs so well with the mozzarella and tomatoes, but don't forget to use a quality balsamic vinegar. People will definitely be impressed. These are something that kids can help you make, too. You will need some 6 inch skewers for this recipe, but those are fairly easy to come by.


Yield: 16
Caprese Skewers Appetizer with Balsamic Drizzle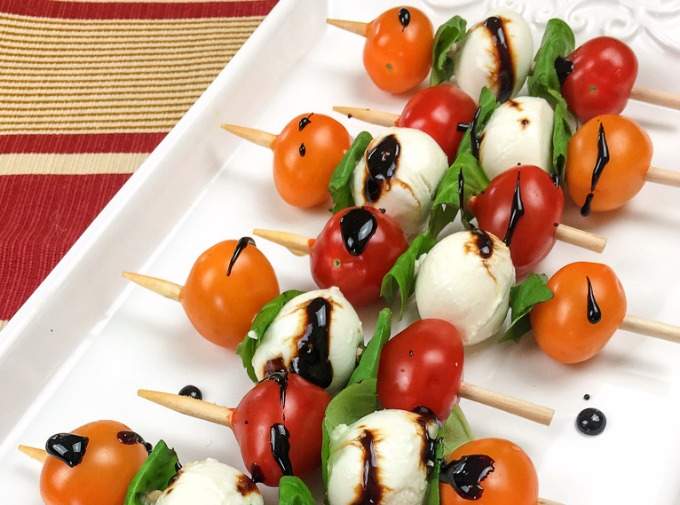 Ingredients
32 cherry or grape tomatoes
32 medium fresh basil leaves, washed and patted dry
16 mini fresh mozzarella balls
1 c. balsamic vinegar
2 T. high-quality extra-virgin olive oil to drizzle
Instructions
Thread one tomato onto a wooden skewer, lengthwise. Next, fold one basil leaf in half, dark side facing out, and add it to the skewer. Add one mini-Mozzarella ball, followed by another folded basil leaf, and a second tomato.
Repeat Step #1 with the remaining tomatoes, basil, and Mozzarella until you have 16 completed skewers. Arrange on a serving platter and set aside.
To prepare the balsamic glaze, add balsamic vinegar to a small sauté pan over medium-high heat. Cook, stirring frequently, until the vinegar is reduced to about 1/3 of its original volume.
Remove glaze from heat and let cool slightly. Drizzle over the skewers, along with some extra virgin olive oil, if desired. Serve immediately. Enjoy!
Nutrition Information:
Yield:
16
Serving Size:
1
Amount Per Serving:
Calories:

109
Total Fat:

7g
Saturated Fat:

3g
Trans Fat:

0g
Unsaturated Fat:

3g
Cholesterol:

18mg
Sodium:

148mg
Carbohydrates:

6g
Fiber:

0g
Sugar:

5g
Protein:

5g
See how easy these Caprese skewers were to make? They're truly amazing with fresh tomatoes in the summer. You can whip up a ton of them in practically no time at all. One caveat – the warm balsamic glaze may cause your mozzarella to melt a little. You can serve it on the side, or just take care not to drizzle it on the cheese.