I love the Christmas spirit.  Each year, I convince myself that I'm going to decorate the whole house. Somehow, though, each year, time seems to slip away from me. One easy way to decorate in a jiffy, and on a budget, is with free Christmas printables.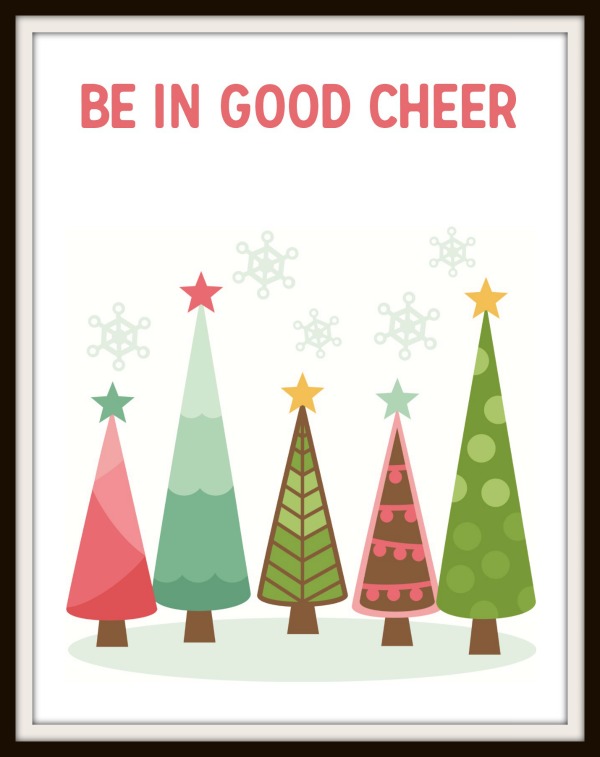 My personal aesthetic is a little more retro-vintage chic, and I adore what I call the "new modern" or retro Christmas colors.  These are slightly whimsical shades of lime green, magenta, aqua, and some gold. This Be in Good Cheer Christmas printable, with these shades and the slightly whimsical-retro trees, is a perfect piece to fit into my decorating theme.
Be in Good Cheer Free Christmas Printable
Links may be affiliate links.
I used my Epson SureColor P400 printer, (you can read more about it here) and printed this Be in Good Cheer free Christmas printable on Metallic photo paper. It adds just the right touch of a vintage feel, and looks so elegant. Of course, you can print this on any type of paper you'd like, or even have it sent to your local store to be printed.
There is an 8×10 sized Be In Good Cheer Christmas printable that prints on 8 ½ x 11 paper.
We've also made a larger retro Be in Good Cheer free Christmas printable that's 11 x 17 inches. This will print on a large scale printer with no issues.
Print as many copies as you want.  Just don't sell them.
Be sure to check out these other great Christmas themed DIY projects, too! You'll also want to search the #DIYDivas hashtag on social media to see past projects.
How fun is this free Christmas printable?