This discussion on ways to make laundry more eco friendly is sponsored by Little Lamb and their great soap nuts + dryer balls.  Read on for a fab discount code, too.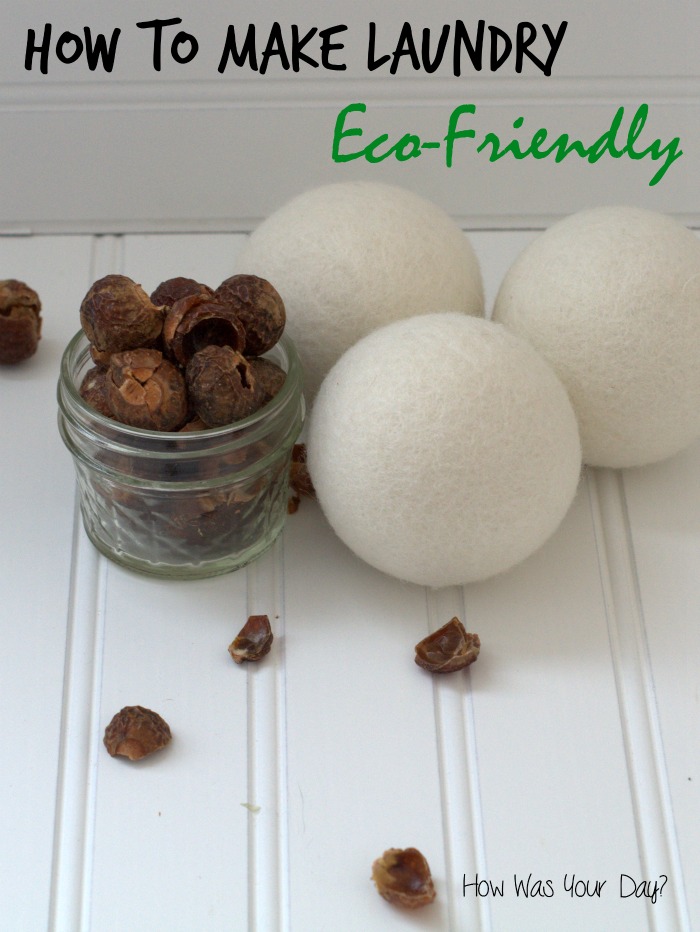 If you really think about it, Laundry is one of the most ecologically unfriendly things we do. There's lots of water involved, followed by using harsh detergents. Then, after we do all that, we put whatever we've washed into a box to bake for an hour or so, usually with some artificial chemicals. And let's not even talk about all the energy we're using.
Laundry doesn't have to be like this, though. There are ways that are easy and quick to make doing laundry much more eco friendly, yet still fit in to today's modern world.
5 Easy Ways to Make Laundry Eco Friendly
Look for high efficiency appliances. Yes, I realize that not everyone can go out and replace their washer and dryer on a whim. On the chance that you are in the market for a new set, this is one of the things to look for. They're gentler on your clothes, use less soap, less water, and less energy.
Hang a Clothesline. Fresh clothes dried in the sun are one of life's little luxuries. It's also super earth friendly. I know that it's not always convenient to hang your clothes, and not everyone has space for a clothesline. But on those great Spring days…mmmm….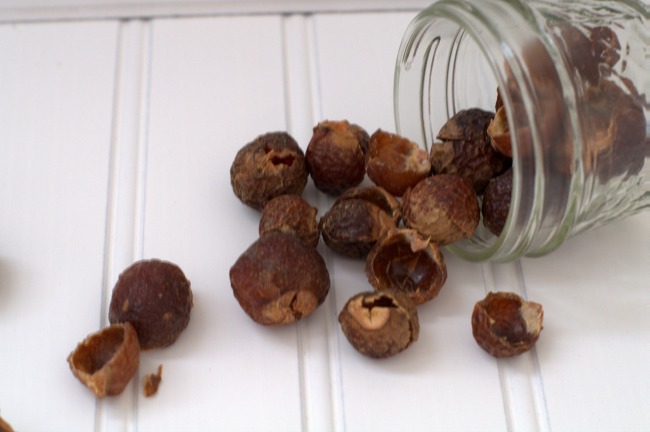 Use Soap Nuts. I know exactly what you're thinking. "What the heck are soap nuts?" I've asked the same exact question! Soap nuts are these little berries that, when cracked and added to your laundry, naturally release saponin. This breaks the surface tension of your water, and helps everything penetrate the fibers of your laundry better.
What's saponin, and why do I care? Saponin is a natural chemical that is the basis of soap. If you've ever made soap from scratch, you know that you're waiting for the saponification to occur, and that's how you know your soap is ready to pour. Same thing with the soap nuts, except it's naturally occurring. Whoa, right?!?!
Soap nuts are so gentle, yet effective, that they're popular in cloth diapering. If they can clean that mess up, I totally trust that soap nuts can handle my grown up laundry. Plus, they rinse super clean, so you don't even have to worry about soapy residue being left behind.
A vinegar rinse. Adding ½ cup of distilled white vinegar to your final rinse cycle can help combat lint, static, and get rid of the soapy residue. And, no. Your clothes won't smell like vinegar, either.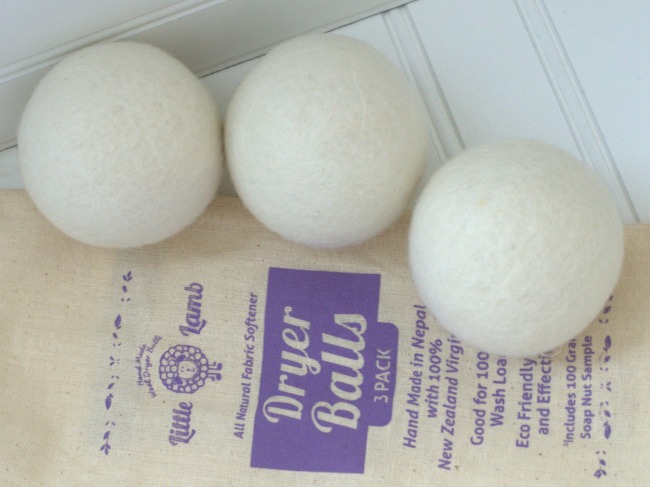 Try Dryer Balls. Lots of people put clean tennis balls into their laundry, especially with items like towels. Have you ever thought about using wool dryer balls, though? Wool dryer balls help to fluff up your laundry and speed up the drying time. How? I'm not totally sure, but it really works. Must be magic!
Really, though, I have a theory. My theory is that the wool dryer balls work by helping to separate all the wet laundry from each other as it tumbles around in the dryer. So, rather than trying to dry one huge mass of wetness, there's smaller amounts of wet clothes that are getting heat from all sides.
Using the wool dryer balls is really easy, too. You just toss a few of them in the dryer with your load of laundry. Little Lamb recommends somewhere between 3 and 6, depending on the size of the load. When your clothes are dry, just take the dryer balls out and leave them where they can air dry.
"But what about the scent?" you're asking. If you want your laundry to smell good, use a few drops of essential oils on your wool dryer balls and toss them in. Some people do this when your laundry is wet, while others wait until the laundry is dry and do an air fluff. It's really up to you.
With these tips, you can feel better about your carbon footprint, and make doing laundry more eco friendly. The best part is, it doesn't really make it a lot more difficult for you!
Want to try soap nuts and wool dryer balls for yourself? Here's your chance! Enter in the Rafflecopter widget below.  Don't want to to wait to see if you win?  Here's a 20% off code for the soap nuts and/or dryer balls featured: D3KBOOQ4