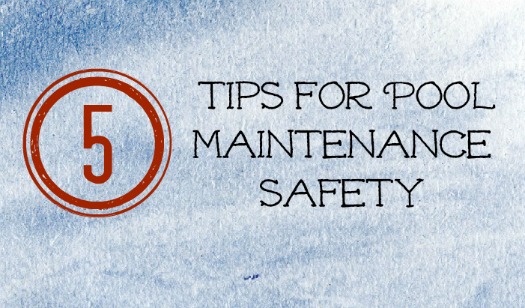 My husband Ed laughs when someone asks him if I'm detail oriented. I tend to be a spreadsheet type person – I like to do things in a regular order. It just makes life easier. Ed is the other way – he picks up after himself if he happens to think of it. So we work better if we set up a schedule for swimming pool maintenance. Here are 5 tips we have found helpful:
1) When the kids aren't home. During swimming pool maintenance, Ed is handling chemicals that can be harmful before they're diluted for use in the pool. They might contain up from twelve to ninety five percent chlorine. If the fumes from that are inhaled, or if some flies into the air, it could be a real danger. So we plan our maintenance schedule for a time when the kids are at soccer practice or some other activity. That way we do not have to watch out for the children while we're trying to safely handle pool chemicals.
2) Have someone watch the process. Ed mixes the chemicals, and I watch him to make sure he doesn't get hurt. If he's got a bag of chemicals open, I watch to make sure there are no spills that he might accidentally be exposed to. I also watch to make sure he mixes in the proper proportions. One time he was about to put in way too much chlorine, and he was really grateful that I noticed and stopped him. A second set of eyes watching during the mixing of chemicals never hurts.
3) Use the safety gear. Ed sometimes will get in a hurry and think he doesn't need to use the safety equipment. The goggles in particular rub around his eyes. Why he thinks he doesn't need to use them one time has never made sense to me, so I make sure that every time – he uses the protective goggles. We bought heavy leather  gloves that he wears while mixing chemicals. They're only used for that purpose, and from our research give him the best chance that the chemicals won't rub off on him.
4) Don't mix chemicals on a windy day. It's not like Ed is waving a bag of chlorine around in the air, but we've found that even a little wind can blow some chemicals into the air. We follow recommended procedures and add the swimming pool chemicals directly into the water – not adding water to chemicals. There is that moment when Ed has to bend over the pool with a scoop and drop in the chemicals. On a windy day, that's just asking for trouble. So if it's a scheduled maintenance day and it's really windy, we change our plans.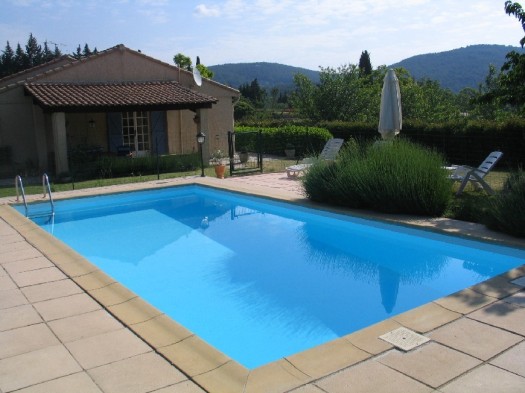 5) Make sure to store the chemicals safely. We have a storage shed at the back of the lawn, far away from the pool area. We've told the kids that they're not to go around that shed. We keep it locked. Since we're in a high altitude, the temperature is not an issue. But we've read that chemicals should be stored at temperatures below 95 degrees Fahrenheit. The only thing in that shed are the pool chemicals. We don't store garden and household products in the same location. The gasoline, turpentine, paint and fertilizer are all stored elsewhere. Every time we do our pool maintenance process, both Ed and I walk around the area after we're finished, to make sure we haven't left any chemicals, gloves, bags or anything else out. Everything gets put up properly.
Ed teases me about being so detail oriented. But he has also thanked me for being that way when it comes to swimming pool maintenance. Swimming pool chemicals are not something to be lax with.
Becky Flanigan writes freelance articles for InTheSwim.com. She has 3 kids with her wonderful husband – two boys and a girl – and two lovely golden retrievers. When she's not managing chlorine tablets and pool chemicals, she spends hours at her family swimming pool, watching the kids and dogs play and have fun. She is also a dedicated runner, and diligently training for her first half marathon.