Do you know someone that's a total Star Wars fan?  I'm not talking about that passive "yeah, I like the movies" kind of fan.  I mean the all-out, no holds barred, gotta have every Star Wars item imaginable type of fan. Chances are really great that you have someone in your life like that.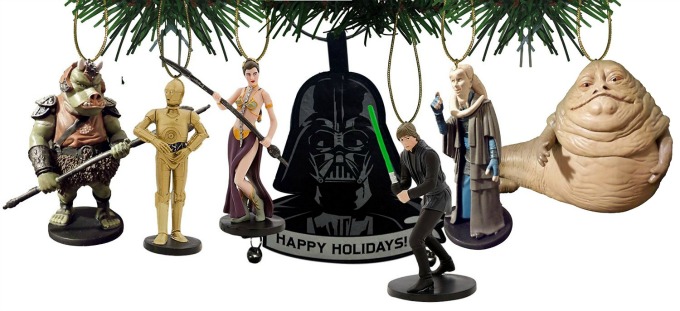 Now that the NEW Star Wars movie is being released this year, it seems that Star Wars pandemonium is at an all time high.  Maybe you're trying to think of a theme for your Christmas gathering, as that's sort of a new trend.  Whatever it is, here's a list of 43 fab items for a Star Wars themed Christmas
Star Wars Themed Christmas Items
Links may be affiliate links.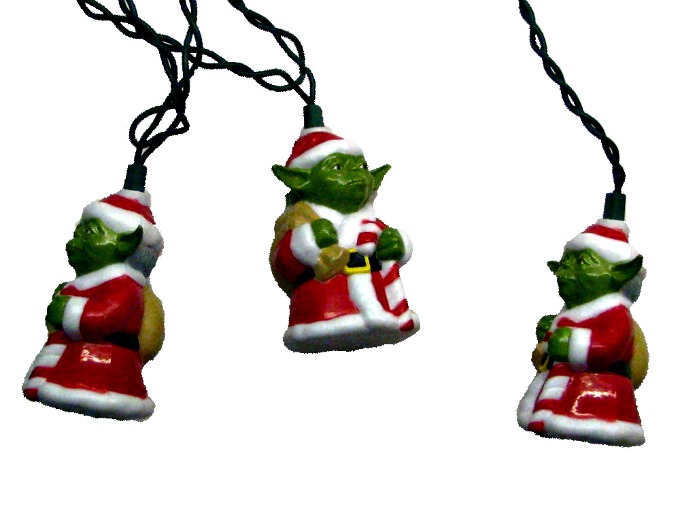 Outdoor Christmas Decorations
Star Wars Darth Vader Lighted Airblown Inflatable Christmas Santa
Star Wars Storm Trooper Tinsel Lawn Decor
Star Wars BB8 Christmas Light Set
Yoda in a Santa Robe Light Set
Christmas Stockings
Battery-Operated Star Wars Light-Up Stocking
Star Wars Chewbacca Plush Stocking
Star Wars Yoda St Nick Christmas Stocking
Star Wars Classic Yoda Tapestry Stocking 
Star Wars Darth Vader Tapestry Stocking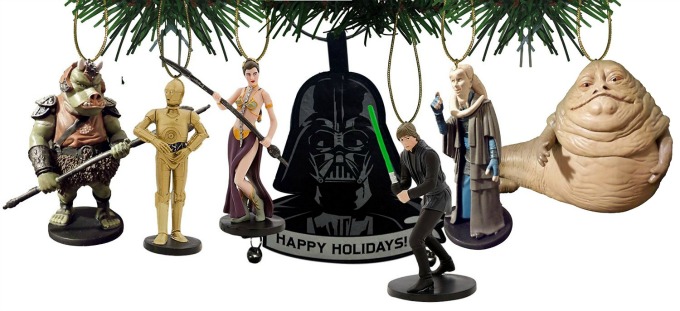 Christmas Ornaments
Yoda Peekbuster – Star Wars – Hallmark Keepsake Ornament
Disney Star Wars Return of the Jedi 6 pc. Ornament Set 
Angry Birds Star Wars 9 Piece Holiday Christmas Ornament Set
Star Wars – Holiday Darth Vader Ornament 2015 Hallmark
Star Wars Limited Edition Set of 4 Christmas Ornaments
Star Wars : The Empire Strikes Back – There Is No Try Yoda and Luke Skywalker Ornament 2015 Hallmark
Hallmark Star Wars Rebels Chopper Christmas Ornament
Star Wars Princess Leia and R2-D2 Ornament
Star Wars Themed Christmas Decor
Star Wars Yoda Holiday Mini Wacky Wobbler
Star Wars C-3PO Mini Wacky Wobbler
Star Wars: Darth Vader Holiday Mini Wacky Wobbler
Star Wars Boba Fett Tablepiece Christmas Decor –
Stormtrooper with Ball Ornament Nutcracker
Star Wars 14-Piece Mini Tree Set
Classic Star Wars Mini Tree Set – Includes tree and ornaments!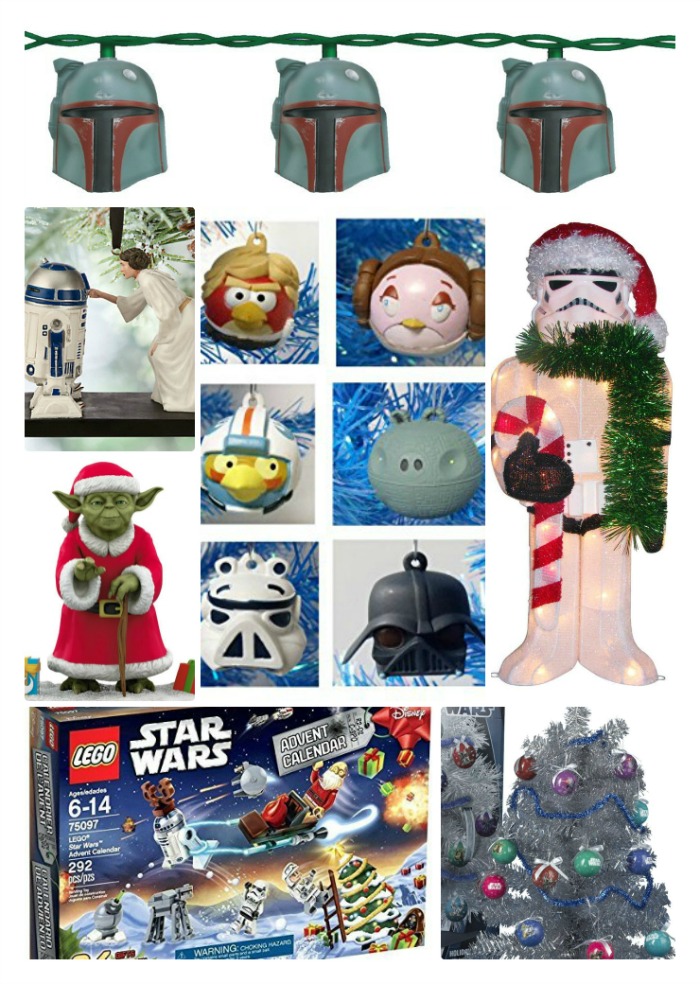 LEGO Star Wars Advent Calendar Building Kit
Disney Star Wars Giant Blue Raspberry Candy Canes
Wrapping Paper and Christmas Cards
Star Wars Themed Christmas Gift Wrap
Lightsaber Star Wars Themed Christmas Gift Wrap
Star Wars 24 Holiday Cards Set in 4 Different Designs –
Star Wars Yoda Christmas Cards
Star Wars Cookie Cutters
Star Wars Press-and-Stamp Cookie Cutters, Set of 4 Heroes and Villains: Yoda, Darth Vader, C3P0 and Chewbacca
Star Wars Cookie Cutter 4 Pc Set: Death Star, Millennium Falcon, X-wing Fighter and Darth Vader's TIE Fighter
Star Wars Gingerbread Cookie Cutters
What's your favorite item from this Star Wars themed Christmas list?  Will be incorporating a little Star Wars into your holiday season?