We love to travel, and one of our favorite ways to go is via road trip.  We're firm believers that the voyage is half the journey, and besides that, if you never get out to see the country, you miss amazing things.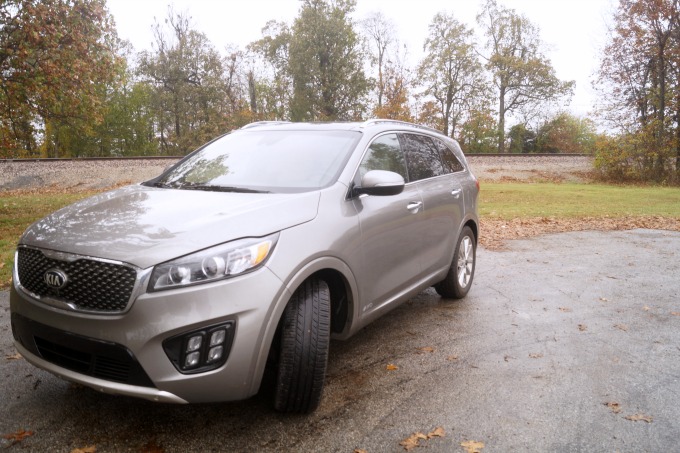 Recently, we partnered with Kia on a couple of road trips. We took the 2017 Kia Sorrento SXL V6 out on the road, drove it all over the Midwest, and thoroughly tested it out. It's seen wide open spaces, tight city streets, high rises and parking garages, and even some hills and mountains.  As hilly and mountain-y as we get in the Midwest, at least.
Why the 2017 Kia Sorrento Makes a Great Road Trip Vehicle
Smooth ride
Some areas have great roads, while others have roads that seem like they haven't been maintained ever. The smooth ride of the Kia Sorrento makes it so you barely feel the potholes. Plus, the well appointed interior makes you feel like you're living in the lap of luxury.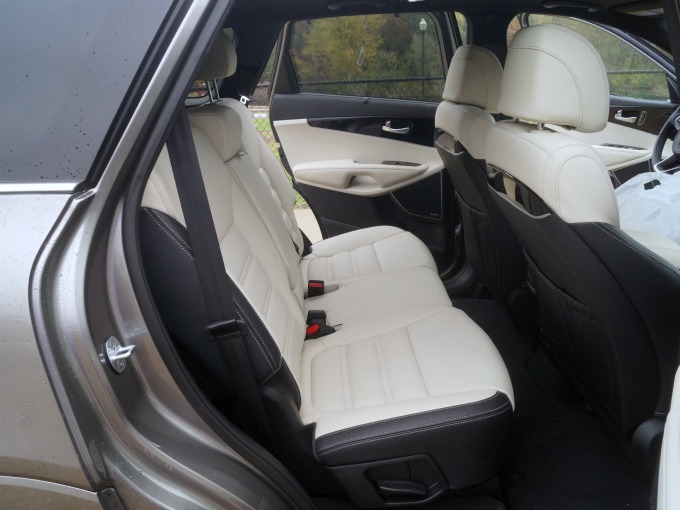 Lots of Passenger Space
One of the great things about road trips is being trapped in a car with your friends and/or family. The worst part of a road trip is, well, being trapped in a car. The 2017 Kia Sorrento SXL V6 has plenty of space that everyone is close enough for conversation and input, but not so close that you don't have your own space.
Heated Steering Wheel
This doesn't seem like that big of a thing, until you get in your car when it's freezing cold, and you don't have a heated steering wheel.  And then you're sad, and your hands are fuh-reezing. I know you're thinking that you only use this a few months a year, but you never know what you'll encounter on a road trip. I've seen blizzards in July and August and triple digit temperatures in December and January.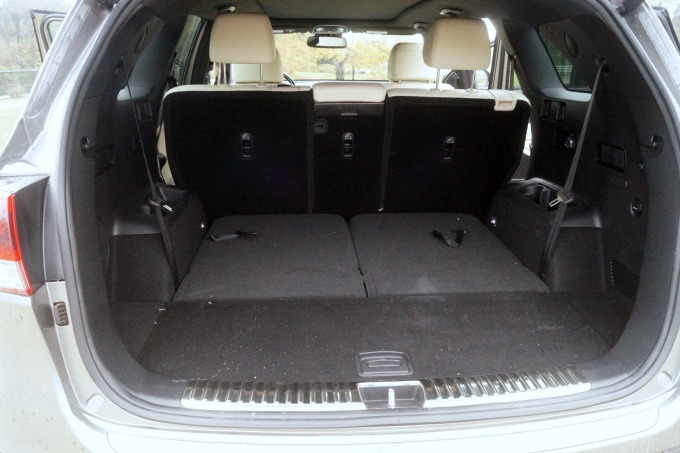 Lots of Cargo Space
With the third row seats up, you have enough space for around town cargo, like getting groceries or running errands. When you drop the third-row seats, there's more than enough room for everything that you need to bring. Everyone's suitcase, bag of entertainment, and all the snacks fit with room to spare. There's even enough room to bring home all the treasures you're sure to find along the way.
Backseat Cupholders
We've all had the experience where we're sitting in the backseat, and we have a beverage.  And there's nowhere to put it, so we have to hold it.  Forever. The Kia Sorrento has a center console that drops down in the second-row seating that has an armrest and cupholders.  YAAASSSS!!!  It also serves as a territorial boundary, in case you need it.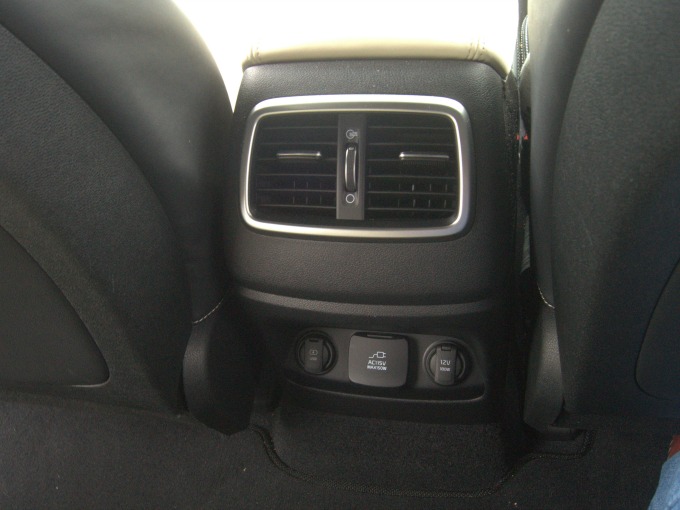 Backseat Chargers
There's nothing sadder on a road trip than everyone jockeying to charge their devices.  Now there's no fighting, because everyone in the car has at least one charger to use.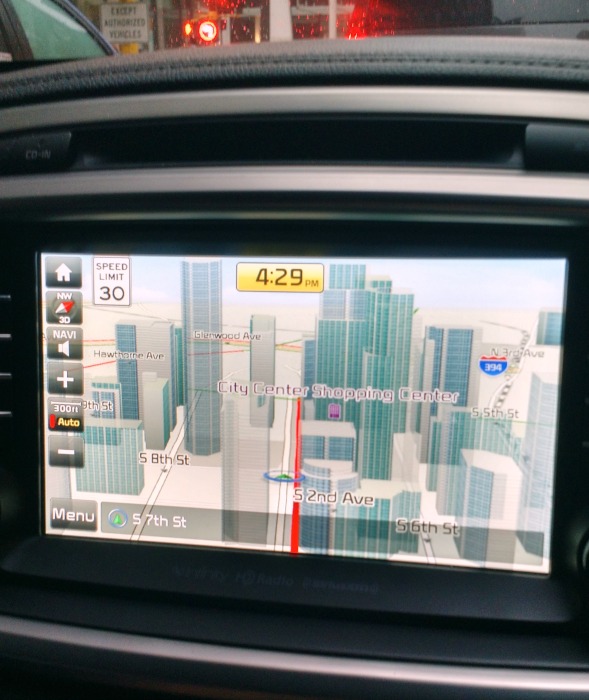 Excellent Navigational System
I admit it – I'm a paper map user.  I'm also the lead navigator on most trips. There's still a definite place for them, as sometimes you need to see a larger area, or know where you're going not just for your immediate next turn, but the bigger picture, so to speak. But, there's a definite use for the navigational system, too.
The Sorrento has an amazing navigational system that guides you where you need to go, and gives you plenty of notice that you'll need to change lanes for your next direction.  Some of the other navigation systems that we've tried are like "Turn in 300 fe…well, you missed it. Make a U-Turn and turn on that street you just passed."  There were also amazing diagrams and illustrations that showed which lane you were in, and where you needed to be.  That's especially handy in a city you're unfamiliar with.
Heated and Cooled Seats
Along the lines of the heated steering wheel are heated and cooled seats. These are great when you've been outdoors in a cold environment.  Like, hmmm…Minnesota in late fall. The cooled seats felt really good, too. As my mom says "they're like peppermint on your backside." Even the backseats had heated seats.
Panoramic Sunroof
It's basically like having an overhead window, and I need this in my life.  Forever and ever. This is especially amazing to have on a road trip, because you can see the sky forever.  At night, you can see the stars out in the middle of nowhere, or the fabulous cityscape when you're downtown. The panoramic sunroof also helps eliminate that cooped up feeling you sometimes get on long drives. This picture was taken through the panoramic sunroof.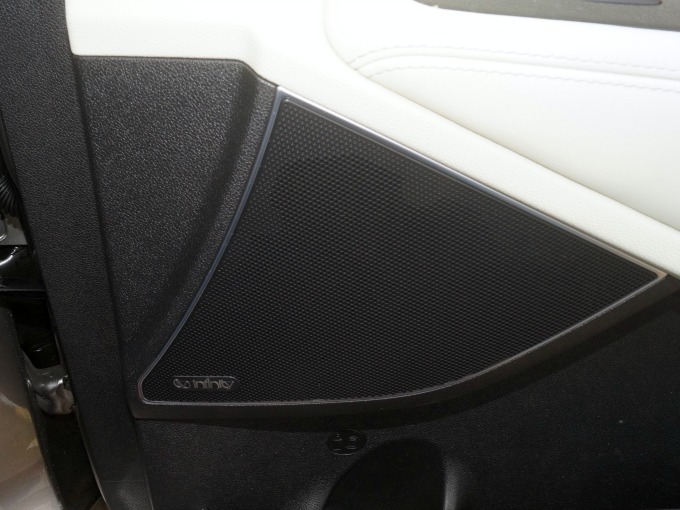 Infinity Surround Sound Audio System
Anyone that's ever taken a road trip knows music is a major part of the trip. Kia has partnered with Infinity to produce some of the greatest sound systems in their cars. The Kia Sorrento has 10 speakers and is designed to play music the way it's intended to be heard. It's like the home entertainment system for your car.  Pair this with satellite radio, CDs, or your own music, and you have tunes for days.  Of course, your road trip partners may not want to hear your mad rap skills or your slide whistle impressions.  Their loss.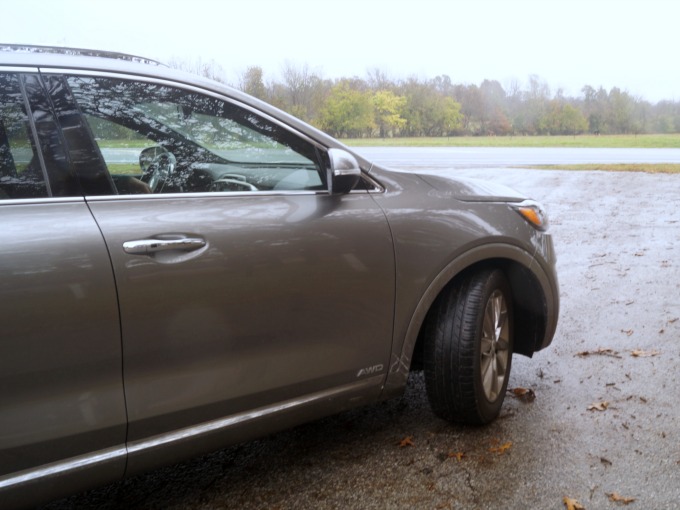 Safety Features
Yeah, these aren't nearly as fun or sexy to talk about, but they're oh so important. Kia Sorrento has airbags out the wazoo in case you're in an accident.  We feel safer in SUVs, due to the size of the car, but they do have a bit of instability.  The Sorrento has Rollover sensor technology, which deploys the side curtain airbags if it senses a rollover accident is happening. This also locks your seatbelt to help keep you safe.
Electronic stability, vehicle stability, and traction control systems help keep all four wheels on the road, and going where you want to go.
A couple of my favorite safety features – you know, the ones we actually used because we didn't crash the car – were the blind spot detection, Surround View Monitor, and the Advanced Smart Cruise Control. Blind Spot Detection tells you when there's a car, or something else, in your blind spot.  Pretty self explanatory.  There were a couple times that it was more annoying than helpful, and we just turned it off.  Especially in city driving, where we'd get an alarm if there was a car in the turn lane beside us.  Yeah, ok…I see them already!
Surround View Monitor shows you everything around the car, from 4 different cameras that the Kia Sorrento has.  It sounds an alert if you're about to back into, or run over, something like a pole in a parking garage (guilty!), a curb, or something in the driveway.
While we really enjoyed the Advanced Smart Cruise Control, which slows you down to avoid accidents and maintain a safe distance, there were times that it was a hassle, too. Especially if you got behind a car that was going slow, or caught up to a slower car. The cruise control would slow you down so gradually that before you realized it, you were the slow car on the road, and going a good 10 mph under the speed limit.
All in all, the 2017 Kia Sorrento SXL V6 might just be the ideal road trip car. It has plenty of power to get you where you want to go. It's rugged enough to roam the wild outdoors, and is maneuverable enough for tight city streets.