This salad & vinaigrette recipe was shared by Holly Clegg.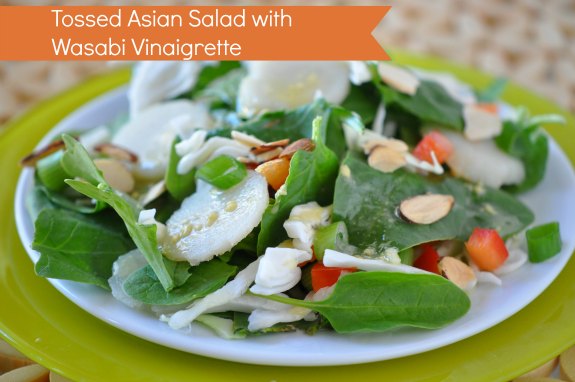 I think everyone know that I love salads.  I mean everyone.  I stop random people on the street and tell them "I LOVE SALAD."  Yeah, they may think I'm strange, but it's ok!  When I find a new and unusual recipe to try, I just have to make it.
Wasabi Vinaigrette adds punch to this great crunchy combination of slaw and spinach topped with toasty almonds.  Combine salad mixture, make vinaigrette, refrigerate and toss together to serve.
 Tossed Asian Salad with Wasabi Vinaigrette
Makes 4 (1-cup) servings
 Ingredients
2 cups baby spinach
2 cups coleslaw (found in bag)
1 (8-ounce) can  water chestnuts, chopped or sliced, drained
1/2 cup diced red bell pepper
1 bunch green onions, chopped
Wasabi Vinaigrette, (recipe follows)
1/4 cup sliced almonds, toasted
 In a large bowl, combine spinach, coleslaw, water chestnuts, red pepper and green onions.  Toss with Wasabi Vinaigrette (recipe follows) to lightly coat. Divide on plates and sprinkle with almonds.
Wasabi Vinaigrette
Awesome Asian-style vinaigrette great on any salad.
 Makes 1/2 cup vinaigrette
Ingredients

1 tablespoon Dijon mustard
1/2 teaspoon wasabi powder
1/4 cup seasoned rice-wine vinegar
1 teaspoon sesame oil
2 tablespoons canola oil
In small bowl, whisk together all ingredients until smooth and well combined.
 Tidbit: Wasabi can be found in a small tin can in the Asian section of the grocery store or fresh where sushi is sold.
Calories 180 Calories from Fat 57% Fat 12g Saturated Fat 1g Cholesterol 0mg Sodium 313mg Carbohydrates 17g Dietary Fiber 6g Total Sugars 9g Protein 3g, Dietary Exchanges: 3 vegetable,
2 1/2 fat
If you wanted to make this a meal, I'd add some drained mandarin oranges and a protein like grilled chicken or salmon.  It would also be tasty with marinated tofu and perhaps some type of cheese, like Feta.
Recipe is from Food 101 by Holly Clegg.  Watch for a review of the cookbook coming shortly.