I don't know about you, but I am so ready for summer! Last week, we had to break out the parkas again, as we had highs in the 40s.  What is THAT about?  Yeah, I don't want any more of that.  I'm ready to put the sweaters, boots, and most of the jeans away for quite a while. This Summer Mix and Match wardrobe from Nordstrom is perfect for the warmer months.
There are great pieces that can be worked into your wardrobe for year round wear.  A lot of people think that Nordstrom is too expensive, and it's really not.  Sure, you can drop some serious bank there, but a lot of pieces are reasonably priced, and good quality. Oh, and did I mention that the Nordstrom Summer Sale is going on right now?  Ummm…yeah! Great sale prices on some of our favorite pieces.
Summer Mix and Match Wardrobe from Nordstrom
You probably have some of these pieces that in your closet already. Boyfriend jeans, a classic white tee, and a great striped tee are basics everyone should have. We've created 15 looks from 14 pieces, and that's just the beginning of the possibilities.  Check out our Spring mix and match wardrobe from Nordstrom, or our Summer Mix and Match Wardrobe from Old Navy too!  Links may be affiliate links.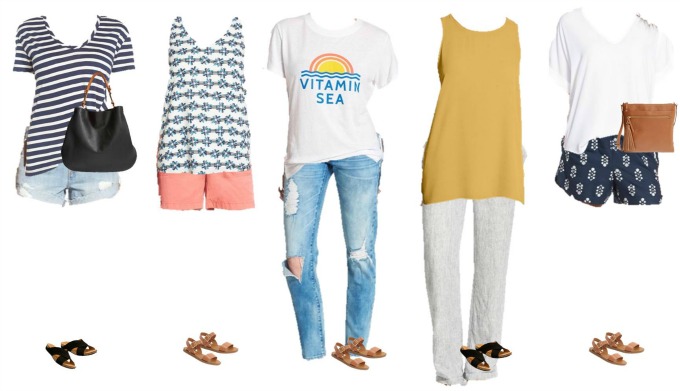 1 Halogen Knot Front Tee in Navy-Ivory stripe ($34, available in 8 colors) +  Levi's Distressed Denim Shorts ($68) + Clarks Perri Cove Slides ($85) + Sole Society Faux Leather Tote (similar, $70)
2 Halogen Double V Neck Shell Tank in Ivory Galaxy print ($48, available in 4 colors/prints) +  Caslon Addison Zip Pocket Shorts in Coral Spice ($42.50, available in 10 colors and patterns) + Steve Madden Bestii sandal ($59.95)
3 Sub-Urban Riot Vitamin Sea graphic tee ($34) + BLANKNYC Distressed Skinny Jeans ($88) + Steve Madden Bestii sandal ($59.95)
4 Lush Side Slit Tank in Fall Leaf ($34, available in 10 colors) +  Caslon Drawstring Linen Pants in Navy-Ivory Mini Stripe ($59, available in 5 colors) + Clarks Perri Cove Slides ($85)
5  Lush Cuff Sleeve Woven Tee ($34) + Madewell Vinefloral Drapey Pull on Shorts ($59.50) + Steve Madden Bestii sandal ($59.95) + Halogen Tasseled Leather Crossbody Bag ($98)
6 Lush Cuff Sleeve Woven Tee ($34) + BLANKNYC Distressed Skinny Jeans ($88) + Steve Madden Bestii sandal ($59.95) + Halogen Tasseled Leather Crossbody Bag ($98)
7 Halogen Knot Front Tee in Navy-Ivory stripe ($34, available in 8 colors) + Caslon Drawstring Linen Pants in Navy-Ivory Mini Stripe ($59, available in 5 colors) + Clarks Perri Cove Slides ($85)
8 Sub-Urban Riot Vitamin Sea graphic tee ($34) + Madewell Vinefloral Drapey Pull on Shorts ($59.50) + Steve Madden Bestii sandal ($59.95)
9 Halogen Double V Neck Shell Tank in Ivory Galaxy print ($48, available in 4 colors/prints) +  Levi's Distressed Denim Shorts ($68) + Clarks Perri Cove Slides ($85) + Sole Society Faux Leather Tote (similar, $70)
10 Lush Side Slit Tank in Fall Leaf ($34, available in 10 colors) + Caslon Addison Zip Pocket Shorts in Coral Spice ($42.50, available in 10 colors and patterns) + Clarks Perri Cove Slides ($85)
11 Halogen Double V Neck Shell Tank in Ivory Galaxy print ($48, available in 4 colors/prints) +  Caslon Drawstring Linen Pants in Navy-Ivory Mini Stripe ($59, available in 5 colors) + Steve Madden Bestii sandal ($59.95)
12 Sub-Urban Riot Vitamin Sea graphic tee ($34) + Levi's Distressed Denim Shorts ($68) + Clarks Perri Cove Slides ($85)
13 Lush Cuff Sleeve Woven Tee ($34) + Caslon Addison Zip Pocket Shorts in Coral Spice ($42.50, available in 10 colors and patterns) + Clarks Perri Cove Slides ($85)  + Sole Society Faux Leather Tote (similar, $70)
14 Lush Side Slit Tank in Fall Leaf ($34, available in 10 colors) + BLANKNYC Distressed Skinny Jeans ($88) + Steve Madden Bestii sandal ($59.95)
15 Halogen Knot Front Tee in Navy-Ivory stripe ($34, available in 8 colors) + Madewell Vinefloral Drapey Pull on Shorts ($59.50) + Steve Madden Bestii sandal ($59.95) + Halogen Tasseled Leather Crossbody Bag ($98)