Halloween is a spooky time, full of ghosts and goblins, the undead, and spirits from the great beyond. We haven't even started talking about the zombies or big as your head spiders that are lurking around. If you're going to be out at any time, you're going to need sustenance to keep up your strength. Enter Spiced Harvest Trail Mix to the rescue.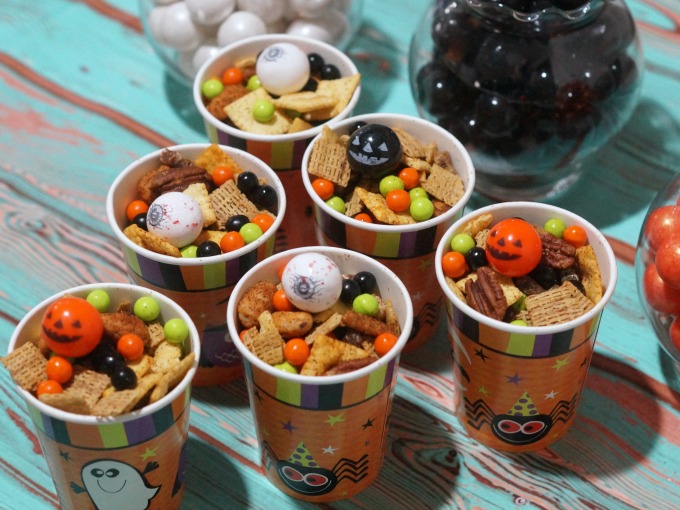 We've taken some of the best flavors of the fall season, and tossed them together for the perfect blend of sweet and spicy, goodies and base ingredients. Plus, it's sure to give you that energy you need to help battle the hoards of zombies that are coming your way, or just chow down on while you're watching scary tv shows at home.
Spiced Harvest Trail Mix Recipe
Yield: 12 cups
Spiced Harvest Trail Mix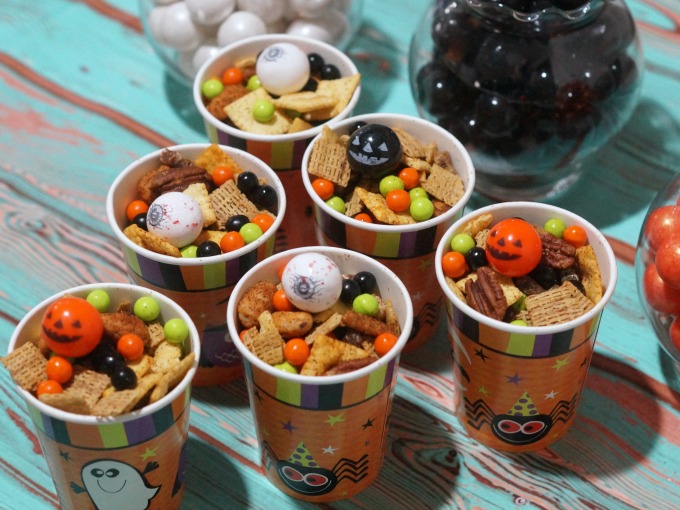 A delicious sweet and spicy trail mix that's perfect for adults - or adventurous children.

Prep Time 10 minutes

Cook Time 10 minutes

Total Time 20 minutes
Ingredients
4 cups cheese crackers
4 cups cinnamon cereal squares
2 cups Sixlets Candy
½ cup Salted Pecans
½ cup Sesame Sticks (I used honey mustard)
½ cup Chopped Date Bits
½ cup Crystalized Ginger, chopped
½ cup Dried Cherries
12 Celebration by Frey Halloween Mix Gumballs (optional)
Spice Mix:
1 Tablespoon Chili Powder
1 teaspoon Smoked Salt
1 teaspoon Garlic Salt
1 ½ teaspoons Seasoned Salt
½ teaspoon Sel Gris or other flaky sea salt
Instructions
Mix Chili Powder and salts in a small Bowl; set aside.
Combine crackers, cereal, nuts, sesame sticks Sixlets, and dates in a large bowl; mix well.
Sprinkle with half of the Chili spice mixture and stir until well coated. Add in the other half, and stir again, making sure the ingredients are evenly coated.
Add Ginger and Cherries. Stir until well combined and everything is coated with the spices.
Serve and top each one with a gumball for decoration, or store in an airtight container for up to a month.
Makes about 12 cups.
Nutrition Information:
Yield:
12
Serving Size:
1 cup
Amount Per Serving: Calories: 371Total Fat: 8gSaturated Fat: 1gTrans Fat: 0gUnsaturated Fat: 5gCholesterol: 1mgSodium: 1034mgCarbohydrates: 73gFiber: 3gSugar: 37gProtein: 4g

Nutritional information is provided as a courtesy, and may not be accurate.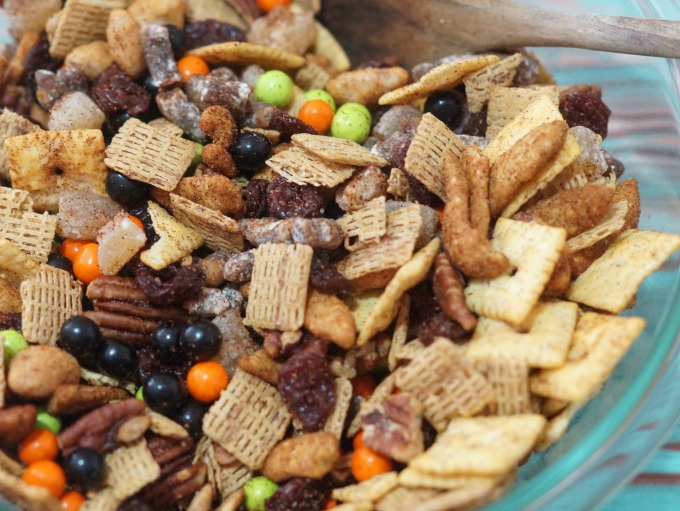 As you can see, we used Sixlets for the candy component in our trail mix. These came from Celebration by Frey, and they have a vast array of colorful and themed candy mixes that are perfect for any holiday, wedding, or themed event. See those big round candies? They're gumballs! How cute are they as table decor?!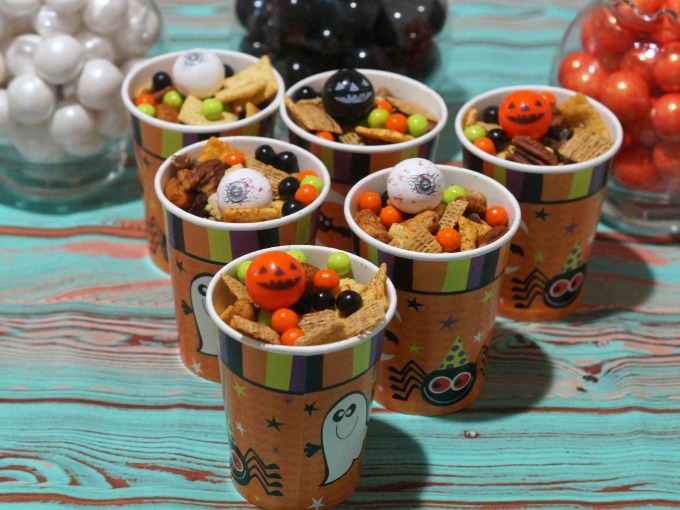 You might think that these items are difficult to find, but that's not the case. You can pick them up in so many stores, like Hobby Lobby, Wegman's,and even Walmart. They're really affordable, too, and a great way to add a pop of color to just about anything you're creating.