This is a lingerie review. While it's pretty family friendly, if you have delicate sensibilities, you may wish to skip this post. I try not to offend!
Lingerie. We all need it, whether it's cute and casual, hot and sexy, or purely utilitarian. One of the worst things about it is that lingerie can be so expensive. Not so with Smart and Sexy!
Smart and Sexy offers a wide variety of lingerie. Their selection ranges from all styles of bras and panties to bustiers, swimwear, and even chemises. As the name denotes, their items are on the sexy side. And it's smart, because the items are really reasonably priced. With push up bras priced around $15 and bustiers being $18, you can't go wrong! Smart and Sexy even has matching bra and panty sets that start at $15. At that price, you don't have to feel guilty about splurging on a wild set, like the camouflage.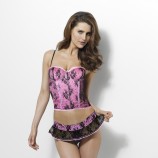 I received a wide assortment of items for review. One of my favorite pieces that Smart and Sexy sent was one of their bustiers. It's red satin with a black lace and mesh overlay. This looks like it came straight from Moulin Rouge, so immediately I was in love! It's hot and cute at the same time. The bustier is also designed to accentuate the good parts and visually sculpt your body into being extra curvy through the waist.
They also sent me two chemises. One is a babydoll style that's sheer black lace with underwire cups, which I like, as I'm pretty busty. Okay, I'm really busty. The other is a babydoll and thong set that that is hot pink with a black photographic rose print. Very cute!
There were a few styles of panties as well. There's a great pair of tap shorts that are super cute. There was a pair of boy shorts, which were fantastic. So very cute with a nice fit. Sometimes with boy shorts, I feel like my ass-ets are hanging out. I didn't feel that way with the ones from Smart and Sexy.
And last, but not least, I received two bras. One is cheetah, the other is leopard. I guess that's for the cougar in me. Or maybe my inner sex kitten! They're both lightly padded, so that they create a really nice, smooth line under your clothes. These had pretty decent support and were really comfortable to wear.
Whether you're looking for undergarments for daily wear or something for sexy time, I would totally recommend Smart and Sexy to anyone out there.
Connect with Smart and Sexy:
I received sample product for review purposes only. I did not receive any compensation. All opinions are my own.