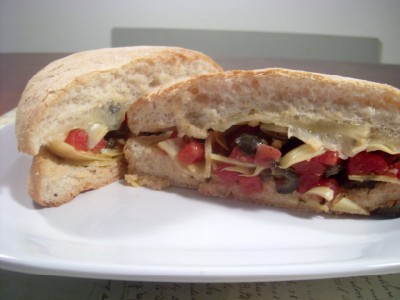 This Antipasto sandwich is one of my favorite sandwiches. It's quick and easy to make, tastes indulgent, and keeps in the fridge for a few days.
Ingredients
1 can (14 oz)

artichokes

, well drained and chopped
1/2 can black olives, sliced
1 tomato chopped or
1 can diced tomatoes, drained
1 small red onion thinly sliced
2-3 Tbsp red wine vinegar
2-3 Tbsp oil
1/4 tsp Italian seasoning
1/4 to 1/2 tsp Garlic powder to taste
salt and pepper to taste
Shredded lettuce
Provolone cheese, sliced
Good bread or rolls
Drain the artichokes and olives. Chop the artichokes. Mix all the ingredients together, except the lettuce, bread and cheese.
Toast the bread. I do this in the toaster oven, but you can put it under the broiler for a minute. I like to melt the cheese, too, but that's totally optional.
Pile the filling on the bread. Add some lettuce. Add a slice or two of cheese, if you didn't add any to the bread when you were toasting it.
This is a messy sandwich. You'll want to do the "sandwich lean" while eating it, and the lettuce helps a little with the messy factor.
This sandwich is also really good with avocado. I also think this would be fantastic with some salami.
Note: In my pic, I did not add lettuce because I forgot to get any at the store.