What do you do with leftover corned beef?  You make Reuben sandwiches!
Corned beef is one of my favorite traditions of St Patrick's Day. Cooking that all day long – or worse, waiting for it to be finished cooking when you're at someone else's house! It's an arduous process, maybe that's why we only do it once a year. If I'm really being honest, the veggies are my favorite part of the meal. But once they're gone, what do you do with the left over corned beef? If you're part of our family, we make Reuben sandwiches. Mmm…it's a great change from the regular corned beef, and the sandwiches feel really special. They're super quick to make, though. We'll keep that our little secret.  If you don't have corned beef that you've cooked, you can get corned beef from the deli counter.
Are you ready to make a Reuben sandwich with your leftover corned beef?

Reuben Sandwich recipe
Greta
Yields 1
Reuben Sandwich
A traditional Reuben sandwich, just like you'd find in a great deli. Now, you can make it at home, quick and easy.
5 minPrep Time
10 minCook Time
15 minTotal Time
Ingredients
2 slices rye bread
3-4 oz. Corned beef, sliced
2 slices of Swiss cheese
1 Tbsp. Thousand Island dressing
1-2 Tbsp. Sauerkraut
1 tsp butter or non-stick spray
Instructions
Butter both slices of bread on one side. Alternately, you can use non-stick spray. I like the little bit of flavor that butter gives the sandwich. Place one piece of bread, butter side down, in a skillet over medium heat.
Add a slice of Swiss cheese to the non-buttered side of the bread. Wait for it to get melty.
Warm up your corned beef slices. I simply put them around the bread in the pan to warm up.
Once the cheese starts to get a little melty, put the corned beef on it, and top with the sauerkraut. Add the other piece of cheese, and top with the last piece of bread, butter side up. Flip the whole sandwich, and wait for the bottom piece of bread to get toasty and the cheese to melt.
Once that happens, remove from the pan to a plate, and add the Thousand Island dressing to the sandwich. Cut in half, and enjoy!
7.8.1.2
27
https://www.gretasday.com/quick-painless-reuben-sandwich-recipe/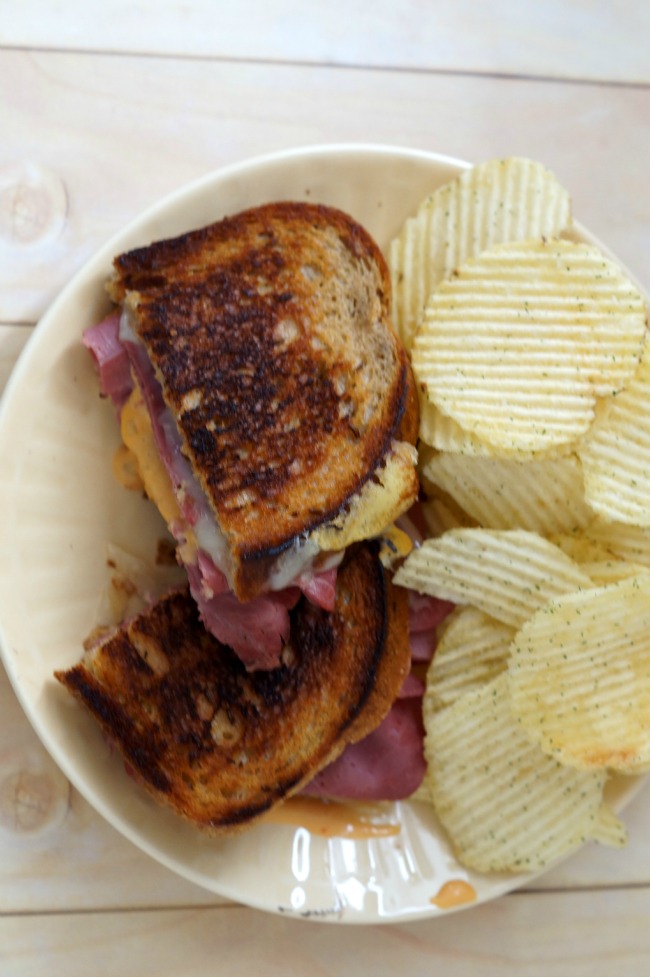 For more amazing St. Patrick's Day ideas, check out some blog posts from a few of my favorite bloggers: