Just because it's New Year's Eve doesn't mean you have to go out on the town.There are plenty of ways to have a low key New Year's Eve celebration that's just as fun as heading out to a party.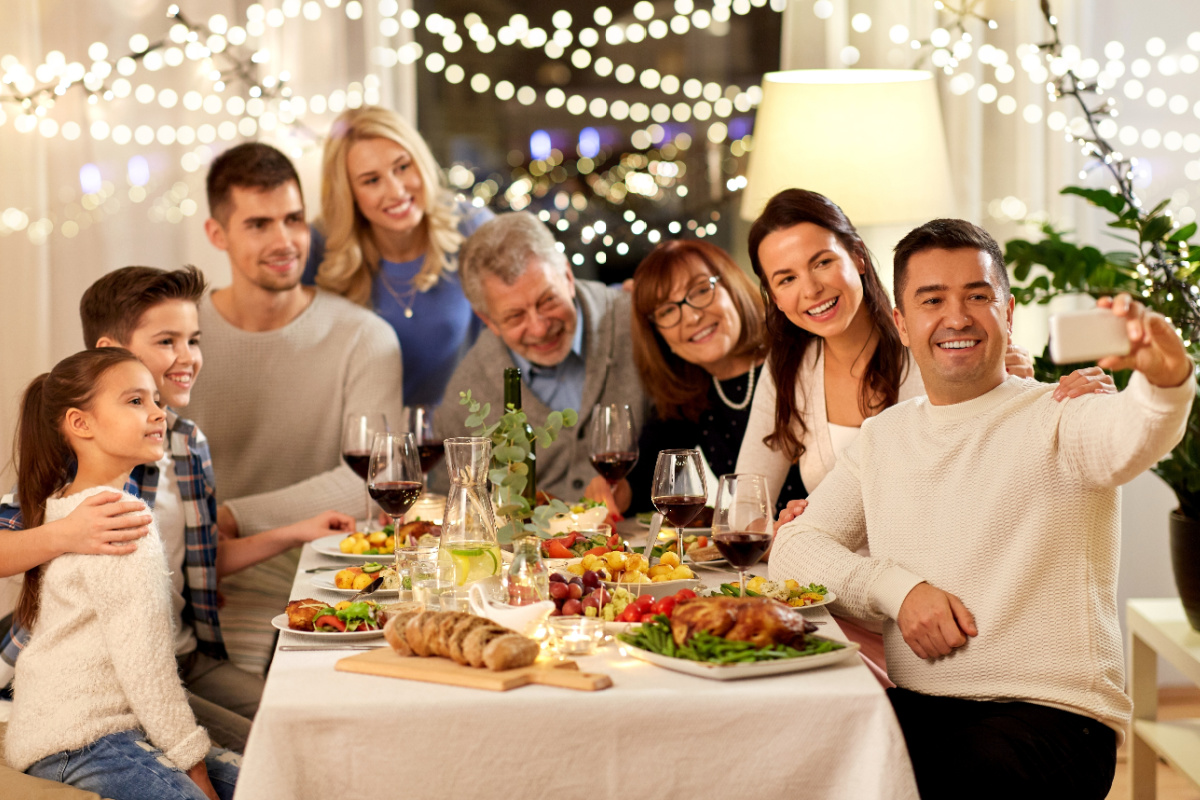 There have been many years that we've either celebrated at home, or gone to a friend's house for a night of food and games.

I remember one year, when I was in high school, we were having such a good time that we actually missed the stroke of midnight. Whoops!
We've gathered up some of our favorite items that make a low key New Year's Eve still feel celebratory and as enjoyable as going out. Plus, you don't have to deal with anyone you don't want to. Win-win!
Must Have Items for a Low Key New Year's Eve
Links may be commissioned. Editorial samples may have been provided.

Nuts.com Taste of Excellence Gift Basket

Celebrate New Year's Eve in style with a great selection of tasty treats from nuts.com. The Taste of Excellence gift basket checks all the boxes from salty to sweets and even includes healthy choices. This makes a perfect companion to a charcuterie board, or even casual snacking while waiting for midnight to roll around. It's perfect to serve at home, or bring with you to a friend's house, as there truly is something for everyone.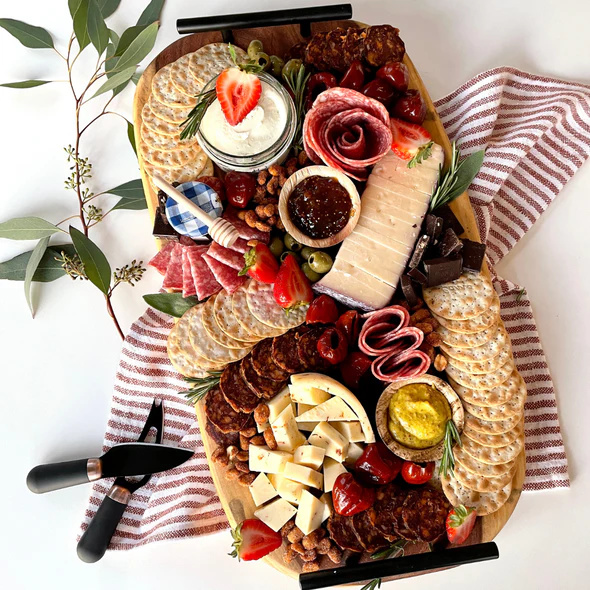 Platterful Charcuterie
Nothing says party food quite like a platter that is laden with bite-sized morsels of foods, ready to be devoured by hungry guests. Whether it's a formal gathering or a casual get-together, the Platterful Charcuterie kits make it easy. Choose from their standard, vegan or gluten free selections. You have the option of using your own platter, or you can order a charcuterie selection that includes the board. When it is time to make your charcuterie feast, Platterful has included a step-by-step instruction sheet so that you can make yours look perfect – even if you've never assembled one before.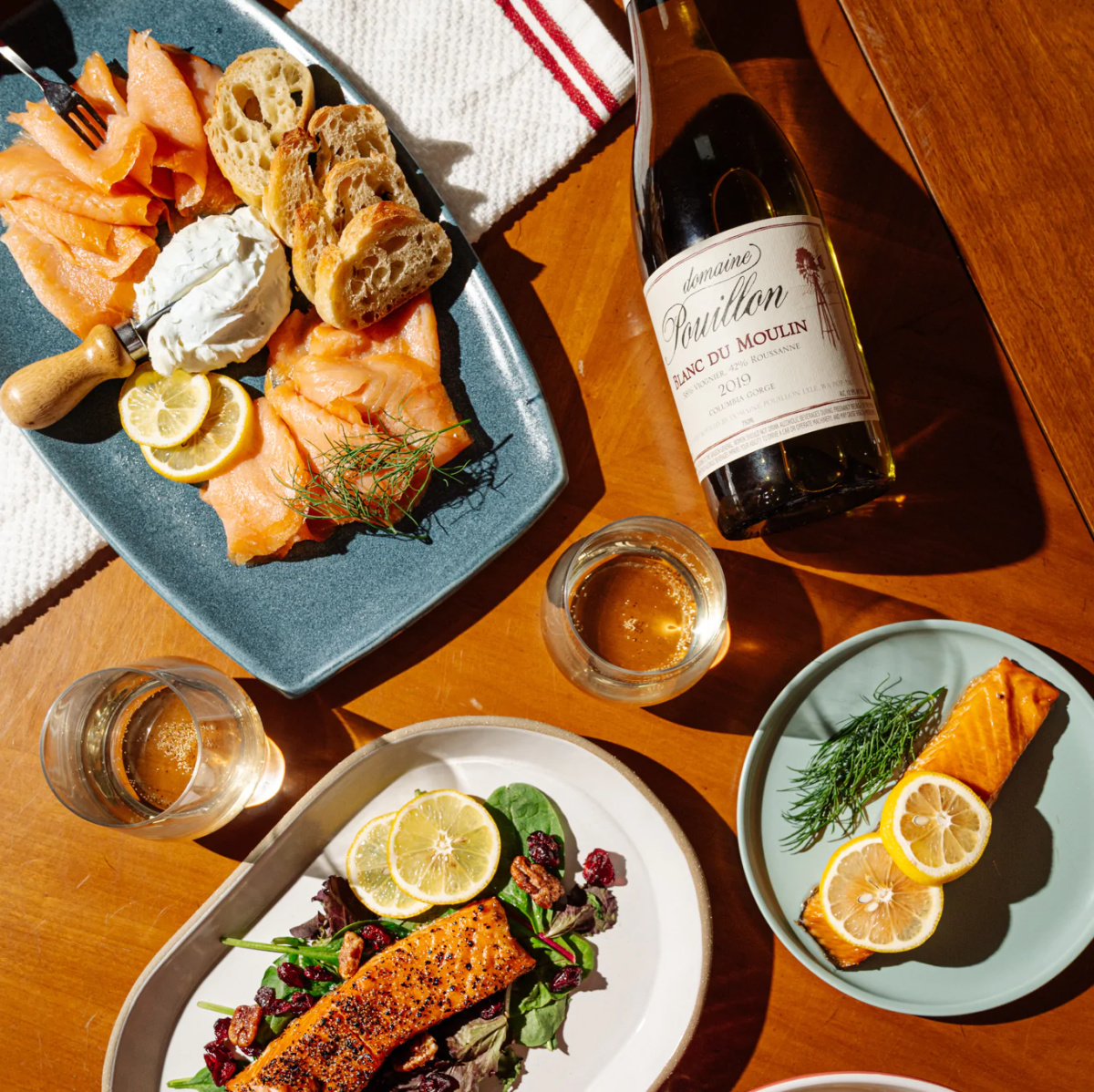 Smoked Salmon Holiday Gift Box

Smoked salmon has been a staple on the party food table for years; Blue Circle Foods has moved it into the 21st century by using sustainable farming and harvesting methods. Their processes ensure that we will be able to enjoy their salmon, shrimp and other fish products for many years to come.
Although Blue Circle Foods methods are important, all their products are delicious. Their Smoked Salmon Holiday Gift Box is the perfect gift for New Years. The smoked and roasted salmon is delicately seasoned and flavorful, without being fishy. Both would be perfect for a party spread, or serve it New Years Day morning, with bagels and cream cheese.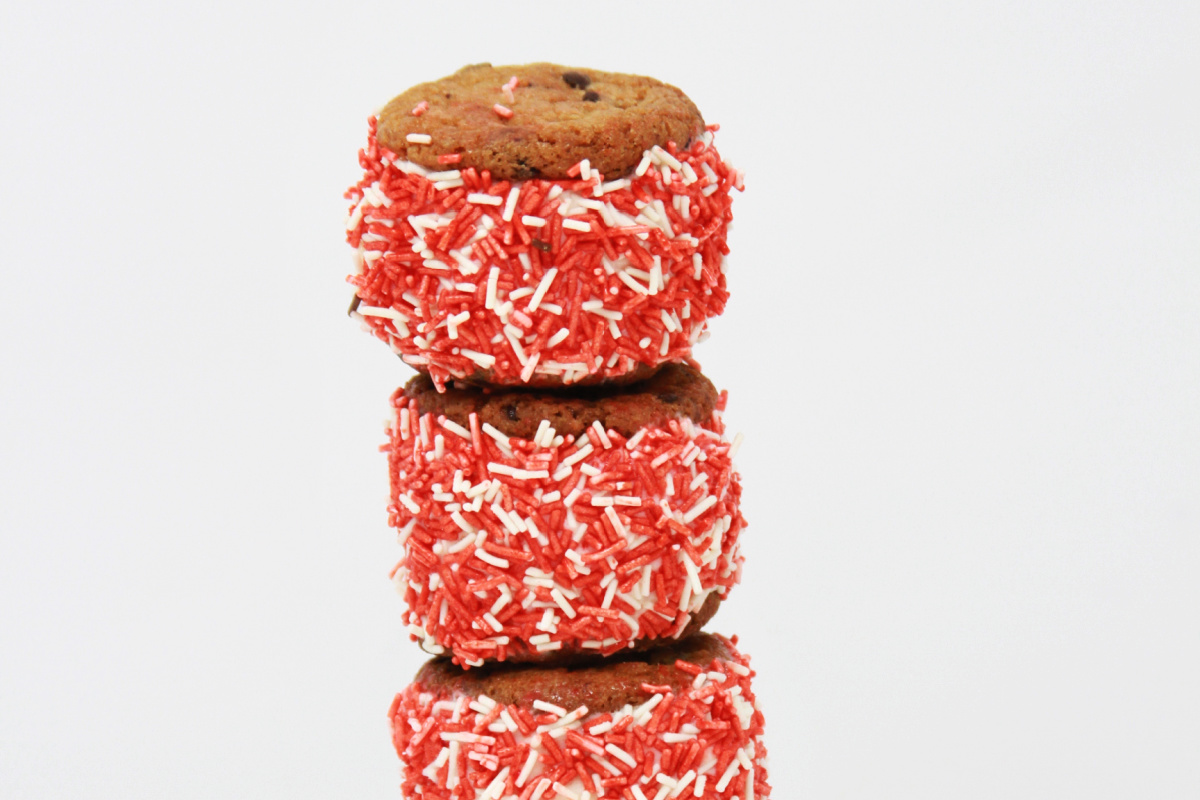 Cream + Sugar Ice Cream Sandwiches
You scream, I scream, we all scream for ice cream. This adage is even more true when it's delicious ice cream sandwiches from Cream + Sugar. These gourmet ice cream sandwiches start with luscious, small batch ice creams in flavors like Peppermint, Pumpkin, and Salted Caramel. Then you sandwich it between two bakery fresh cookies, and you have something really special. They're a perfect way to celebrate a special day – or any day.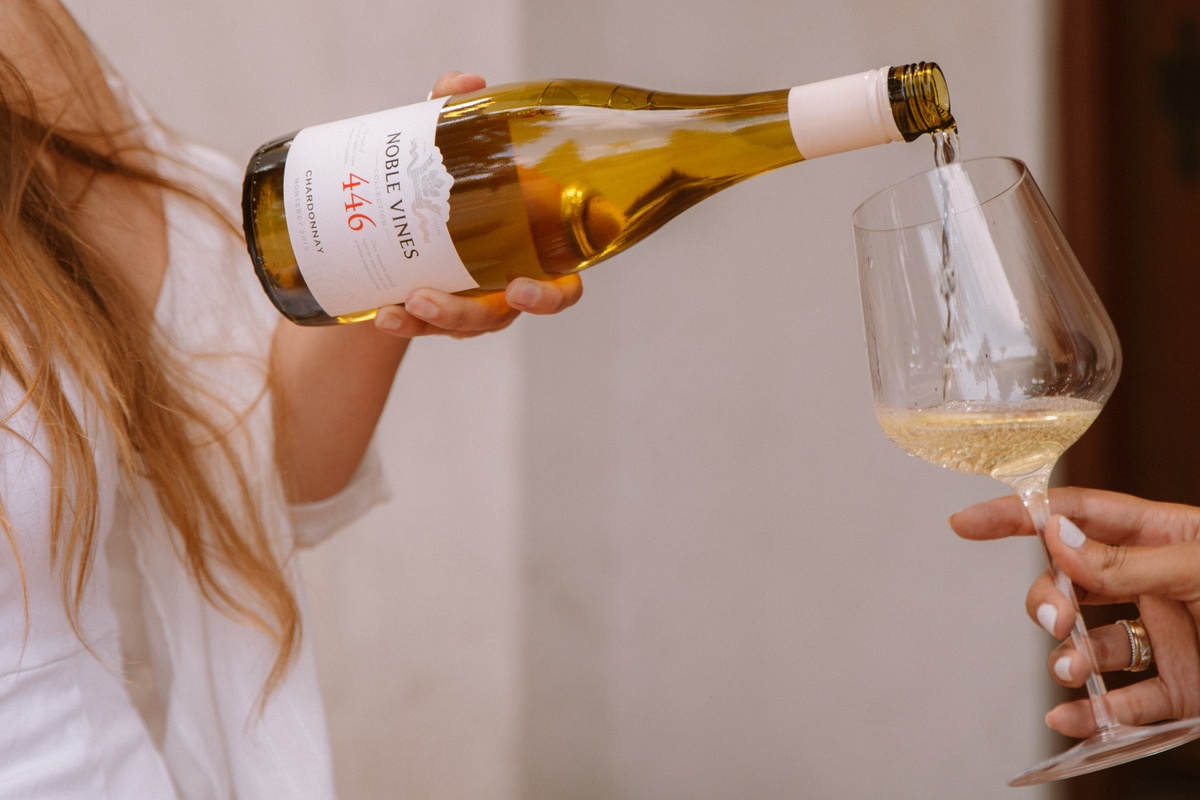 Noble Vines
Good wine is always welcome, just about anywhere you go. If you're heading out to a friend's home, be sure to grab a bottle or two of Noble Vines wine for the host. If you're hanging out at home, it's the perfect time to celebrate with a great bottle of wine.
Exhibiting flavors of mango, kiwi and honeydew melon with hints of lemon zest and cinnamon butter, the Noble Vines Chardonnay is perfect for pairing with soft cheeses, pastas or salads. If you're looking to start the new year off right, uncork a bottle, put on the Time Square ball drop and raise a toast to 2023!
Freixinet
When it gets close to midnight, you'll want to break out the bubbles. Why not go with a classic – Freixinet? There's a reason that it's one of the go-to celebratory sparkling wines. Their Cordon Brut Negro is the most imported sparkling wine in the world! It's great to keep on hand whenever you want to celebrate, whether it's New Year, a new car, or just a new weekend. Freixinet Brut Negro is made in the centuries old method of Champagne but is produced in Spain. It is considered a Cava sparkling wine and compliments many cuisines, from lobster and seafood to eggs. It has notes of apple, pair and citrus with a touch of ginger. If you're feeling fancy, serve it on New Year's morning, too.
Looks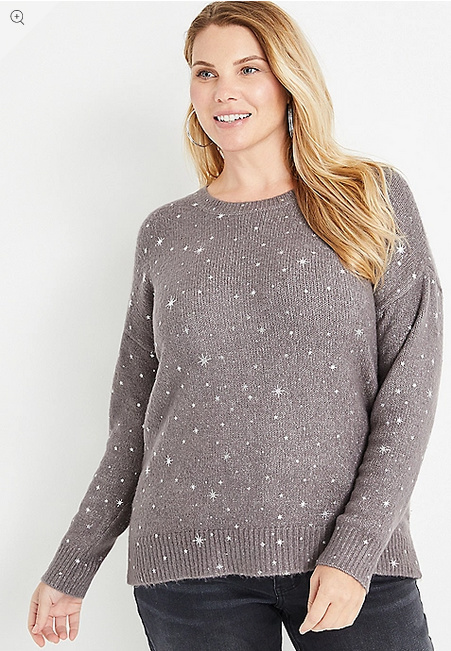 Maurice's
Even if you're having a calm night at home, you still want to look – and feel – good. Maurice's has you covered. One of my top choices for hanging out at home, or going to a casual New Year's Eve party is the Grey Metallic Star Sweater. As a bonus, this sweater easily works it's way into your normal wardrobe long after the parties are over. While the stars are metallic, they're not obnoxious, and add just a little subtle boost to the sweater. If you're just hanging at home, check out Maurice's selection of pajamas and loungewear, too. So many cute ideas, so little time to wear them all.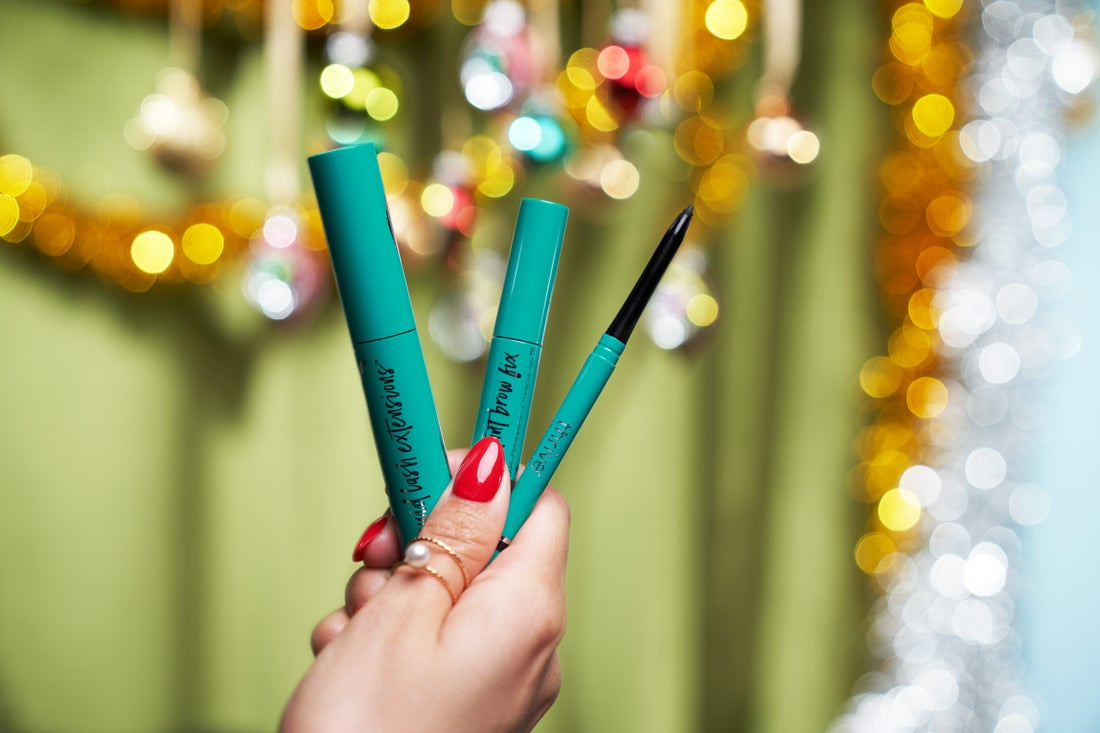 Thrive Causemetics
Even if you're just hanging out around the house, you still want to look good. Thrive Causemetics has you covered. The Liquid Lash Extensions mascara is the real deal and will give you the lashes you dream of. And you definitely don't want to skip the Infinity Waterproof Eyeshadow Sticks. They come in matte and shimmer shades and last all night.
Getting Comfy
Unhide
Perhaps your idea of the perfect New Year celebration is small. There you are, curled up on the sofa under a big cozy blanket watching TV, waiting for midnight and the ball to drop. Unhide makes the coziest of faux fur blankets for humans and their pets. Although Unhide's blankets are made to look like a giant chinchilla fur throw, they are made from either faux or recycled faux fur. They are also backed by a soft fabric that is recycled polyester. So get comfortable on the couch with your favorite person, grab some snacks, the remote and your unhide blanket and cuddle up!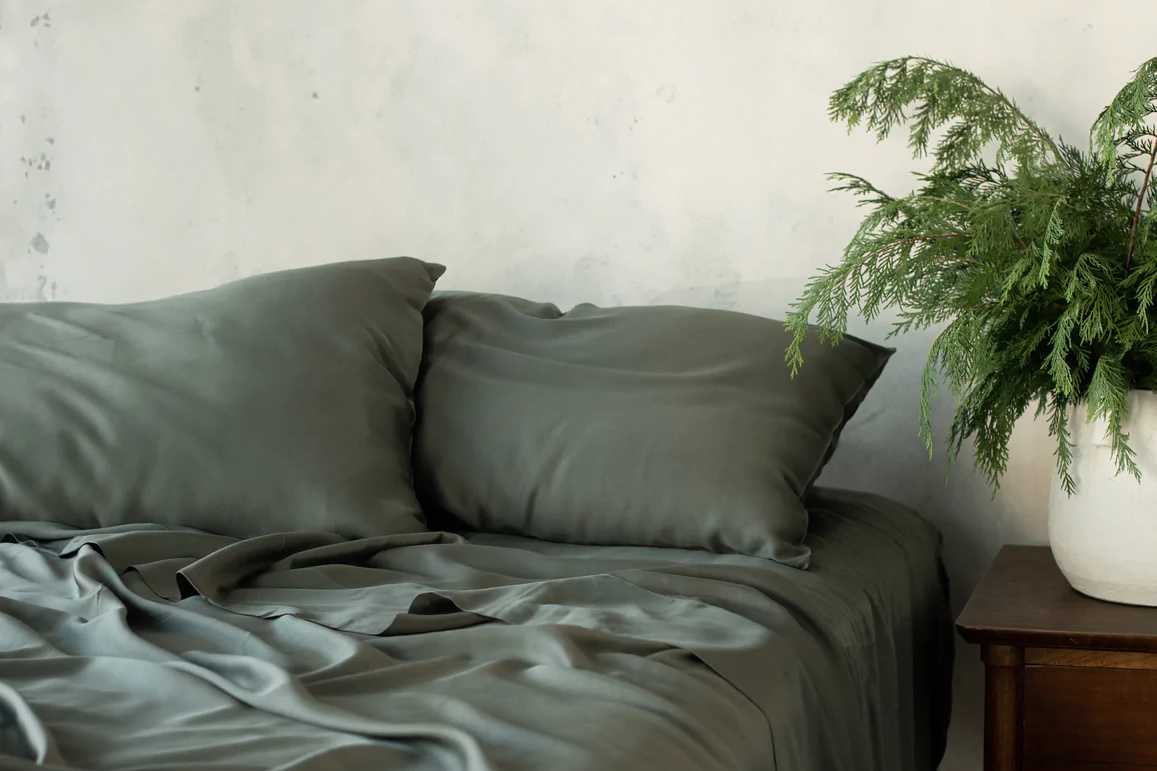 Cozy Earth Sheets
Okay, so you've partied all night, watched the festivities, and the evening is rapidly turning to morning. It's getting to be bedtime; and what could be better than slipping into bed between a set of ultra-soft Cozy Earth sheets? These sheets feel like a cloud – they are extra soft and only get softer with use. Add to that their moisture wicking and temperature regulating abilities make them one of the best sleeping experience on the market today. Made with sustainable fabric that are long wearing and non-pilling, I'm officially going on the record and naming Cozy Earth's Bamboo sheets one of Greta's Favorites for the new year.