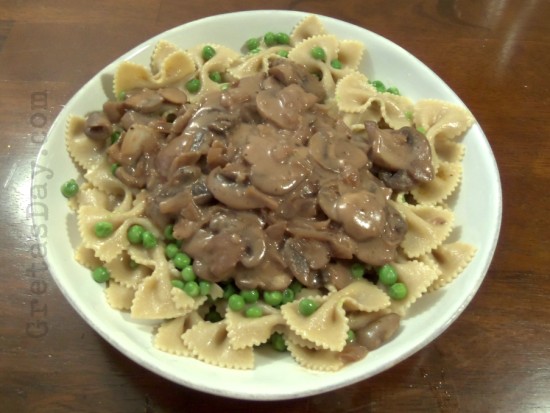 Beef Stroganoff has always been one of my very favorite foods in the world. I would regularly make it at least twice a month. However, I needed to find a vegetarian option. I'm not sure why it took me sooo long to hit upon mushrooms as a replacement for beef. I have to admit, it was a pretty DURRRR moment when Mushroom Stroganoff finally occurred to me.
Anyway – to the recipe!
Mushroom Stroganoff ingredients
1

pound mushrooms, sliced
1

Onion, chopped
1 Clove Garlic, minced
2

Tablespoons Olive oil
1/4 Cup White Wine
1

Cup Vegetable broth
1/4

Cup Sour Cream
2

Tablespoons flour
1/2 Cup Frozen Peas
1/2 pound your favorite pasta, cooked
Salt and Pepper to taste
Mushroom Stroganoff Instructions
Sauté mushrooms, onions, and garlic in oil in a large skillet over medium high heat.
The onions should be soft and slightly golden; the mushrooms should start to brown.
When the mushroom mixture has cooked, add the wine and vegetable bullion.
Let the liquid reduce by half.
While this is cooking, mix the flour into the sour cream.
There should be no lumps.
When the sauce has reduced, add the sour cream mixture and cook until slightly thickened.
Add the frozen peas and heat through.
Serve over pasta; you may garnish with a little bit of sour cream.
Serves 4.
Total time: About 40 minutes.