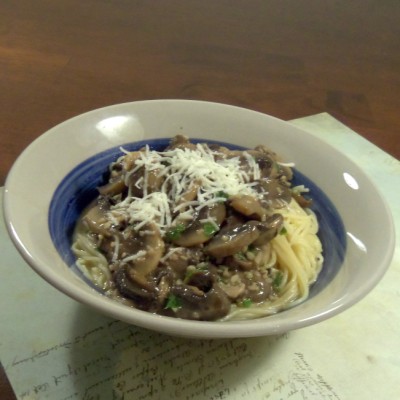 When I stopped eating meat (this time) about 18 months ago, there' were some definite things that I missed. Burgers. Pepperoni pizza. Reuben sandwiches. BBQ.
I've found reasonable substitutions for a lot of those things. Scampi was still one thing that I hadn't come up with a replacement for. Until one day, it hit me! Mushrooms!
Mushroom Scampi
Serves 4
You will need:
8 ounces pasta (cook while preparing the Scampi)
1 lb. Fresh Mushrooms, sliced
6 TBSP Butter (or Olive Oil – I like this made with butter, though) (DIVIDED)
4 Cloves Garlic, chopped
1 cup White Wine
¼ cup chopped fresh Parsley
Salt and Pepper to taste

Start the pasta water in a big pan, and cook per the package directions.
In a large skillet, melt 4 TBSP butter over medium heat. Add the mushrooms and sauté until nicely browned and cooked. Add garlic. Cook until garlic is soft.
Add the wine, and cook until it is reduced by half. Stir in remaining 2 TBLS butter, parsley, and season with salt and pepper.
Optional – add ½ tsp of pepper flakes with the salt and pepper if you like your Scampi a little spicy.
Arrange pasta in a large bowl or platter; pour Scampi over the pasta and serve with Parmesan cheese.