Few events in New York City cause a buzz of excitement like New York Comic Con. The annual four-day celebration of pop culture is held each October, and has been a mecca for fans of movie and TV characters since 2006.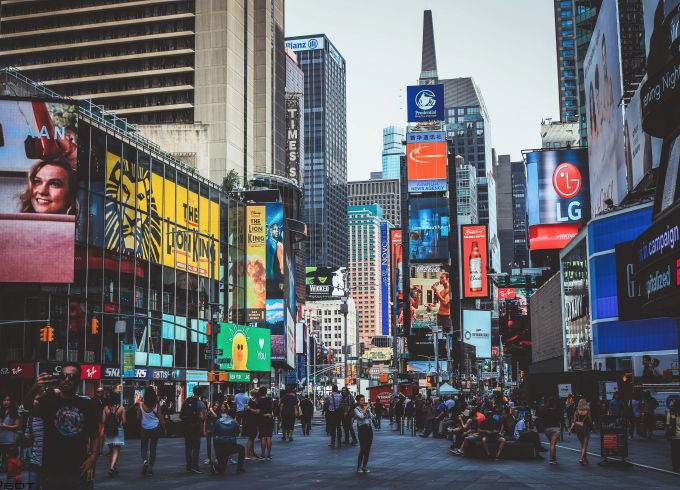 It features panels with writers and directors and special guest stars. There's also a cornucopia of merchandise related to the genres of superhero realms, fantasy, and anime. NYCC sold over 250,000 tickets in 2018, so it's a happening place.
If you plan to attend this year, you're going to need a place to stay. This list of top hotels near the Jacob Javits Convention Center, where the event is held, might help you plan your trip.
The Top Manhattan Hotels for New York Comic Con
7. The Hilton Garden Inn New York/West 35th Street
This affordable hotel is less than three miles from the Javits Center, and is also centrally located to other points of interest in the city. It commands impressive views of the nearby Empire State Building, especially in the evening. There are a variety of restaurants and food carts within walking distance of the hotel. Keep in contact with your con cronies with the hotel's free Wi-Fi and unwind at the hotel bar after a busy day.
6. Holiday Inn Express Times Square
If you're looking for a hotel within walking distance of the Javits, then this option may fit your needs. Travel time is around ten minutes by foot, which means you can skip the taxi or Uber ride. Power up before the con with the hotel's complimentary breakfast as you enjoy the iconic sights and sounds of Times Square. If you have a service animal to help navigate NYCC, it will be welcome at this pet-friendly hotel.
5. Cachet Boutique
Enhance your New York Comic Con experience with a unique hotel stay, and make the trip more memorable. The Cachet Boutique is located less than a mile from the Javits Center. It may be the perfect fit if you want to steer away from the everyday service of some chain hotels. Are you too excited to sleep after a day full of adventure at the con? Then check out the hotel's night club, which features a live DJ. Meetup with with friends at the coffee shop as you share stories and pics while enjoying fresh java and treats.
4. Hotel Americano New York
This Chelsea hotel has a variety of amenities that you might enjoy if you are planning to attend all four days of NYCC, or extending your New York trip by a day or two. It features a rooftop swimming pool with cozy lounges, two on-site restaurants, and lounge service as well. Keep up with all the Comic Con news with the hotel's free Wi-Fi service. Invite friends new and old back to the Hotel Americano for a drink or a bite to eat.
3. Westgate New York Grand Central
Less than a 20-minute drive from Javits Center, this Manhattan hotel has comforts that you're likely to appreciate after a long day at NYCC. Amenities range from luxury bedding and mattresses to custom window glass that mutes the city's traffic noise. Westgate can help you transition from a hectic, exciting day into a calmer, more relaxed mood once you return. Deluxe and balcony rooms are now available as well.
2. Midtown Convention Center Hotel
As its name suggests, this hotel is less than a block from the Javits and is a popular place for convention guests. It's also close to other city attractions, such as Times Square. Start your day with a free breakfast, use the free Wi-Fi to make plans with friends, and enjoy a good night's sleep on one of the hotel's luxury beds. At the end of your visit, save time and the hassle of finding a cab with shared shuttle service to the airport.
1. LUMA Hotel Times Square
One way to save time and money at NYCC is to share a hotel room with friends and split the cost. Not all hotels have the space to accommodate this, but the LUMA Hotel features large modern rooms with several king beds. Share a drink with your friends at the hotel bar and get a jump on the next day's NYCC action with complimentary Wi-Fi. If this is your first time visiting New York City, carry this handy NYC Hotel Location Map to help you navigate.
New York Comic Con arrives October 3rd-6th, 2019. Find your ideal hotel today, beat the rush, and enjoy all the fun and excitement this event has to offer.