We all want our homes and environments to smell good, right? That's where these DIY room sprays for fall come in.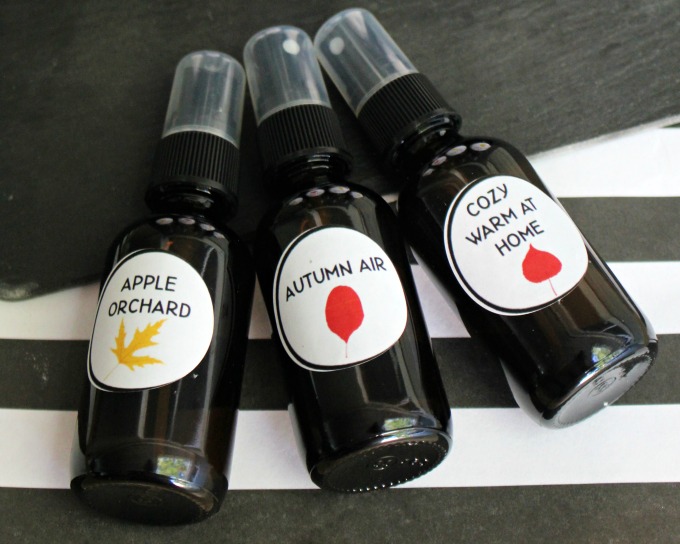 It's a great way to freshen your home or office, especially when the windows have been closed up tight for a while. Even better, you're going to make these DIY room sprays yourself, so you'll know exactly what's in them.
Much like the DIY air fresheners, there's no icky chemicals or yucky, questionable ingredients here. There's just a few, simple ingredients that you can easily find, if you don't already have them at home. Even better, make a set of three or 5 of these in complimentary scents, and put a small care package together for a friend or loved one. Keep a spray or two in any place that may need some freshening up. Guest bathrooms, powder rooms, guest bedrooms, your office or desk at work. Heck, even your car!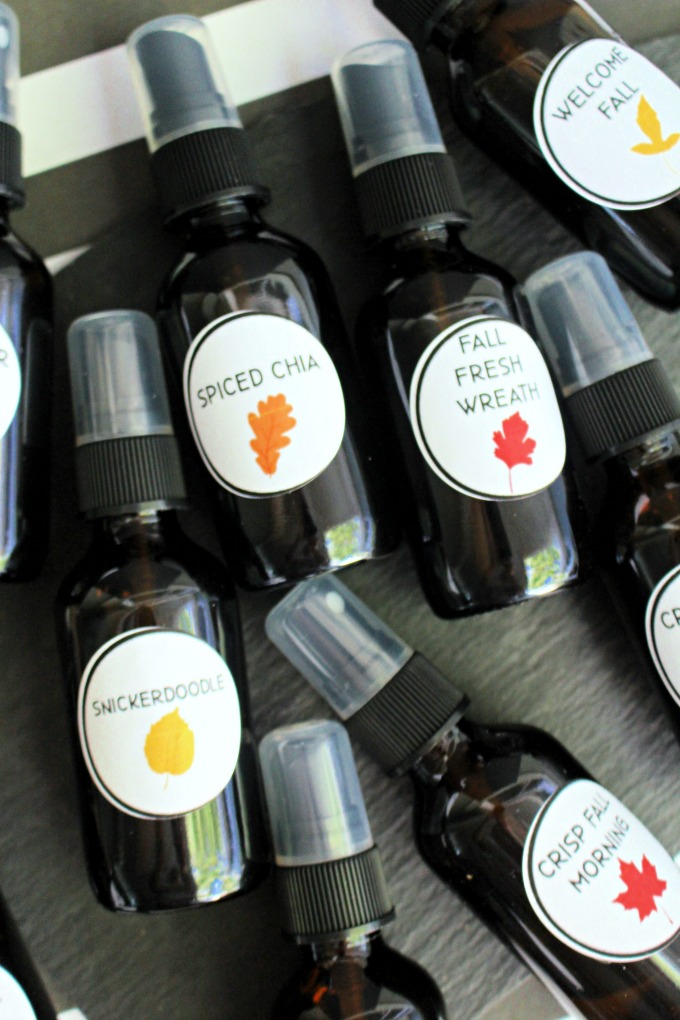 DIY Fall Room Freshener Sprays
Links may be commissioned.
Ingredients
A pinch of epsom salts
Distilled water
Essential oils
Amber glass spray bottle – these recipes are formulated for a 2 oz spray bottle.
Directions
In a small bowl, add a pinch of epsom salts. Maybe 1/2 tablespoon or so.
Add the essential oils to the epsom salts, according to one of the recipes below.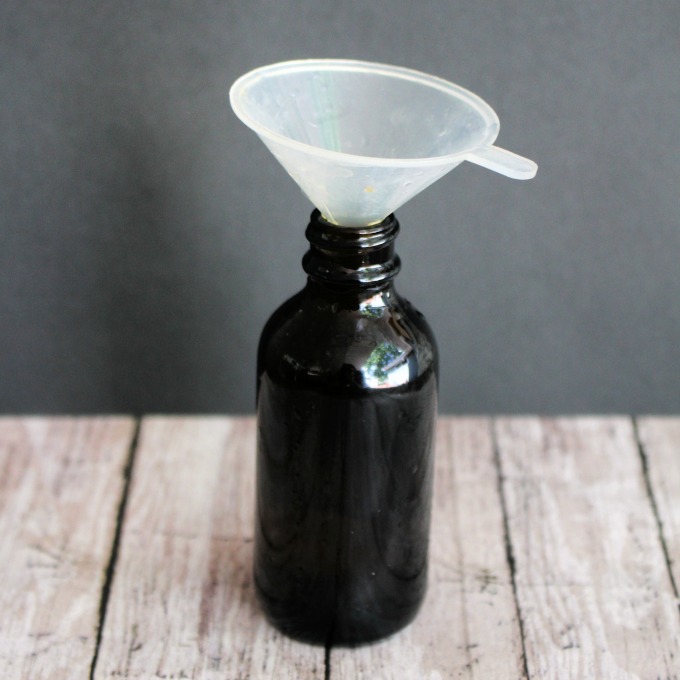 Fill your amber glass spray bottle with distilled water. Add the scented epsom salts and shake really well to combine. You may want a funnel to help you with this part.
Add the label, so you know what your yummy scent blend is!
Isn't that so easy? And everything's going to smell amazing.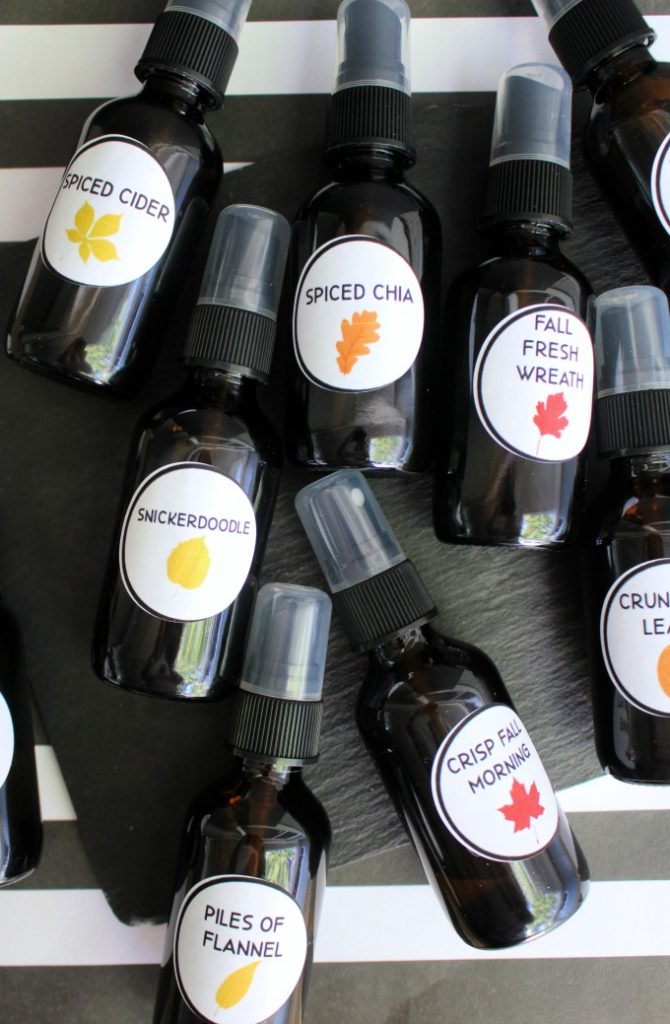 A few questions, answered
Why epsom salts? We all know that oil and water don't combine. It's no different for essential oils and distilled water. The epsom salts help to keep the ingredients emulsified.
Why distilled water? Tap water, even filtered water, can have yuckies in it, ranging from microorganisms to chemicals. Distilled water gets rid of pretty much all impurities, and you're left with pure water. This is easy to find in stores, and generally costs around a dollar or so for a gallon.
Why amber glass? Essential oils are light sensitive, and exposure to light starts to break down the oils. Amber glass helps to block the light, and actually helps absorb harmful UV wavelengths.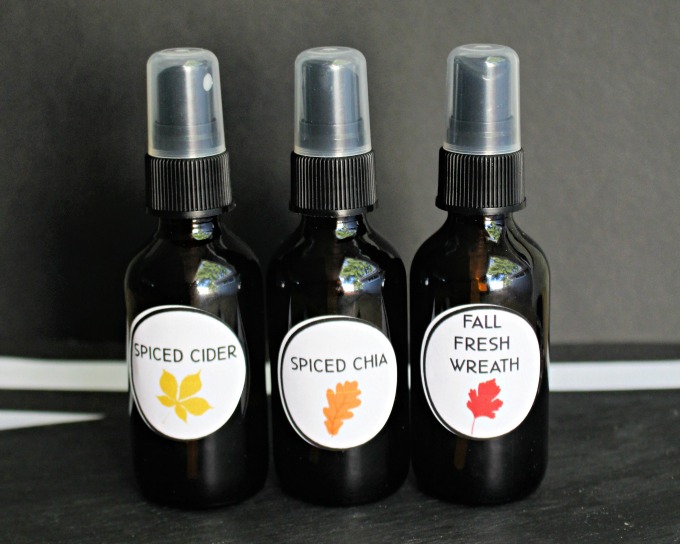 Scent Blends
Here are 12 fragrance blends that are perfect for cooler fall days. Most are a little warm and spicy, but not too overpowering. A few, like Fresh Fall Wreath and Apple Orchard are a little crisper and less spicy. There's really a scent for everyone, though.
Apple Orchard:
15 drops Frankincense
15 drops Copiaba
20 drops Douglass Fir
Autumn Air
18 drops Sweet Orange
18 drops Patchouli
4 drops Cinnamon
3 drops Clove
Cozy Warm At Home
20 drops Sweet Orange
15 drops Cinnamon
10 drops Clove
Crisp Fall Morning
18 drops Frankincense
18 drops Patchouli
9 drops Lavender
7 drops Rosemary
Crunching Leaves
25 drops Sweet Orange
5 drops Patchouli
5 drops Ginger
Fall Fresh Air
18 drops Frankincense
18 drops Bergamot
12 drops Sandalwood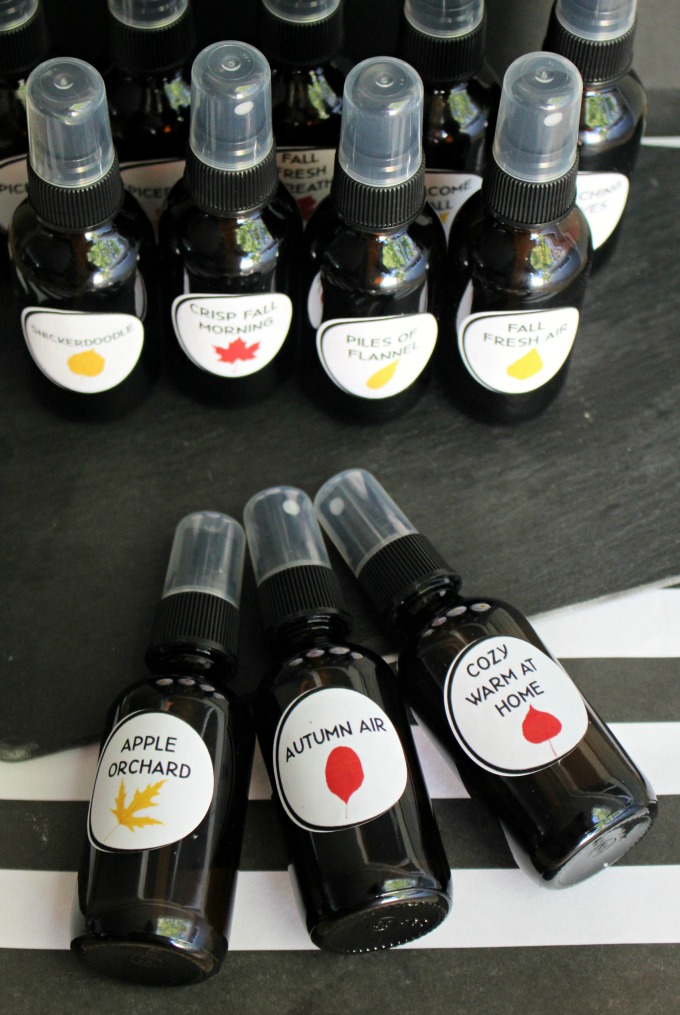 Fresh Fall Wreath
16 drops Cedar Wood
12 drops Grapefruit
8 drops Frankincense
4 drops Tea Tree
Piles of Flannel
20 drops Frankincense
14 drops Lavender
14 drops Sweet Orange
Snickerdoodle
15 drops Ginger
15 drops Cinnamon Bark
15 drops Clove
Spiced Chai
18 drops Cardamom
18 drops Cassia
12 drops Clove
Spiced Cider
20 drops Sweet Orange
10 drops Cloves
10 drops Nutmeg
Welcome Fall
20 drops Ginger
15 drops Cinnamon
10 drops Ylang Ylang
Yield: 1
DIY Essential Oil Fall Room Sprays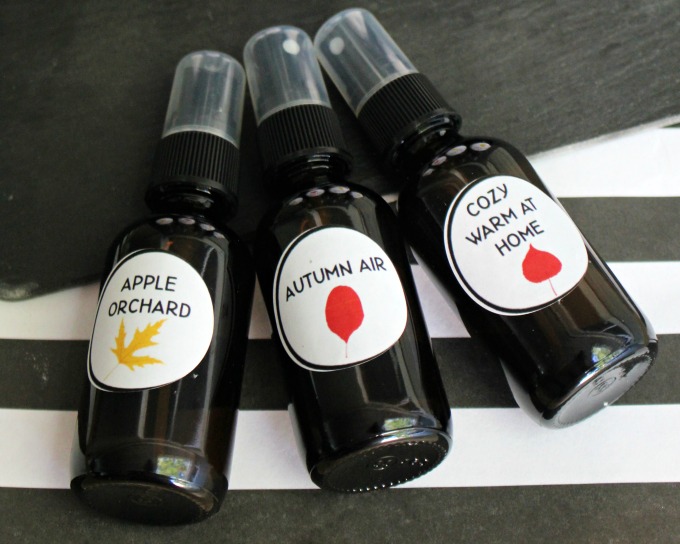 An easy DIY room spray for fall, made with essential oils. Includes printable labels and 12 fragrance recipes

Active Time 5 minutes

Additional Time 2 hours

Total Time 2 hours 5 minutes

Difficulty Easy

Estimated Cost $2
Materials
A pinch of epsom salts
Distilled water
Essential oils
Instructions
Add about 1/2 to 1 tablespoon of epsom salts to a small bowl.

Add essential oils to the epsom salts, and let them absorb. You may need to stir them a little.

Add the essential oil and epsom salts to a spray bottle filled 2/3-3/4 of the way with distilled water.

Shake well to combine and set aside.

Print a label with your scent name, and slap it on the bottle.